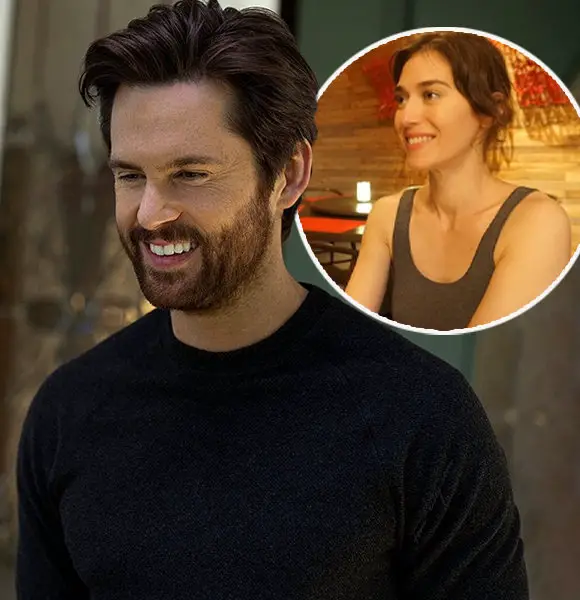 English actor Tom Riley, known for his charismatic personality and brilliant works, has been a happily married man since 2017. Already into the fifth year of his marriage with his wife, Lizzy Caplan, their chemistry still shines as bright as the new pair madly in love.  
While the captivating couple has their enthusiastic fans curious about their love life, a rundown on their love story might help you tame your curiosity. 
Tom Riley and His Wife
Their beautiful love story began in London in around 2015 when his now-wife was in the town for filming Allied. That's when the two first encountered each other. Little did they know their first encounter was going to bring them so much closer.  
Fallen in love in no time, the pair began dating shortly. But embrace yourself for a bizarre incident when Tom almost went blind playing cool for his lovely date. 
Talking to This Morning back in 2018, the actor described an accident that occured right before his date with his wife while they were in the initial months of their relationship. 
On his way to meet Lizzy for a romantic date, Tom suddenly had an urge to take care of his breath and pulled out his mouth wash. Well, there is nothing wrong with a bit of oral hygiene, especially on a date. 
But as he was leaning down to spit in the dark roadside, unfortunately, he felt a cactus needle pricking his left eyeball. 
As he continued with his terrifying story, he said he played it cool and went on a date anyway. 
After he casually described the whole situation to Lizzy on the date with a wounded eye, she immediately asked him to go for treatment, which he did. Luckily, after going through a few surgeries, his eye was healed. 
After all, it would have been a bummer if their relationship had not worked out after Tom's eye-wounding effort. But luckily, all went well, and now Tom and his wife garner attention as a charismatic duo in the entertainment industry.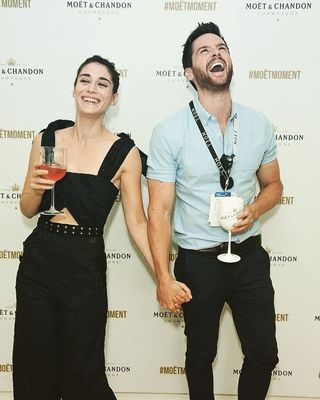 Tom Riley and his partner making red carpet appearance (Source: Instagram)
Get to know - SNEAK PEEK on Kayvan Novak's Swoon-Worthy Chemistry with His Wife
They made their relationship exclusive with their first public appearance on the red carpet of the Prague Opera Ball in February 2016. Four months later, the couple got engaged. 
Wedding bells for the happy couple rang in September 2017 when they shared their vows in Italy, as Tom declared through his Instagram handle.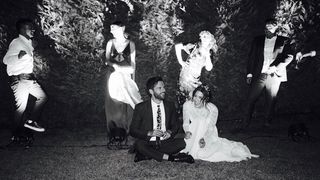 Tom Riley and his partner from their wedding day (Source: Instagram)
Sharing a glimpse of his wedding picture with his beloved partner by his side, the Dark Heart actor jokingly captioned the 'gram upload as, "This one seems fertile. She shall make a satisfactory first wife."
No wonder they are more than happy with their companionship, but as the couple has been married for several years, what thoughts do they have about being parents? 
Learn about - Zoe Wanamaker Fell for Her Husband Because of His Support?
Tom's Plans on Expanding His Family?
An Instagram post of Tom back in 2018 where he humorously uploaded a picture of his wife impersonating pregnency sparked the rumor that she was actually pregnant. 
Of course, the rumor was not true, and the pair are yet to have become parents. However, a few years ago, Tom's partner did talk about her thoughts on having a child. 
As E Online reported in 2014, Lizzy confessed,
I really want kids, and I want to be fully involved in their lives, but I don't want to sacrifice my own goals to be a mother.
Well, not very fond of gender stigmas, Lizzy believes that it's not only a woman's responsibility to raise their kids. Also, she made it pretty clear that she does not mind swapping the role as she is also a working woman with her set of priorities in life. 
Judging her statement regarding parenting from a few years back, it might be possible the pair, who are at the heights of their respective professions, are looking for a favorable time to expand their family. But for the time being, the lovely couple seems to fulfill their parenting role as parents to their pet dog.