Music
Tyler, the Creator Was Raised by a Single Mother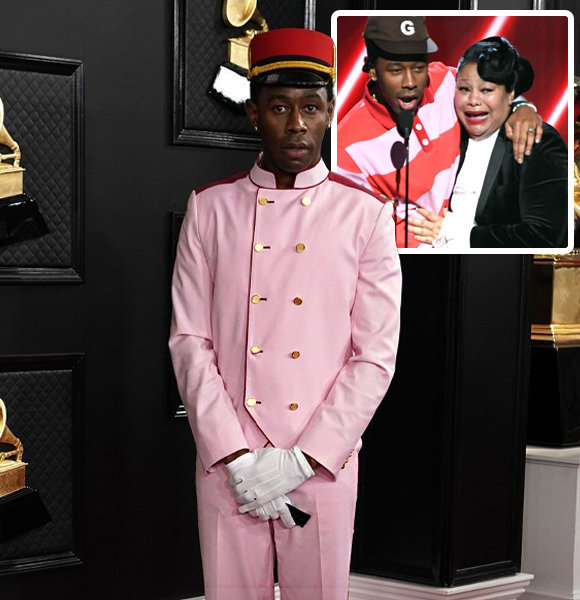 Tyler, the Creator, is a major name in the music industry. His hip-hop albums have sold millions, and he is one of the most-known rappers now.
Seeing him reach such heights of success is definitely great news for his well-wishers, and it must have made his parents proud. However, Tyler has had a difficult childhood, and his relationship with his parents is a bit different. 
Get to Know Tyler, the Creator's Parents
It's all the parents' dream to see their child grow successful, and it's a child's wish to make their parents proud. 
Unfortunately, Tyler the Creator has a different case from the rest.
He was born in California and was raised by a single mother for his whole life. His father abandoned him when he was little, and sadly, he has no recalling memory of him.
Read more on: How Ryan Stiles's Met His Wonderful Wife !
His father was of Nigerian descent, whereas his mother came from African-American and European-Canadian descent. Tyler has expressed his frustration about not having a father figure in his life through his art.
He mentions the situation in his song 'Bastard' in which he says that he has never met his father. 
However, thanks to his strong momma, he has never felt the need to reach out to his father. His mother has given him all the love and support and has fulfilled the role of both parents. 
Tyler reciprocates the love for his mother, Bonita Smith, and she has also made appearances in his music videos and song lyrics.
She also accompanies him to important events and has always been beside him through thick and thin. 
"One, to my mother, you did a great job raising this guy," he said in his acceptance speech for winning the 2020 Grammy award for Best Rap Album.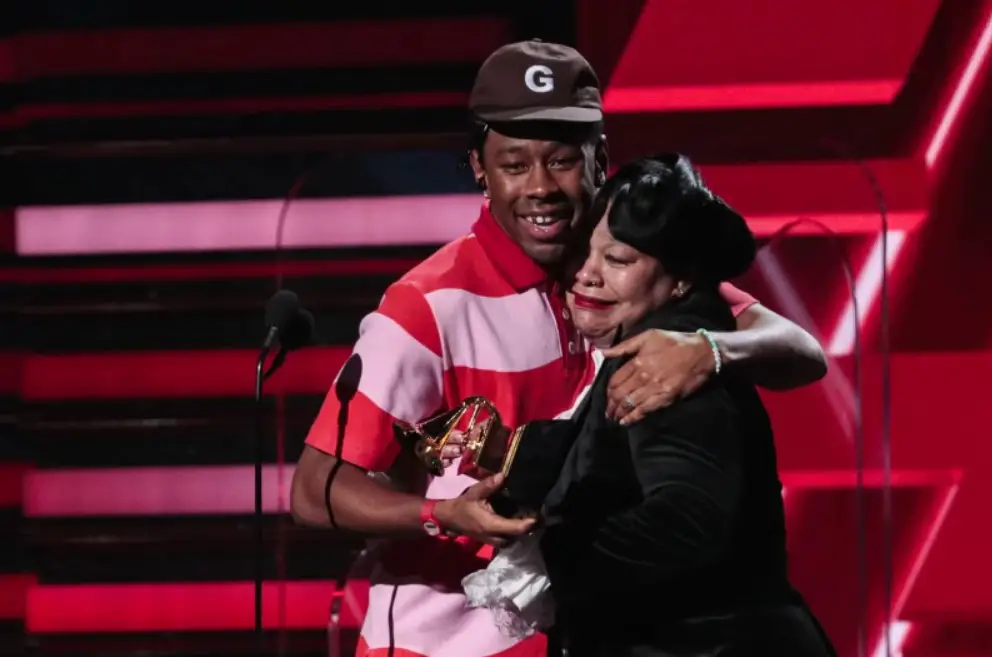 Tyler, the Creator And His Mother at The Grammy Awards (Source: LA Times)
Still, you might think, there might be some resentment towards his father. Especially since he has mentioned his father several times in his songs, it seems like his father's absence has left a big impact on his life.
However, Tyler has something else to say. He says that he has moved on from the topic and is okay with accepting the truth for what it is.
He even did a comedic skit surrounding his father's absence in 'The Eric Andre Show.'
Also check out: Eric André Comes Out As Bisexual? What's the Truth?
Moreover, he said that he was 'stoked' not to have a father. He envisioned that his life would be the same old regular pattern- high school, then college, then a job.
The rapper feels like he was able to choose his own life patch because his dad wasn't there. "I'm so stoked my life turned out how it was. I just decide to rap about it to seem like I'm sad," he said. 
Truly, his life has been a whirlwind. Tyler previously used to work at Starbucks and started his career by putting out his music on MySpace.
Since then, his skillset has drastically improved, and his musical journey went into greats success in the 2010s. Tyler is on many's top favorite rappers' lists, with millions of copies sold worldwide.
And, of course, his mother has been there with him since day one, fulfilling the duties of both his parents. The mother and son duo share a strong bond, and Tyler truly cherishes his dear mother.
Surely, his mother will get to see him reach further heights.