Entertainment
Inside Victoria Pratt and Trace Adkins's Beautiful Wedding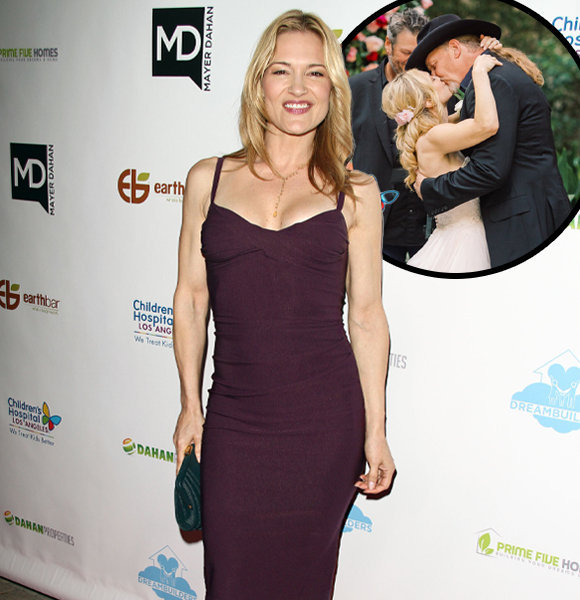 Canadian actress and author Victoria Pratt best known for 'Cleopatra 2525' and 'Mutant X,' made the headlines with her wedding announcement to country singer Trace Adkins not too long ago. 
A few years back, they tied the knot in a ceremony officiated by singer Blake Shelton. But how is the couple doing now as time has passed by? Is Trace Adkins still married to Victoria Pratt?
Victoria Pratt's Wedding and Married Life
Victoria and Trace got married in 2019. Singer Blake Shelton officiated their wedding.
After a few years of dating, the love birds had their wedding. And all is going smoothly in their household. They are still together and are enjoying each other's company. 
The couple had a mesmerizing wedding ceremony at the Maison Montegut in New Orleans. Victoria was clad in a stunning white strapless gown, whereas Trace rocked a cowboy hat with his blazer.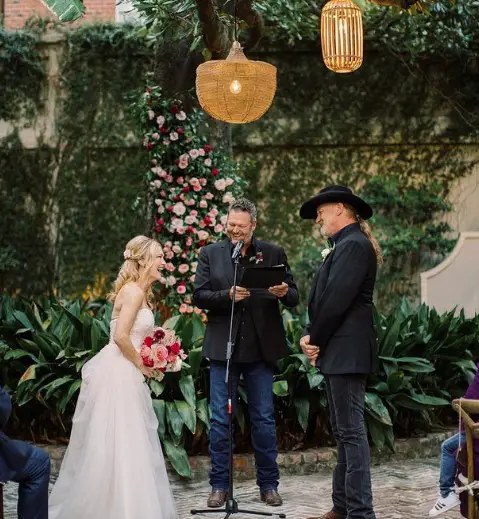 Victoria Pratt's Wedding with Trace Adkins (Source: Instagram)
It's been over two years since their wedding, and the couple still looks like they're in their honeymoon phase. Victoria loved sharing pictures with her man with sweet words in the caption of her social media. 
However, their love life goes further back. Pratt and Adkins met on the sets of the movie 'The Virginian.' What started as playful, flirtatious tweets between the two escalated into something much bigger. 
Read more on: Blair Imani Came Out As Bisexual, but Does She Have a Girlfriend?
But it was surrounded by controversy. During that time, both were married to their previous spouses.
Victoria was in a 16-year-long marriage with actor T.J Scott whereas Trace was married to his wife Rhonda Adkins for 17 years.
The sparks between Victoria and Trace were evident, and it caused Trace's ex-wife a lot of distress. Eventually, they got divorced in 2015.
Likewise, Victoria and her ex-husband T.J also got divorced in 2016. It's not clear if the reason behind their divorce was Victoria's equation with Adkins, but they went separate ways.
Then, Pratt and Adkins started dating after a while, and according to Adkins, she changed his life.
"I can't even begin to explain what a difference she's made in my life," Trace told People, adding, "She rejuvenated me and inspired me to take whatever time I have left and make the most of it … and then just make the best music that I can make."
Indeed, Trace wrote the album 'The Way I Wanna Go' dedicated to Victoria. We couldn't think of a gift more endearing than that!
The album sold millions worldwide, just like his other works. In addition, Trace is a widely successful musician, and Victoria has explored acting, writing, and modeling. 
Also see: Jennifer Nicole Lee's Life After Divorce- Dating Someone?
Thus, she sits atop a handsome sum of net worth under her name. 
What Is Victoria Pratt's Net Worth?
Pratt's career as an actress began in the late 90s. She appeared in movies and shows such as 'Cleopatra 2525,' 'Mutant X,' 'Day Break,' 'Legacy,' 'CSI: Crime Scene Investigation,' and many more. 
Alongside that, she also published her book in 2015. She has been continuing her career as a model as well. Pratt has not been much active in the acting industry as of now, so fans are waiting to see more from her.
Nonetheless, she has notable earnings from all the projects. According to Celebrity Net Worth, at the age of 51, she has a net worth of $5 million. 
Likewise, her husband, a popular singer, has a hefty net worth of $19 million. 
Victoria and her partner are truly blessed with joyous life with flourishing careers and blossoming love.