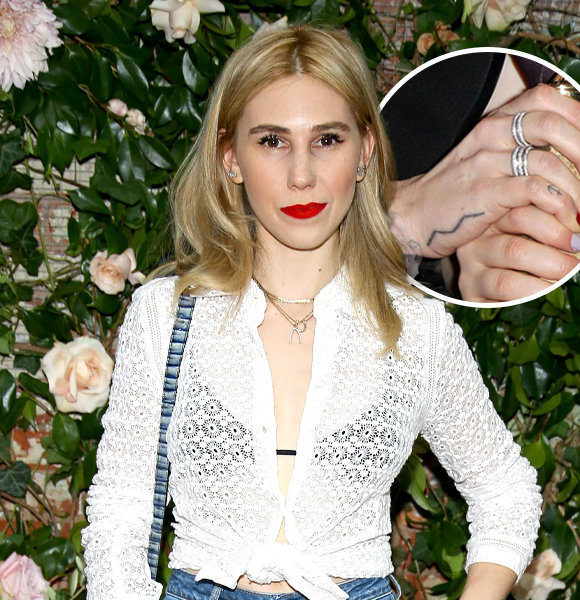 'The Flight Attendant' actress Zosia Mamet popular for her role in the HBO series 'Girls,' also garners significant attention through her striking tattoos. 
Having over 11 inks in her body, each of her ink designs is a statement on its own. From a big heart on her palm to tiny dots, Mamet's sense of expression through her designs is one of a kind. 
Zosia Mamet's Tattoos 
Out of the many inks she has, some of them also have a special meaning to Zosia. For a start, she has three miniature symbols as a part of her hand tattoos. 
One is an anchor alongside three tiny dots on her pinky finger's knuckle and one on her right hand's wrist. 
Mamet has a design on the inside of her left foot that reads, "I Know Where I'm Going." A very special meaning behind this ink was that it was actually one of the first tattoos that she got. 
During an interview with Vogue just after she shared how she had an ink design of her horse, lucky on her "butt," she also shared how her first ink was around 2010. 
Describing a reason behind the ink, she said, 
[It's] a play on this old film I saw when I was super-young, and to this day it's one of my favorite movies ever. It's also an old Scottish folk song. Half of my family's Scottish, and I thought it was a funny [phrase] to put on my foot.
She further shared how she got her first ink after wrapping up the first season of 'Girls,'  and it was during that time she got a big heart tattoo on her palm.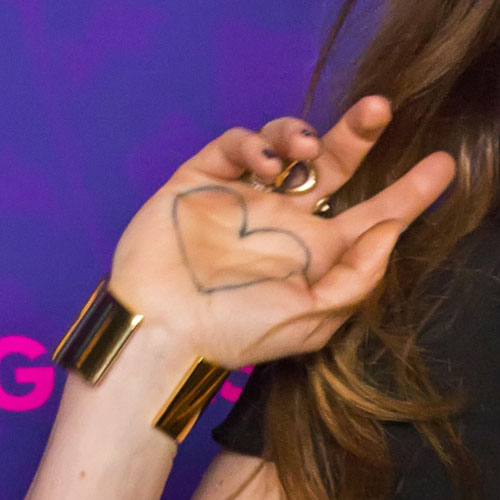 Zosia Mamet Heart Design on Her Palm (Source Bodyartguru)
Get to know - Dissecting Taye Diggs' Tattoos & Their Significance
The heart design covers the entire palm of her right hand. Another very special of Mamet's ink that shows her association with 'Girls' is  a design on her foot, a tally number 6 that was inked in remembrance for the six seasons of 'Girls.'
She also got inked on the occasion of her 30th birthday. Her design has "XXX" and a horseshoe right above it near her right bicep to commemorate her 30th birthday. 
Mamet is a horseback rider, and she has been one since she was a child, so maybe the horseshoe symbol has to do something with her love for horses. 
Apart from meaningful tattoos, Zosia has a lot of symbolism carved on her body. From tiny triangles to arrows and dots, she has a lot of hand tattoos. So, it seems like Mamet is fond of small and miniature inks. 
Mamet has been in the industry for a while now, and as one can guess through her choice of designs, she is very passionate about her work and likes to hold them dear.
Hence, for example, her journey with the series, 'Girls.'
Likewise, another one of her series has made to the list of her inks.
In 2020, she was seen in the series 'The Flight Attendant' as Annie Mouradian. In honor of the show and to provide a tribute to the show, she and her co-star Kaley Cuoco decided to mark their memories from the show forever. 
"A special little tribute to our wonderful little show .." Wrote Kaley posting a picture of Zosia getting an ink while she was on the floor smiling.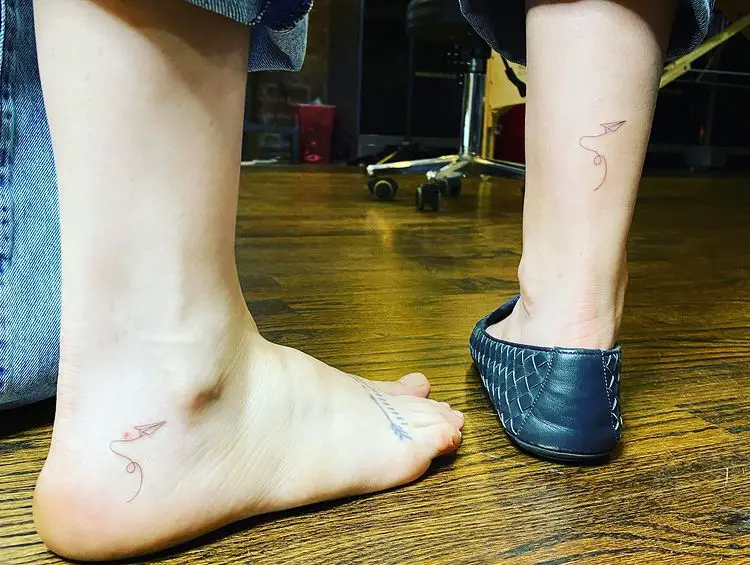 Zosia Mamet's Matching Ink with Co-Star (Source Instagram)
The latter on pictures revealed that the two actually got matching tattoos of a paper plane with a tail (which is also a very famous kind of design) that perfectly fit their show. 
It seems like we are yet to witness more inks from Mamet as she won't stop anytime soon in the industry, meaning the more shows we get, possibly we get to see more inks from her; who knows?