Sports
Dewayne Dedmon Stats, Contract, Net Worth, Family
Dewayne Dedmon is a basketball star famously known for his defensive gameplay and holding off opponents from the line of defense. The former Atlanta Hawks center back bagged a career tally of 6 rebounds per match, 72.4 free throw percent and an average of 6.5 points per game.
Through his six years at the NBA, the center back played for great teams like Golden States Warrior, Philadelphia 76ers, Orlando Magic and Atlanta Hawks.
Stats & Contract
Dewayne Dedmon first burst into the scene with the Golden States in 2013. But, he did not start any games during his stay there so, he signed a 10-day contact with Philadelphia 76ers in 2014.
Following a poor run of form, the center back failed to make a significant impact which resulted in him being traded to San-Antonio-Spurs and Orlando Magic in the same calendar year.
Also Read:- Mike Muscala Contract, Salary, Girlfriend, Siblings
However, the superstar finally found his rhythm playing for the Orlando Magic. During his two seasons with them, the player scored with an average of 4.05 with 4.5 rebound percent and 0.8 blocks per game.

Dewayne Dedmon's regular-season stats (Photo: ESPN.com)
After, terrific outings with the Magics, the center back was traded to Atlanta Hawks for the 2017 season. He proved his worth in the Atlanta as he scored with an average of 10 points per game with 7.7 rebound percentage.
Unfortunately, the seven-footer couldn't continue his 2018-19 season with an avulsion fracture on his left ankle.
Despite the injury scare Sacramento Kings signed a three-year contract with Dewayne in 2019 for his overall performance in the defense for Atlanta.
Dewayne Dedmon Family & College
Dewayne was born on 12 August 1989 in Calfornia. His single mother, Gail raised him alongside two elder sisters Sabrina and Marina after his father Thomas Dedmon tragically killed himself.
The mother of three was struggling to meet her family's ends with her earnings being the only source of income in the house.
Similar Youngster:- Sharife Cooper Bio, Age, Height, Salary, Family
On top of that, young Dewayne frequently insisted on pursuing a career in sports to which his mother disagreed at first saying he was a teenager under the influence of his friends, but soon she realized she was wrong about him when she saw him play.
He then joined Lancaster (CA) High School but, did not indulge in playing organized basketball until his senior days. After completing high school playing mediocre basketball, the California native joined Antelope Valley College where he played basketball for one year.
Soon, he moved to the University of Southern California where he started 49 games, averaging 7.1 points, 6.4 rebounds and 1.67 blocks per contest. He became the ninth on the USC's all-time list with 85 blocked shots in two seasons.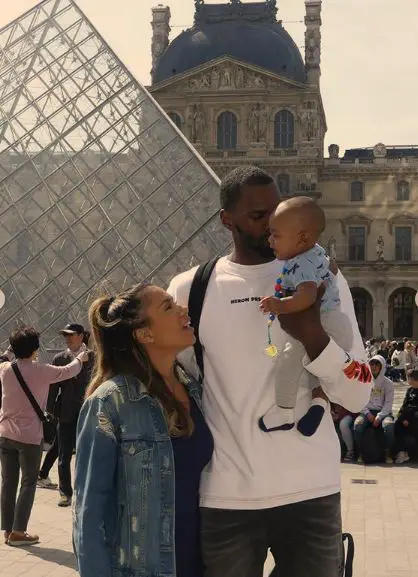 Dewayne Dedmon visit Paris for a vacation with fiancee and son in April 2019 (Photo: Dewayne Dedmon's Instagram)
Dewayne enjoys a wonderful career in basketball and so does he in his personal life. He is blessed with a wonderful family of three with a wife-like-girlfriend and a son on his side.
Net Worth & Salary
Talking about his salary from playing basketball, Dewayne Dedmon has represented many high-class teams in the NBA and earned a total salary of $18,118,381 from the 6 seasons which he played in NBA.
His height of 7 feet (2.13 meter) and weight of 111.1kgs also helped him tremendously to back his defensive capabilities which led him to be drafted by the Golden State Warriors as a free agent on November 2013.
Also, he gains a lot of money from brand endorsements, commercials, and jersey sale which takes his net worth to figure around 50 million dollars.