Sports
Mike Muscala Contract, Salary, Girlfriend, Siblings
Mike's alleged contract with the Thunders...stats weren't always...pay him the salary of...traded him to...father Bob Muscala, on the other hand, is a...enjoys a secretive dating...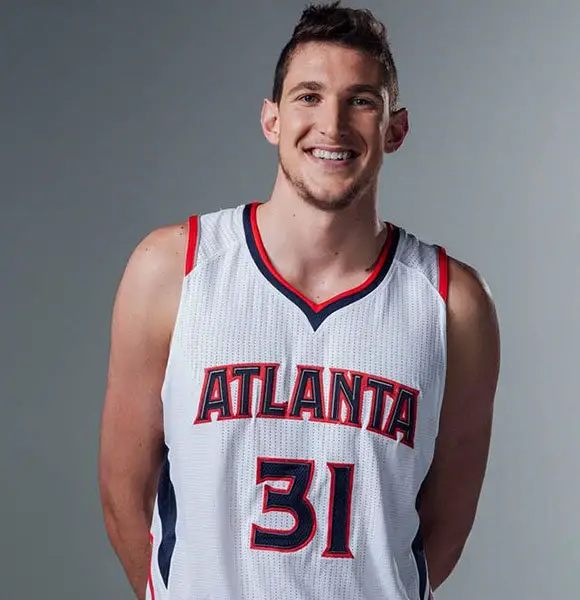 Dallas Mavericks' 2nd round pick at the 2013 NBA Draft, Mike Muscala is an American pro basketball athlete. On the night of the draft, he got shipped to NBA outfit Atlanta Hawks.
The power forward/center's subsequent playing career also saw him apply his trades at Philadelphia 76ers, Los Angeles Lakers and Los Angeles Clippers.
In early-June 2019, reports began to circulate that Mike had signed for Oklahoma Thunders.
Contract & Salary
Following his draft in 2013, Mike signed for Liga ACB side Río Natura Monbús Obradoiro. Returning to NBA in 2014, he penned a lucrative multi-year contract with Atlanta Hawks.
In June 2016, the Hawks exercised $1.02 million option on his contract. A year later, he penned 2-year-long deal worth $10 million. Per the agreement, the Hawks had to pay him $5 million annually in salary.
Another NBA Athlete In Our Vault:- Who Is Rodney Hood Girlfriend Turned Wife & What Is Salary? Age To Contract
Ahead of the 2018/19 NBA season, Mike exercised $5 million option with the Hawks. By the end of the very campaign, his name got heavily linked with Oklahoma Thunders.
While the news turned heads, details about Mike's alleged contract with the Thunders didn't become public. Neither the salary nor the terms were available.
Stats & Trade
Mike began the 2018/19 NBA campaign with Philadelphia 76ers. Atlanta Hawks had traded him to the 76ers after five glorious years spread over two stints.
With the Hawks, Mike's stats weren't always impressive. Playing an average of 45+ games every season, he registered a meager 5 points per game.

Mike Muscala's NBA stats (Photo:- Espn.com)
And during his single season with 76ers, the talented power forward scored an average of 7.4 points per game. However, it didn't prove useful enough. In February 2019, 76ers traded him to Los Angeles Clippers. Clippers, in turn, shipped him to rivals Los Angeles Lakers.
Less than six months into his tenure at Lakers, Mike reportedly was again on the move. Per rumors, he and Oklahoma Thunders reached an agreement.
Father, Mother & Siblings
Mike, for the most part, is a class act. His name is yet to get riled up in controversy. His father Bob Muscala, on the other hand, is a different story.
Father Is A Douche:- Lara Trump Husband, Kids, Net Worth
In June 2018, Bob, a registered nurse in Minnesota, sent out a racist tweet, aimed at NBA athlete Jimmy Butler. It even prompted an apology from Mike and his team. Undoubtedly, the whole debacle was a cause of shame for his mother Mary Madia as well.
Talking about his siblings, Mike has a sister named Madeline Madia. The Muscala siblings share eight years age difference.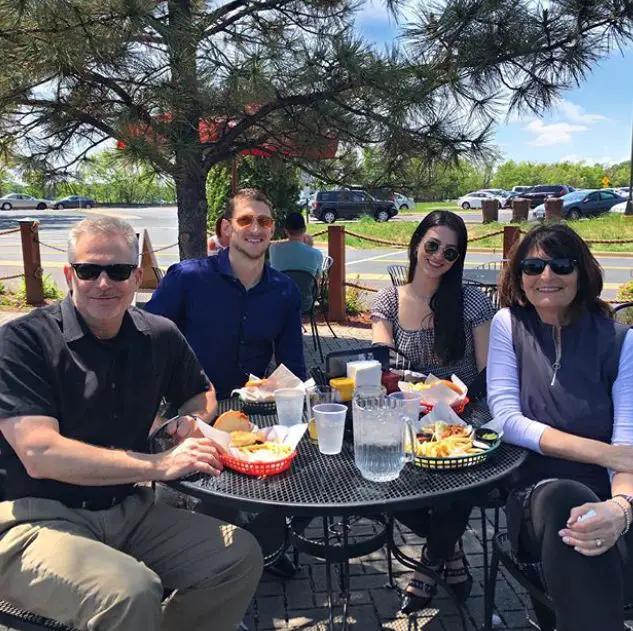 Mike Muscala with half-sister Madeline Madia, mother Mary Madia and step-father enjoying lunch in June 2019 (Photo:- Mary Madia's Instagram)
Mike was born in 1991 in St Louis Park, Minnesota. From 2009 to 2013, he played college basketball at Bucknell University.
Dating & Girlfriend
Mike is a remarkably preserved individual. Thus, he enjoys a secretive dating life. Either that or he is yet to cross path with a woman deserving of the girlfriend title from him. Given his earnings and physique, the former seems to be the more likely probability.
From NBA:- Cameron Payne Reportedly Dating, Rumored Girlfriend Pregnant, Who Is She?
In terms of height, he stands six feet and 11 inches (2.11 m) in height — meanwhile, the 28-year-old possesses109 kgs in weight.