Sports
Jadon Sancho Contract, Salary, Transfer, FIFA 19 Stats
Jadon Sancho has proved to be one of the modern-day magicians in the sport of soccer. Though a prodigy of English Club, Manchester City, Jadon tasted success in soccer while playing for the German Giants Borussia Dortmund.
He showed off signs of such a great player in all the youth competitions that Dortmund chose him in their playing eleven.
As far ranking goes, his FIFA 19 stats show his overall figures clocking at 78, but he is much more capable than that. Now, with the January 2020 transfer coming up, many big teams like Liverpool, Manchester United and Chelsea are eye to make a move to sign the promising player.
Salary, Contract & Transfer News
The Dortmund jersey number seven is at high demand with the upcoming transfer window just around the corner. His progress in Germany caught the eyes of many top-flight teams in 2018, and they are all lining up to sign the left-winger.
However, signing the 19-year-old is not an easy task. According to his new contract with the German team, the winger is worth a whopping $222 million. Even surpassing Neymar, whose value declined to $133 million following a stint at Paris Saint-German (PSG).
Emerging Star:- Ebuka Izundu Girlfriend, Dating, Parents, Family
Nevertheless, the Dortmund team management is ready to offload the Englishman whose professional contract lasts till 2022. Saying that, the minimum asking price for him is set at €140.
Now, it will be interesting to see which team will be ready to take the transfer move in 2020.
Bio: Parents & Current Teams
Jadon Sancho was born on 25 March 2000 in England to a Guyanese father and Jamaican mother. As his parents never married, he lived with his mother and sister in Kennington.
Nevertheless, he connected well with his father through soccer; the father-duo timely went to watch soccer matches. And, during that time, Jadon also found his passion for soccer due to which, he eventually joined Watford's football academy.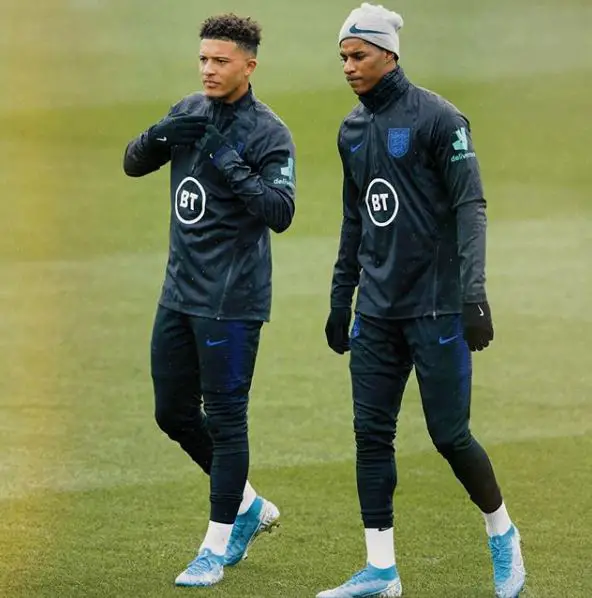 Jadon Sancho(right) alongside Marcus Rashford during the England Team training in November 2019 (Photo: Jadon Sancho's Instagram)
However, the journey from home to the academy proved difficult for the then eight-year-old, so he made the trip three times a week. During other, days he played street football where he was free to do anything.
Another Promising Player:- Romeo Langford Girlfriend, Family, College
Mixing the traits of the street and professional football, the left-winger sharpened his skills even more. Soon he made it to the England Youth Team and also joined the Manchester City Academy.
Finally, he made his professional debut in 2017 in the Bundesliga. As of 2019, he is one of the hottest properties in football.
Exciting Facts About Jadon Sancho:
The midfielder has a height of 5 feet 11 inches (1.81m) and the bodyweight of 76kgs.
He made his debut for England in 2018 against Croatia.
He harnessed his footballing skills while playing street soccer in England.
Won the player of the month for October 2018 in Bundesliga.
He bagged 12 goals and 14 assists in the 2018 Bundesliga season.