Sports
Lamar Miller Fantasy Stats: Contract Plus No Injury, Career Stats To Peak
Lamar Miller, running back for |Huston Texans of National Football League is called...by his head coach which is by far true as he can..., ....and...Despite it, he is prone to injury hurting his...and...but still he manages to add numbers to his stats since the signing of the contract with...and then with...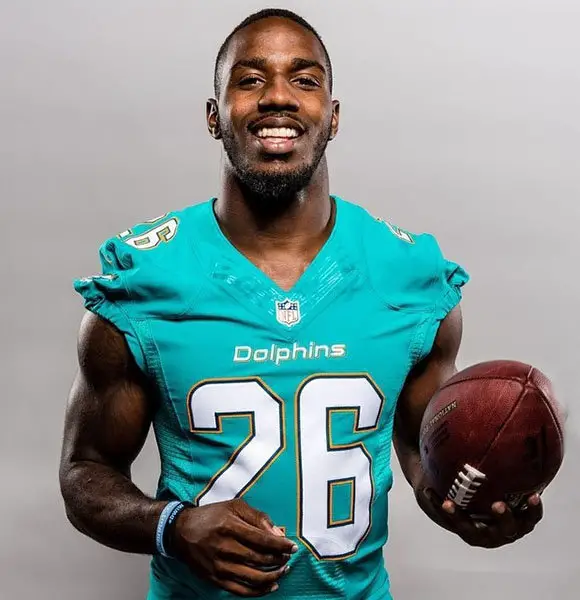 American football running back Lamar Miller is called "a three-down back" by his NFL Houston Texans' head coach. His coach is not at all wrong as he has all three traits of being a three-down back.
Indeed, Lamar, who has averaged 36 receptions over the last five seasons, can run between tackles, and bump it outside as well; he sure is a good runner, receiver and a smart player.
However, in the end, he's also a human being who is prone to injuries like other players in the field. Despite the injury, he keeps finding ways to add numbers into his stats. 
For illustration, Lamar recently ran for 68 yards on 14 carries while playing for Houston Texans as they lose to Tennesse. Lamar added two yards receiving on two catches during the game.
Series Of Injury
When players enter onto the field, every single one of them is exposed to injuries. Some acquire ankle injury while some acquire knee or shoulder injury. Talking about Lamar, he already has been a victim to two of them. 
See Also: Chris Thompson Injury Causing Fantasy Buzz; NFL Running Back Stats
During the span of his career in the football field, there has been news of Lamar hurting both his knee and shoulder injury. Back in October 2016, he suffered a shoulder injury during Houston's Week 7 game which was against the Denver Broncos. However, he soon returned to the field.
In the year 2016, he rushed 136 times for 581 yards and a touchdown. Adding to it, he also caught 20 passed for 117 yards and a score.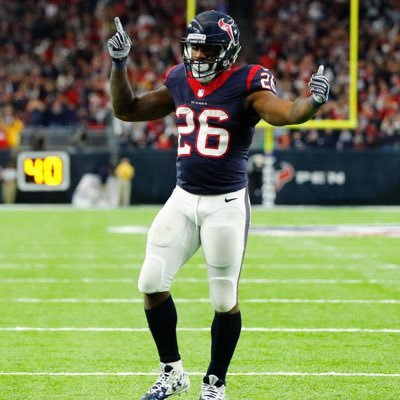 Lamar Miller for Huston Texans. (Photo: Lamai Miller's Twitter)
Later again in November 2017, Lamar had to go through a painful knee injury on Monday Night Football after he was tackled on the sideline by Baltimore Ravens linebacker Matt Judon.
However, he returned to the game at the beginning of the second half. During the first two quarters of the game, Lamar had ailed 30 yards nine carries. He also opened up the scoring in the game with a 4-yard touchdown.
Form College Career To Fantasy Drop
Lamar Miller has his hands in football since his high school days. He attended Miami Killian Senior High School where as senior he was a Parade All-American after he rushed for 1,749 yards on 217 carries with 22 touchdowns.
Don't Miss: Natasha Staniszewski Age 39 Married & Husband | Personal Life To Salary
After finishing high school, he joined the University of Miami instead of playing for the University of Florida as he wanted to follow the paths of other former Hurricanes running back. He was re-shirted in 2009 and began his college career in 2010 playing 11 games with one start.
His career at college ended with 1918 rushing yards with 15 rushing touchdowns and 181 receiving yards with one touchdown. 
After his college days, Lamar was drafted by Miami Dolphins in 2012 NFL Draft where he signed a 4-year contract worth $2.58 million. He was acquainted with Miami Dolphins till 2015 with 2930 rushing yards, 887 receiving yards, 19 rushing touchdowns, and three receiving touchdowns.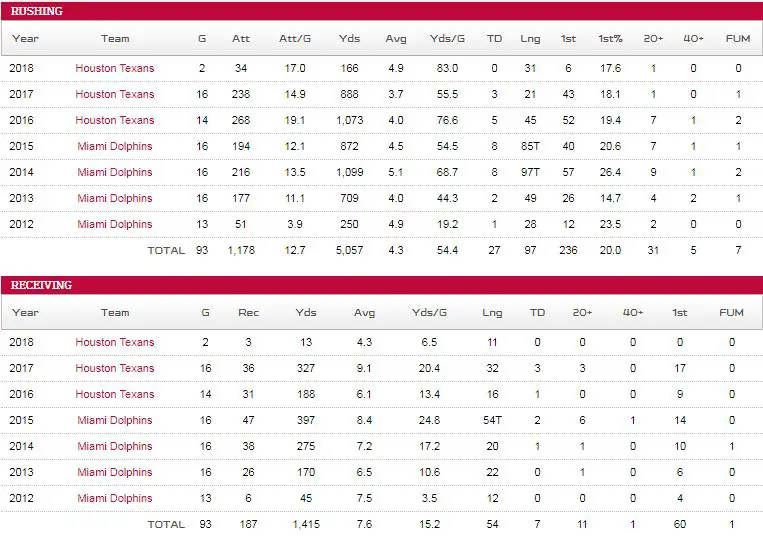 Lamar Miller career stats. (Photo: nfl.com)
In 2016, he signed a 4-year deal with Houston Texans earning him a net worth of $26 million. Till date, Lamar has earned himself 2127 rushing yards, 528 receiving yards, with eight rushing touchdowns and four receiving touchdowns.
Adding to it, previously in June, NFL Fantasy Football announced through Twitter that he is only one of the two players with 1,200+ scrimmage yds and 6+ TDs in 4 straight seasons as he made his way onto the fantasy top 50.
You may also like: Liza Tarbuck: Neither Lesbian Nor Single; Loves The Male Company. Boyfriend or Husband?
Recently, Lamar has been ranked fourth in the NFL while heading into Week 3 with an average of a stable 4.9 yard per carry. Even though he is supposed to be a three-down back going into the season, but currently that is not the case through two of his games.
However, he is still a must-start in most of the fantasy leagues, but as he fails to maintain the number for the stats, his fantasy value has dropped.