Sports
Chris Thompson Injury Causing Fantasy Buzz; NFL Running Back Stats
Chris Thompson plays as jersey number...for Washington Redskins as the...since he was drafted during the...During his time there Chris was able to add numbers to his stats making his career-high of...receiving yards,...rushing yards...But he currently faced injury on his...that caused fantasy football buzz...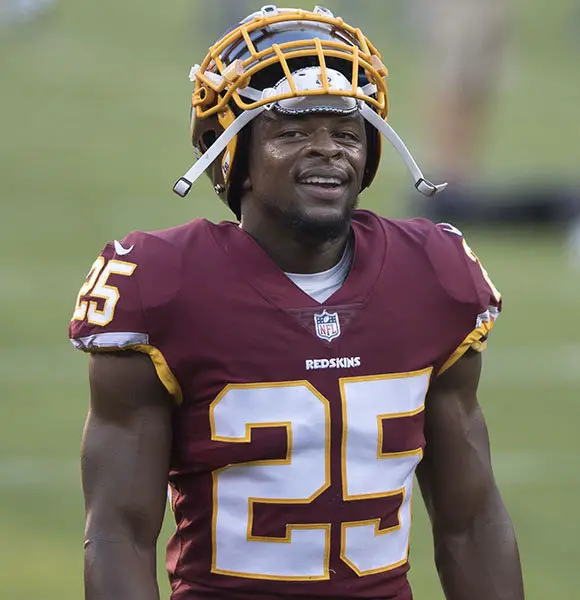 Jersey number 25, Chris Thompson is the American football running back and a kick returner reaching the heights in his career at the Washington Redskins of the National Football League (NFL). 
He had his hands in football since early days and played at Florida State University until he was drafted by Redkins in the fifth round of 2013 NFL draft. Even though he just as good as most players in the field he is no stranger to injury since the beginning of his career at Redskins.
However, his recent injury that saw his electric season in 2017 cut out, almost cost him Fantasy fallout.
Returning From Injury With Fantasy Fuss
For Chirs, injuries are nothing new in his dictionary, but the recent one was the hardest one he ever dealt with till date. During his five seasons at Redskins, Chris had never finished the season with more than 356 rushing yards recording it as his career high.
See Also: Hazel Mae Heart Melting Affair! Perfect Husband To Age, Ethnicity & Facts
However, his 2017 season hinted his fantasy rise with 510 receiving yards with overall 4 touchdowns. But his success got some cracks when he suffered from a broken fibula the very season.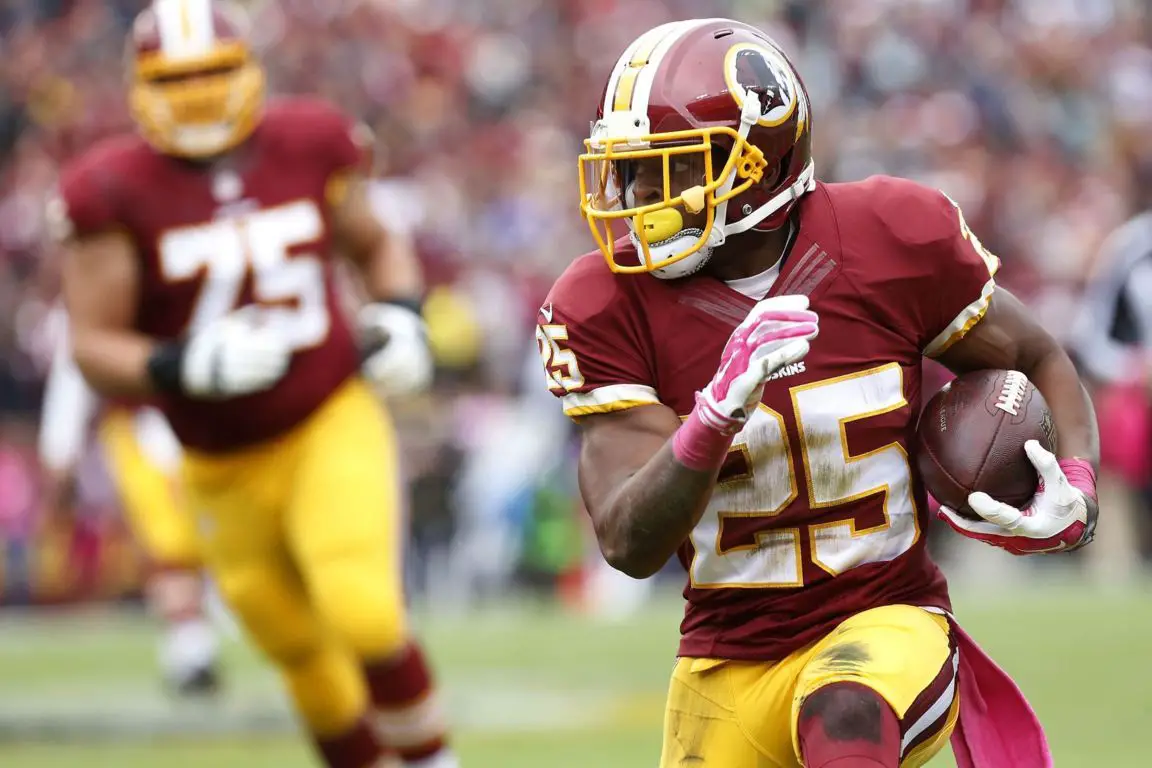 Jersey number 25, Chris Thompson playing for Washington Redskins. (Photo: bleacherreport.com)
Even though it was not known how quickly he would return to the fields but back in August 2018, he himself suggested that he might not return 100 percent to the field until November. 
He even divulged that his current injury was by far the worst one he had to go through. It not only affected him physically but also had the tough take mentally. Even though his leg was healed but dealing with the mental pressure was one of the hardest one to deal with. He said,
"I know it's healed, I know the plate is there so I don't have to worry about it breaking, but it's a big mental game and this is the toughest [injury] mentally I've had to deal with."
Likewise, the doctors even warned him that he would not feel back to where he left off until nearly a year after his injury. His injury even raised concern among fantasy owners after his claim that he would not be 100% until November.
Don't Miss: Jean Currivan Trebek Wiki: Age, Net Worth To Alex Trebek & Family Bliss
Despite the troubles, Chris went out on the practice field putting in efforts to get back into the playing shape. Just a week before the season-opening, Chris finally felt getting back to his old self. He joined his team when the Redskins took the field for their first 2018 regular season game against Arizona Cardinals. 
According to Chris, his moments out on the field was when he had felt best since his injury last year. He divulged saying,
"It was huge. Once that clock started and I got on the field, that was the best I had felt since my injury."
Although Redskins target for Chris was just 12 to 15 touches per game, with his work in the field, he has proved that he can do even more with the workload to make his fantasy buzz, especially in the Points-per-reception (PRR) leagues.
From College Career To Playing For Redskins
Chris Thompson, who seems to have an impressive stat, has been associated with Washington Redskin for five years now. Prior to being drafted by Redskin in 2013, Chris played for in college team of Florida State University. 
During his time there, he was able to add a massive number to his stats where he played till 2012. In 2013 NFL Draft, he was selected by Washington Redskins in the fifth round, with the 154th overall pick. Even in his early years as a rookie, Chris had is injuries by his side was also placed on the team's injured reserve.
In 2014, Chris, who has an estimated salary of $2 million, was promoted to an active roster. In the same year, Chris had his first career touchdown against New York Giants in the week 15 game. The next year he added two more touchdowns onto his stats. 

Chris Thompson Stats. (Photo: nfl.com)
In 2016, Redskins extended a contract to Chris which he accepted and officially signed on March that year. In the same year, he finished the season with 356 rushing yards, 3 rushing touchdowns, 349 receiving yards and 2 receiving touchdowns.   
You may also like: Why Did Alexandra Krosney Exit Last Man Standing? Was It Because Of Her Boyfriend?
Later, in 2017, Chris, at the age of 27, re-signed the contract with Redskins which would expire that year adding two more years to his contract with the team. In 2017, he had 510 receiving yards with 4 receiving touchdowns and 2 rushing touchdowns.