Sports
Mason Plumlee NBA Stats, Contract, Salary, Girlfriend
Mason Plumlee's NBA stats from 2013 to 2018... on yearly basis from his contract with Denver Nuggets...salary amounts to...is married to wife...college & high school info...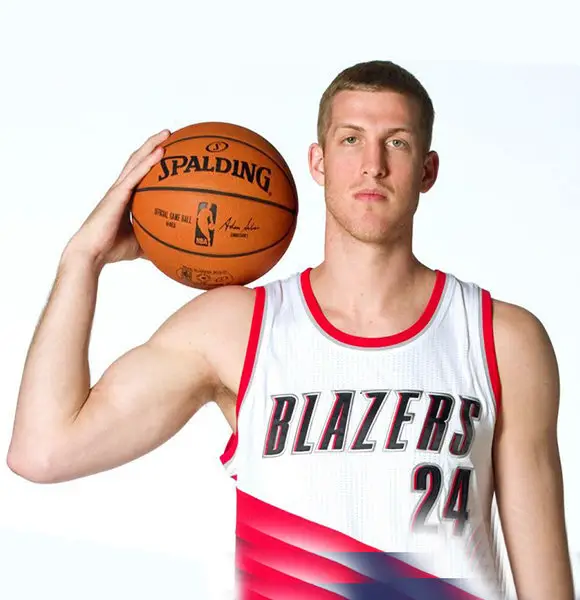 After he was traded to Denver Nuggets in 2017, Mason Plumlee has shown some consistent performance as a power forward.
Formerly, as a member of the US national team, he had secured a gold medal at the 2014 FIBA Basketball Worldcup. Moreover, in 2008, he had won the silver medal at the FIBA Americas Under-18 Championship on behalf of the under-18 team.
Career, NBA Stats
The player first started playing professionally with the Brooklyn Nets after he was selected in the 2013 NBA draft. The same year, he played 70 games for the team and achieved an overall score of 520.
 Also, he played his first game against Pheonix Suns and secured the winning title.
NBA Player Stats:- Cameron Johnson College Stats, Parents, Siblings, 2019
In 2014, the athlete gave an improved performance along with an increase in the number of games he participated in. Mason started 45 games in a total of 82 games. On 9th February, he made his second record in NBA double-double by scoring 22 points and 13 rebounds. He even scored 717 points that year.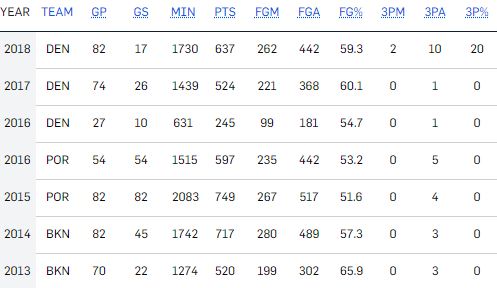 NBA stats of Mason Plumlee from 2013 to 2018 (Source: espn.com)
In the start of 2015, he started playing for Portland Trail Blazers but didn't give an impressive performance the following year. But, Mason was responsible for all the 54 games he played in 2016 season. With a decrease in the number of games played in 2016, there was also a decline in the points scored.
However, during his 2018 gameplay for Denver Nuggets, he showed an improved performance by scoring 637 points.
Contract & Salary
As of 2019, Mason earns an impressive annual salary of over $14 million from his contract with Denver Nuggets since 2016. As per his contract terms in 2019, he was guaranteed an amount of $41 million throughout his tenure. 

Contract of Mason Plumlee from 2017 to 2019 (Source: spotrac.com)
Although he will be a free agent in 2020, there will be a considerable boost in his salary with the new team.
Family, Education, Girlfriend
Mason was born on 5th March 1990 in Fort Wayne, Indiana. His father Perky Plumlee is a lawyer and was also a basketball player during his college years. Mason's mother, Leslie Plumlee, is a pharmacist by profession.
The Indiana native did his schooling in Warsaw High School but later transferred to Christ Boarding School in Arden, North Carolina. Likewise, he graduated from Duke University in 2013 and then recieved recognition from the Army Ranger School on 30 August 2019.
The basketball star also has a brother named Miles Plumlee in his family. His brother, who is a year and a half older than Mason, is also a professional basketball player and plays for the Memphis Grizzlies. The athlete also has a younger sister named Madeline Plumlee.
In terms of his dating life, Mason has kept a low-key profile. He is reportedly single, without a girlfriend or a wife.
Age and Measurements
The 29-year-old basketball player stands 6 feet and 11 inches tall (2.1 meters). 
Age & Height Of NBA Player:- Jaylen Brown NBA Stats, College, Contract, Salary
He boasts a weight of 106 kgs. Considering his tall height, his weight is deemed moderate.