Sports
Michael Beasley Net Worth, Girlfriend, Children
The start of 2019 marked a somber period for the former Los Angeles Lakers man, Michael Beasley.
His mother, Fatima Smith - who was facing a constant battle with cancer - passed away late December 2019; after which the Beasley family is mourning her loss.
Remembering his mother, Michael Beasley posted a picture on his Instagram and all the NBA family showed their sympathy.
Despite the tragic loss, the star athlete has maintained his professionalism and was busy negotiating a contract with the Detroit Pistons for the upcoming 2019-20 NBA season in August.
Contract, Trade & Net Worth
Playing for the Lakers in the 2018 NBA season, Michael Beasley was one of the instrumental players in the team lineup averaging 7 points per game in 26 games played. He was also paid a salary of $2,254,237 for his contribution to the club.
The forward was always a match-winner but lacked consistency when it came to playing for a particular team. Michael was traded from the Los Angeles Lakers to the Los Angeles Clippers. Sadly, he was instantly waved goodbye from the side due to violation of an anti-drug policy in 2019
More From LiveRamp Up:- Jake Muzzin Wife, Baby, Parents, Net Worth
In ten years playing in the NBA, the small forward was traded to six different teams. In August 2019, he was in talks to sign a one-year contract with Detroit Pistons. However, later the team chose Joe Johnson over Michael.
Despite not getting to be affiliated with the Detroit franchise, he still boasts a substantial net worth of $10 million. And, whichever team he joins this season, Michael is determined to play this season in remembrance of his late mother.
Girlfriend & Children
Michael is a family man outside of his dazzling NBA lifestyle. He is a responsible father to four children: two daughters named Mikaiya Z. Beasley - age 10 & Mikae Beasley - age six,  and two sons called Mikey & Markei Easy Beasley, aged eight and seven respectively.
All of Michael's children are from his previous relationship with ex-girlfriend, Kaleila Pufolkes. The ex-couple exercised a healthy relationship back in 2014. The pictures of the two celebrating the athlete's 25th birthday showed just how close they used to be.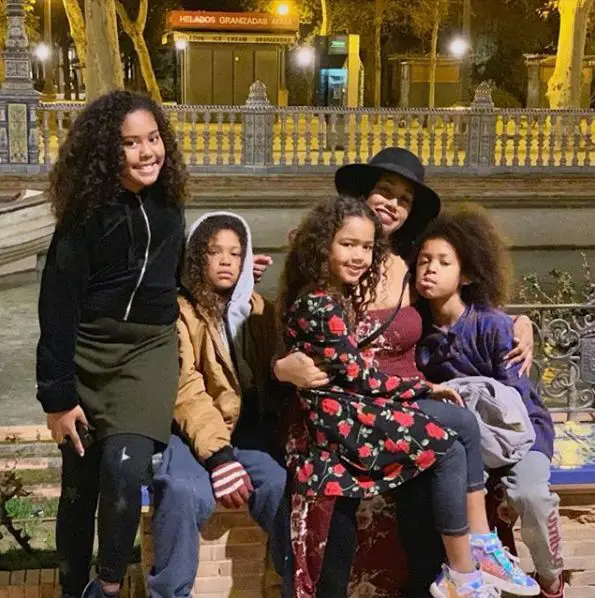 Michael Beasley's ex-girlfriend Kaleila Pufolkes and children visit Spain in March 2019 (Photo: Michael Beasley's Instagram)
However, the two are not together now as Michael confirmed living alone in 2018. Also, adding to the confirmation, the star cited their differences as the reason for the split.
Bio: Age, Parents
Michael Beasley is a native of Maryland and spent most of his childhood playing basketball. Amongst his four siblings, two brothers; Leroy Ellison and Malik Smith and two younger sisters named Mychaela Beasley and Tiffany Couch, he was the most athletic.
His father Michael Beasley Sr. and mother Fatima Smith also encouraged him to play. Soon he joined Norte Dame Preparatory High School and started his high school playing career. Dawning jersey number 11, Michael was an instant hit.
Another Exciting Player:- Julio Jones Girlfriend, Wife, Married
After graduating his high school, Michael left for college as a five-star prospect and joined Kansas State University as a senior college player. It was during his performances in NCAA that earned him the first draft pick in the NBA.
With his height of 6 feet 8 inches (2.06m), he was good at winning the air balls. Further, his weight of 106 kgs helped the athlete power past the defenders. He was the perfect forward with an average of 12.4 points with 4.7 rebounds in just one season at the college level.
Boasting such high stats the 30 years old was later drafted to play for Minnesota Timberwolves in 2008, and now all are aware of his capabilities.