Sports
Mohamed Bamba Stats, Salary, Career, Parents
Overshadowed by a list of injuries in 2019, Orlando Magic's young sensation, Mohamed Bamba is eyeing to make a healthy return before the start of the 2019 NBA Season.
Sadly, he had picked up a stress fracture in his left tibia in February 2019. But, the good news was he didn't require surgery as the injuries were not fatal.
Averaging 6.2 points with 5.0 rebound and 1.36 blocks per game in the previous season, the youngster is a crucial member in the plans of the Orlando Magic's success. Let's know more about this promising youngster.
Stats & Injury
The number five jersey man, Mohamed Bamba is a promising basketball player.
Star Athlete:- Julio Jones Girlfriend, Wife, Married
Though he only played one year in the college competition, NCAA, his underlying college stats - 12.9 points, 10.5 rebounds and 3.7 blocks per game -gave him the extra edge. No wonder, he managed to go the distance in the NBA Drafts.

Mohamed Bamba's NBA Stats (Photo: NBA.com) 
Having featured for the Magic in the 2018 NBA season already, the 21-year-old posts an active stats playing as a rookie.
Now, he is out with a leg injury but is expected to return shortly if he concentrates more on his rehabs and recovery.
Bio: Parents & High School
Mohamed Bamba's family roots come from the Ivory Coast. His parents - Lancine Bamba and Aminata Johnson -moved to Harlem, New York along with him and his brother Sidiki Johnson when both the boys were very young.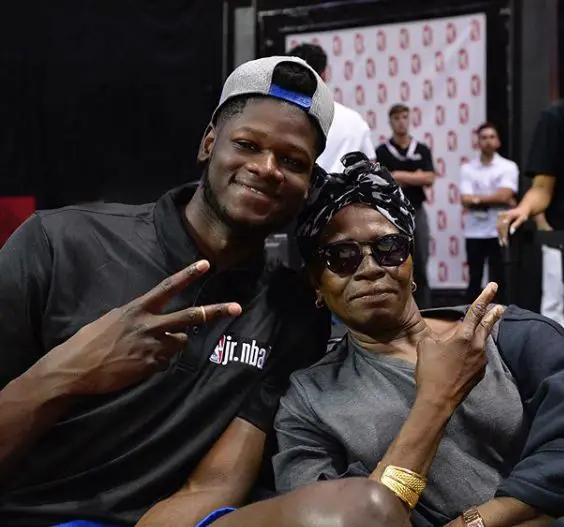 Mohamed Bamba with mother, Aminata Johnson at ESPN Wide World of Sports in August 2019 (Photo: Mohamed Bamba's Instagram)
Since a tender age, the two brothers played basketball with each other, and soon the hobby became a passion. While his brother reached only to the college level, Mohamed joined Westtown High School and won gold at the U18 FIBA Americas Championship playing for the United States.
Do Check Out:- NBA 2K20 Video Game, Features, Update, Reviews
At the age of 20, Mo had already gained decent body weight, and his height of 7 feet 1 inch (2.16 m) helped him compete in college competition for the University of Texas. After just one year in college, he was picked as a five-star recruit in the NBA.
Career & Salary
Just at the age of 20, Mohamed Bamba was selected in the 2018 NBA Draft to play for the Orlando Magic. Being picked sixth overall in the draft meant he was going to be a precious asset for the Magics in the coming years.
Now he is under a two-year contract with the Magics worth $10,562,640, which fetches a healthy salary of $5,281,320 per year. He has just started his rookie campaign but already accumulates a hefty net worth.
Given his dedication for his game, Mohamed will only climb upwards as he progresses higher in his basketball career.