Sports
Rising Basketball Star Jewell Loyd: No Dating, No Boyfriend
Rising Basketball Star Jewell Loyd: No Dating, No Boyfriend. Whenever Jewell Loyd sees that court she is relentless to go there and score.  Her time during the WNBA's month-long break for the Rio Olympic Games in August will be no different as she will be that with her beloved: basketball and court.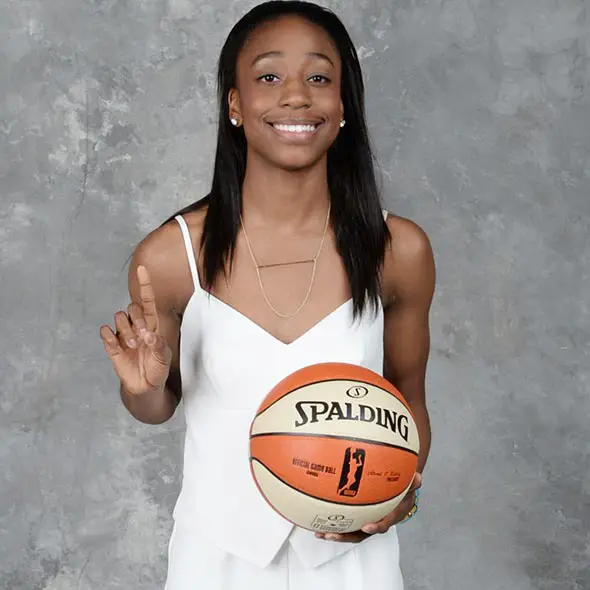 Jewell Loyd is one of the rising talents in the United States basketball team. Proof? Well, she was drafted as the first overall in the 2015 WNBA Draft by the Seattle Storm.
Rising basketball star Loyd:
Loyd has been speaking volumes about her rapid ascension among the WNBA's ranks of best players through her performance. "I'm on a mission for sure to get better and prove to myself and my family that I'm a good player," said Loyd after triumphing a career high 32 points on 12-for-18 shooting with a personal-best nine rebounds in the match against Phoenix in June.
She added-
"I'm still a young player in the league. I'm not in my prime yet. I'm on the rise and I definitely want to be in the conversation of the top five guards in the league.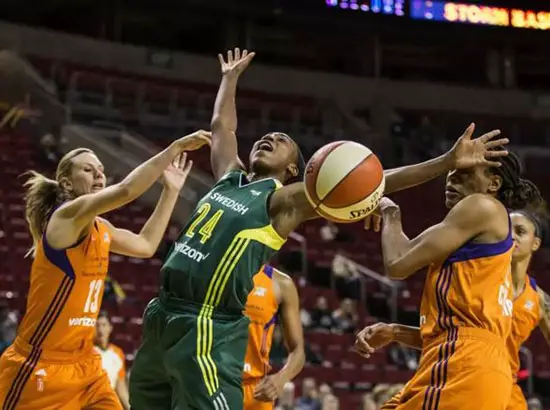 Caption: Jewell Loyd taking a foul trying to put the rebound back up on the board in the first half, it was the match between the Seattle Storm and  the Phoenix Mercury that took place on May 4, 2016, at KeyArena in Seattle
Source: seattletimes.com
Phoenix Mercury played the Seattle Storm on May 4, 2016, at KeyArena in Seattle, and yes, few records were broken.
• Her 32 points ranked 14th all-time for a Storm player and was the most since Lauren Jackson tallied 33 in 2010.

• It 32 points tied for the third-highest scoring outing by a WNBA player this season.

•  Loyd also joined legendary Sue Bird (2) and Lauren Jackson (27) as the only players in franchise history to record at least 30 points in multiple games.
Highlighting her performance, Coach Jenny Boucek said,-
"She was letting stuff come to her and not forcing it. It wasn't an individual effort, she was creating for others and just taking things as they came. And if she can keep doing that, then she's going to reach a whole other level because she showed the ability to be a playmaker and not just a scorer."
Loyd helped U.S team for Rio:
Loyd was named to the USA Basketball's 11-player select team on June 11. Her purpose was to help and prepare the national team for Rio Olympics.
With legendary players Lindsay Whalen, a two-time Olympian, and four-time Olympians Sue Bird and Diana Taurasi unlikely to play in 2020 due to age factor, it is now youngsters chance to mark their legacies.
"I'm waiting my turn," said Loyd in an interview, further adding, "Being in the pool gets me one step closer to reaching that goal."
Although the US women basketball team went on to win gold in Rio, some credit goes to Jewell Lord as well. Finally, we can say her efforts have paid off.
A new star in the making!
Veteran players such as Breanna Stewart and Sue Bird watched from the sideline as Storm newly born star Jewell Loyd took over the final minutes of April's training-camp practice.
With the ball in hands, she sprinted and frequently spun around defenders for layups. Whenever the scout team blocked the path to the basket, she pulled up for midrange jumpers or floaters depending on the context.
And when the defense adjusted and focused toward the 5-foot-10 youth sensation, Loyd fearlessly split double-teams with dribble-drives to the rim and flipped passes to teammates for open shots.
It was a glimpse into a bright future for Loyd who is an emerging 23-year-old standout as well as an intriguing candidate to replace Sue Bird whenever the 15-year veteran, as well as future Hall of Famer, decides to retire. Loyd said:
"Sue is still here and she's still dominating and I'm not going to mess with anything that's working. Being the (playmaker) is Sue's job, and she's great at it.
Moreover, she added:
"At times in one-on-one situations or late in the shot clock, the ball is probably going to be in my hands and I get to make a play for me and Stewie and Sue is in the corner. But for the most part, that's Sue's job."
Jewell Loyd's Short Bio:
Born October 5, 1993, Jewell Loyd is an American professional basketball player who plays for the Seattle Storm of the Women's National Basketball Association (WNBA). She was drafted first in the overall of 2015 WNBA Draft by the Seattle Storm. She was also awarded the WNBA Rookie of the Year in 2015. Loyd's  salary in 2015 was only $30,000. 
It seems like Jewell has avoided dating life because of her super-busy career. Basketball is her only boyfriend at this moment of time.
Stay with us for the latest updates on Jewell Loyd!