Entertainment
Did Clay Aiken Come Out As Gay Because Of His Child? Has A Boyfriend Or Too Busy To Be Dating?
Acknowledging your sexuality to the world becomes difficult especially when you are coming out of the closet as a gay. And also when you decide to have a child amidst gay speculations, you need extra courage to face the world.
Clay Aiken faced a similar situation when he decided to have a child through in vitro fertilization with his best friend. The child was special as it was born with the medical boon and liberated him out of his false sexual identity as well leading him to acknowledge his gay sexuality.
Accept Gay Sexuality After Child Birth:
Sister of mega music producer David, Jaymes Foster is the mother of Clay Aiken's child, who was born via In-Vitro fertilization. The birth of his son, Parker Foster Aiken, on August 8, 2008, gave Clay the courage to come out as gay,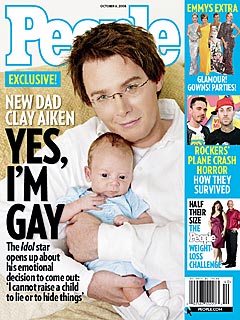 Caption: Clay Aiken acknowledges his gay sexuality.
Photo Credit: People
During an interview, back in September 2008, Clay came out as gay through a statement that said,
"I'm a Gay Dad"
Clay further spoke about his first decision as a dad.
"It was the first decision I made as a father, I cannot raise a child to lie or to hide things. I wasn't raised that way, and I'm not going to raise a child to do that."
On coming out of the closet as gay, Clay expected his fans to get overwhelmed, as evident in his statement.
"Whether it be having a child out of wedlock, or whether it be simply being a homosexual, it's going to be a lot, know that I've never intended to lie to anybody at all. … But if they leave, I don't want them to leave hating me."Moreover Clay said that his son would be raised in and environment which is, "accepting and allowing him to be happy."
Clay continued,
"I have no idea if he'll be gay or straight. It's not something I'll have anything to do with, or that he'll have anything to do with. It's already probably up inside the code there … No matter what the situation you're in, if you're raised in a loving environment, that's the most important thing."
In the society which has two genders male and female, even recognizing your sexuality in front of your family becomes difficult. And going down the memory lane, Clay shared his confession to his mother Faye in 2004, Clay said,
"I started crying in the car, it was dark. I was sitting there, thinking to myself. I don't know why I started thinking about it … I just started bawling. She made me pull over the car and it just came out."
Also, Clay added that his mother was stunned and started crying and said,
"She started crying. She was obviously somewhat stunned. But she was very supportive and very comforting. She still struggles with things quite a bit, but she's come a long way."
Clay Aiken was long subjected to gay rumors, and in an interview 2006, Clay gave his views where he said,
"I don't really feel like I have anybody to answer to but myself and God and the people I love."
In 2014, reports of Clay receiving child support from, Jaymes, mother of Clay's son Parker, made the headlines as Clay was busy fighting for Congressional election in July 2014. Sources of Radio Online claimed,
Since Clay is running to become a member of Congress, he hasn't been able to spend as much time with Parker as he has in the past, Jaymes is the primary caregiver to their son, and she truly is an amazing mother, very hands on. It's very frustrating for Jaymes because Clay will complain he doesn't get to spend enough time with Parker, and when he is granted that time, it's not good enough."
The source added,
"Jaymes feels that she can't do anything to make Clay happy, and now it's impacting their son, Clay and Jaymes used to be very , very good friends. She pays him a lot of money in child support each month."
Boyfriend and Dating?
Back in 2009, Clay was spotted with his mystery boyfriend walking in Los Angeles, and some sources claim that he was in the relationship with Reed Kelly (2008-2010), Devin Finn (2010), and Jeff Walters (2010).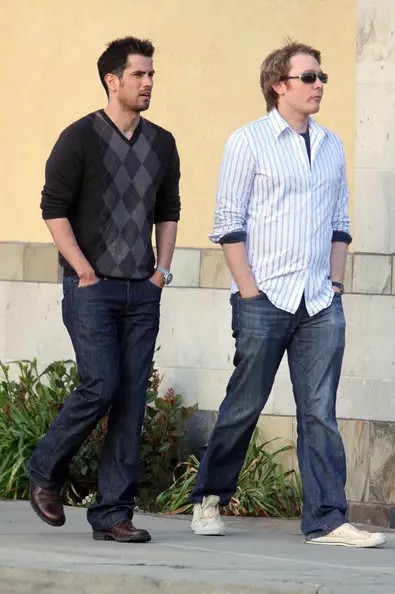 Caption: Clay Aiken spotted with his boyfriend in 2009 in Los Angeles.
Photo Credit: zimbio.com
However, he has not acknowledged his boyfriend in public, so mystery hovers his dating life.
What Is Clay Aiken Doing In 2017?
As a singer, Clay Aiken's doesn't have any upcoming concert in 2017, but he has given concerts in the past.
So what's he upto?
Clay has been busy nowadays with Radio Channel SiriusXM 109 and has been sharing his moments with the channel over his Twitter.
Singer within Clay Aiken praised the entire cast of Bandstand for the amazing music and talent via a Tweet on April 27, 2017.
And speaking of Clay Aiken's political career, he did "Grading 100 days of President Trump" with Clay Aiken and Carrie Sheffield and Bold Global Media shared it via Twitter, in April 2017.
Also, Clay has pinned this tweet on his Twitter handle which says "Pray for their safety and endurance!"
Clay Aiken has been a role model for many people who wishes to come out of the closet and liberate oneself from leading life with a false identity.
Stay with us for more news on Clay Aiken!