Entertainment
Danielle Staub And Her Dream Of A Perfect Husband Has Crashed; Unsuccessful Love Life That Includes A Divorce
Wedding bells were on the way and were about to be rung on Danielle Staub's wedding of which we were soon to hear about. The two-time divorcee thought that she was 'finally happy,' with her military man. Even though she managed to get her boyfriend down to his knees; Danielle could not succeed to walk down the aisle.
Danielle and boyfriend:
The famous TV personality Danielle Staub was a step closer to walking down the aisle as she was engaged to her boyfriend-turned-fiancé former Navy SEAL Joe Masalta, who currently serves as a President at the Veterans Continued Service.
In mid-2015, Danielle changed her Facebook status from single to engaged, and that is how the media got wind of her engagement. At that time, while expressing her feelings, she said;
'I am overwhelmed and incredibly grateful for the outpouring of well wishes and support. Thank you from the bottom of my heart. Joseph has helped me recognize the important things in life."
She continued,
'I feel like a big weight has been lifted off of my shoulders, and I am finally happy.'
The fact that Danielle has two children from her previous marriage was not a matter of issue in her relationship with Joe because he too has two children, a son and a daughter from his past relationship.
Caption: Joe Masalta with his two children.
However, just months after her relationship status changed on Facebook; it changed again, and Joe Masalta was addressed as her 'ex.' The exact reason for the split is not mentioned, but the couple reportedly split during late 2015.
The couple who met on Tinder split just months after being engaged. On January 2016, an audio tape filled with racist rant was viral on the internet which was allegedly recorded by Joe Masalta and was posted by Radar Online.
Caption: Audio tape by Joe Masalta, Later played on the media (1/25/2016).
It is not sure why Joe recorded the rant and gave it to the media but it might be related to causing defamation to Staub as a rant like that is good to nobody which gives us an idea that the split was not an amicable one.
However, without a face, it cannot be confirmed that Staub was the one who uttered all of the words because a recording can always be altered but the majority of people claim that it is Staub's voice for sure.
Despite a broken engagement, Danielle had some pretty serious problems back in her past when Teresa Guidice Branded her as a prostitute, a cast member of Real Housewives of New Jersey after they got into a heated argument but she has already admitted that she dated men for money but never was paid for having sex.
Danielle Staub's failed marriage:
Her first marriage was with Kevin Maher. However, her Wiki concludes that her marriage with Kevin was not legally registered so, their marriage technically never existed in the view of the law.
However, in 2010, Kevin revealed that he was married to another woman when he married Danielle Staub and that the relationship only included sex, drug, and physical violence and actually met each other at a cocaine party. In his statement, he gave to radaronline.com on September 1, 2010, he said;
"Throughout our entire relationship from the very first day I met Danielle Staub till the end, there was cocaine involved just about every day of our lives."
He also revealed that he only married Danielle because of the fear that it would break her probation terms as she was hanging out with him, a convicted felon. The relationship that the couple shared was very aggressive and full of abusive in every manner and that Danielle was a nymphomaniac and wanted to be intimate in anywhere and in any way she could.
The whole statement was in response to Danielle's lawsuit with include serious allegation being raped, having a gun put into her private parts and she also accused Kevin of killing her dog.
However, Kevin vehemently denied that accusation and stated that he was never the aggressor and used to defend himself from harm. He said,
"The woman is a violent, aggressive woman. And she's 5 foot 7 tall. And when that woman came at you, I defended myself. I cannot recall a time where I hit her that I was not defending myself."
Kevin continued,
"I know we would get physical. I know I would take her down to the floor and try to hold her down, and she was kicking, scratching, biting. She took a knife and cut me…I've never punched her with a closed fist. I open-hand slapped her. I did pretty much- I think my biggest routine with her was I mushed her. I would grab her face and push her away from me. But I never was the aggressor in any altercations that I ever had with that woman."
Moving on from that Danielle married her now ex-husband Thomas N. Staub, the vice-president of sales and operation at Gym Source, (1993-2007) with whom she had two daughters.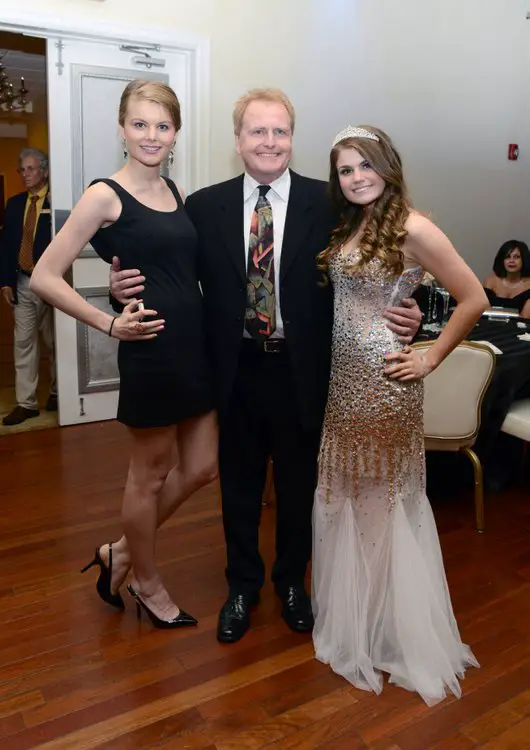 Caption: Thomas N. Staub with his two daughters from his marriage with Danielle Staub
Photo credit: realitytea.com
Dating again:
Recently, Danielle Staub is dating a man named Marty Caffrey and photos of the couple together can frequently be seen on her social accounts and the couple celebrated Christmas together too.
She could be seen in the Real Housewives of New Jersey until this year. However, it is unknown what she is doing now. Her salary is also not discussed during her time at the show, and that leads to an undisclosed net worth.