Do you know Ingrid Quinn? Probably not, right? Yes, she is no celebrity.
But she is our matter of discussion today because she has been linked with David Boreanaz, who is a renowned actor and producer.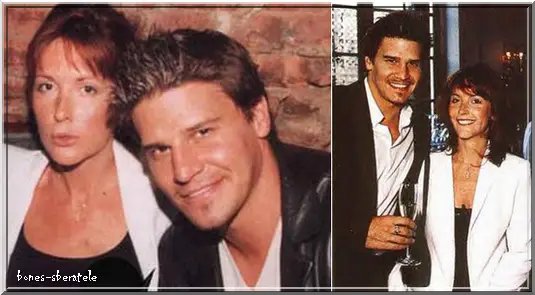 Caption: Ingrid Quinn with ex-husband David Boreanaz.
Source: dianliwenmi.com
As you might know, David Boreanaz married a fellow actress and model, Jaime Bergman in 2001. However, it wasn't his first marriage. Before Jaime, David was married to social worker Ingrid Quinn.
David and Ingrid got married in June of 1997. The couple first dated in 1994 when he was struggling (with his career).
The couple didn't have any children. Plus, their marriage saw an unexpected ending. After about two years staying as a married couple, Ingrid's husband David filed a divorce in 1999 stating irreconcilable differences.
That year, with E! Online, David talked about his relationship with Ingrid. David said,
"Ingrid's always been supportive. She has the same attitude as I do: If you don't get something, it's not meant to be. She'll help me along the way, as far as preparing for something. She's tough as nails--one strong Irishwoman."
A source had also claimed that Ingrid was a bit more concerned and possessive towards her husband.
Did her Husband Cheat Ingrid?
Reports have it that Ingrid was reportedly distressed by her husband who was getting notably comfy with certain cast members on Angel and Bluffy. She would make frequent visits to the sets of the show to check on her husband. Maybe, Ingrid was not sure if her husband was faithful towards her.
Bluffyfest has also stated that Ingrid was possibly cheated by her ex-husband David just as he cheated on his wife of nine years Jamie Bergman.
About Ingrid Quinn:
It looks like Ingrid is no longer in the news. Her birth date, age, and her current relationship status (boyfriend/dating history) are also unavailable. She has been out of the public' eye post her divorce with ex-husband David Boreanaz.
#Cheating Scandal
---