Entertainment
Is Janet Montgomery Already Married? Has A Husband Already Amid Talks Of Only Being Engaged?
"Wrong Turn 3: Left for Dead" actress Janet Montgomery has had a successful career thus far and people have been following her in every step she puts in her life.
But what the fans are excited to know is that she is engaged to her boyfriend who is now her fiance. But are they married and do they share a husband and wife relationship? Or are they just engaged to one another and are planning to tie the knot in the days to come?
Engaged To Be Married; Multiple Husband-To-Be Candidates?
Janet is engaged to her boyfriend now fiance, Charlie Muirhead, who is a British businessman from February 2016 and the relationship between them has been no rocket science ever since as their relationship has been pretty open to the public.
See Also:- Jen Carfagno Salary & Measurements Revealed! Weather Channel Reporter Details
She has not been that vocal about her fiance, but it can be seen that she usually mentions him on social media.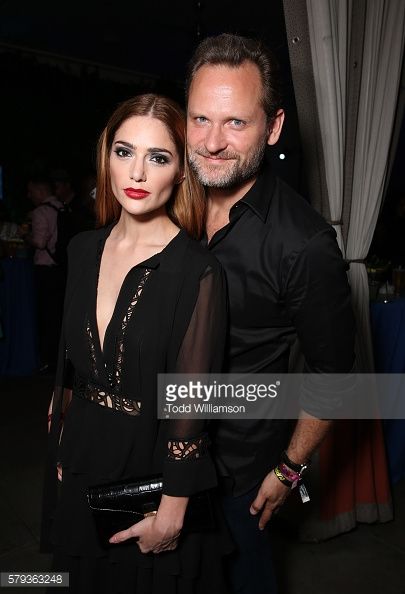 Janet Montgomery posing for a picture with her fiance Charlie Muirhead (Photo Credit: gettyimages.com)
Most of her posts include her best friend Richard Gibb and she even joke Richard as her husband, but it can be seen through her posts that they are just good friends.
Also, in the post below she has called Richard her best friend.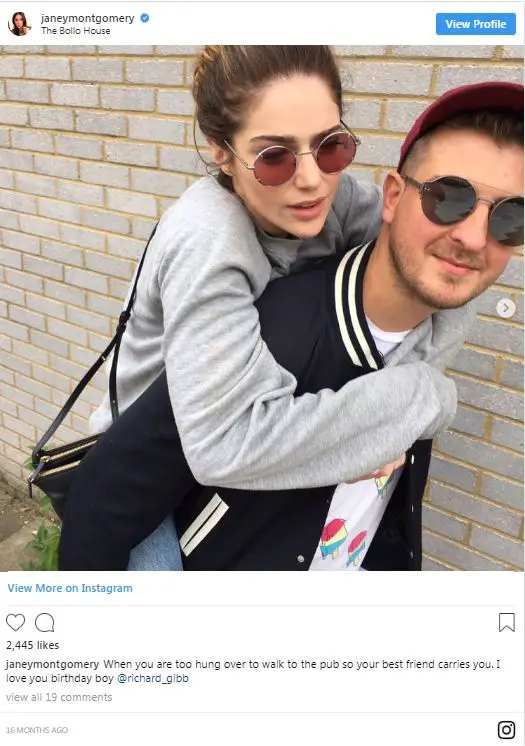 Janet's "boyfriend/husband" Richard Gibb at the Bollo House (Photo:- Janet Montgomery's Instagram)
But on another post dated back to December 2016 where she refers to Stephen Newey as her "My Husband's Boyfriend" makes people wonder if she has a husband who she is married to.
Read Also:- Twice Married Pete Hegseth Of Fox News Still Content Post Divorce; How?
We know that she and Muirhead are engaged, but the fact that she devoted her husband makes people wonder if she and Muirhead are now married without not much revelation about it to the public. But then again, neither of them has come forth and confirmed it.
So let us wait and see if the pair reveals anything about their marriage and marriage plans if they are not married yet.
Furthermore, do you know that she was once rumored to be romantically linked with Charlie Cox?
Is Janet No Longer Engaged To Be Married? New Boyfriend In The Picture
Going by the Human Target actress' Instagram, her engagement to her husband-to-be, Charlie is broken off.
Although neither Janet nor her former husband-to-be has publically acknowledged the breakup in interviews, the presence of a lad named Joe Fox on the former's Instagram makes it clear that the former fiances are no longer an item.
Interesting:- Malcolm-Jamal Warner Support Former Wife Even After Ending Married Life; Is He Dating Another Girlfriend Or Single?
Janet, for her part, hasn't taken much time to move on. She even celebrated 10 months together with her new boyfriend, Joe recently.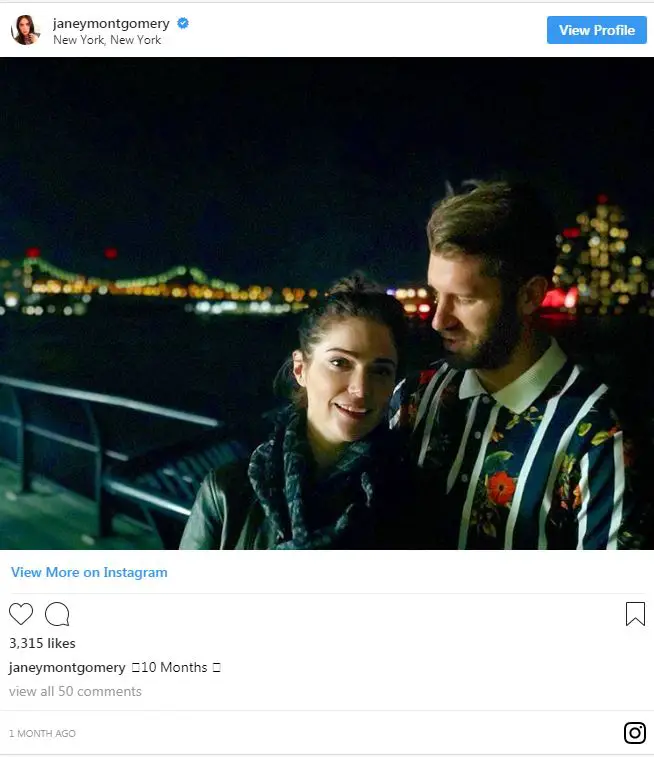 Janet celebrating 10 months of being together with her new boyfriend (Photo:- Janet Montgomery's Instagram)
Likewise, Janet and Joe have been traveling extensively in a short time they have been together; for Valentine's Day, the lovebirds were pictured cycling in Quintana Roo, Mexico and in May, they were basking under the glorious California sun.
A Short Wiki-Like Bio of Janet Montgomery
Born on October 29, 1985, in England, Janet Montgomery is a British actress who is best known for her role in "Human Target" from 2010 until 2011. She is equally famous for her role in "Salem."
Discover:- On-Screen Gay Bronson Pinchot Married At Age 59? Status Now!
She has also appeared in successful films like The Rapture and Black Swan in 2010. Her other successful movie credits include the horror thriller "Wrong Turn 3: Left for Dead".
The success of her projects has made her a loved and respected star in the industry and the actress still has plenty more on offer to her fans and the industry she so dearly loves.