Entertainment
Twice Married Pete Hegseth Of Fox News Still Content Post Divorce; How?
Fox News' Senior Political Analyst Pete Hegseth isn't a marriage...And even after two failed marriages, the FOX & Friends Weekend co-host...The news of their divorce came to the general public as a surprise...Pete and his ex-wife, Samantha are currently going through...But with the battle for their children approaching...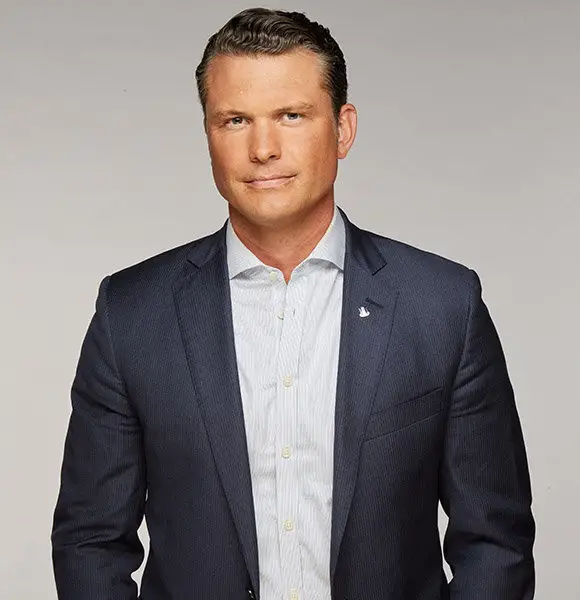 Quick Information
Ex-Girlfriend

Samantha Hegseth (m. 2010–2017), Meredith Schwarz (m. 2004–2009)

Eye Color

Blue

Hair Color

Black & White

Hair

Short

Weight

N/A

Height/ How Tall? 6' (1.83 m)
College

Princeton University

High School

Forest Lake Area High School

Career

2003–2014, 2014-present

Net Worth

Not Disclosed

Gay

No

Date of Birth Jun 06, 1980
Divorce/Split

Yes (Twice)

Relationship Status

Single

Son/s

Gunner Hegseth

Mother

Penelope Hegseth

Father

Brian Hegseth

Ethnicity/Race

White

Zodiac Sign

Gemini

Birth Name

Peter Brian Hegseth

Profession

Military Officer, Fox News Channel Contributor

Nationality

American
Fox News' Senior Political Analyst Pete Hegseth isn't husband material, it seems - not for his lack of trying though.
Neither of his two marriages saw the light at the end of the tunnel. And even after two failed marriages, the FOX & Friends Weekend co-host has relentlessly pursued women in the hope that he might make it till the end with the elusive one.
Pete, who was twice listed among the men considered by Donald Trump to lead Veteran Affairs, has a convoluted married life. In addition to being married twice, his name has been mixed up in controversies including lawsuits and alleged adultery committed against his previous wives.
Married Twice; 2nd Wife Files For Divorce Amidst Cheating Allegations
Divorces are ugly as it is; adultery tends to quantify its ugliness exponentially. Fox News' very own Pete Hegseth should know better than engage in such a vile act.
Pete's ex-wife, Samantha filed for divorce in September of 2017 after learning about her husband's love child with a Fox News executive.
See Also:- Tom Sosnoff Bio: Age, Married, Family, Wife, Net Worth | All Revealed
The news of their divorce came to the general public as a surprise as the intimate details of their married life was kept away from the prying eyes of the general public.
What has befuddled Pete's fans the most is the fact that their idol had once referred to Samantha as his "ultimate wife" in a 2012 interview. He was quoted as saying:
"I've been divorced and conceived a child out-of-wedlock with my second and "ultimate" wife..."
Pete - whose net worth is believed to be in seven figures - and his ex-wife, Samantha are currently going through a divorce as they look forward to sharing the custody of three kids, namely: Gunner, Bonne, and Rex. Neither party has engaged in a public campaign of any sort to defame each other yet.
But with the battle over the children's custody approaching, all that could change in no time.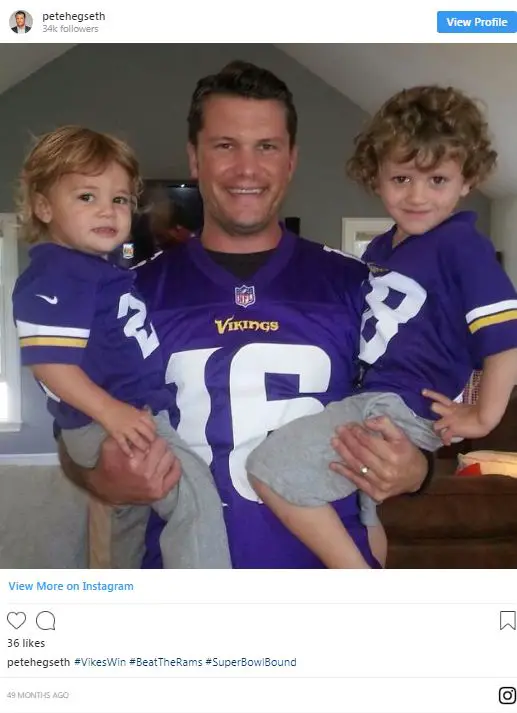 Pete poses with his sons around his both arm for a photo (Photo: Pete Hegseth's Instagram)
Pete's bio reveals that his earlier marriage was less of a hassle as the Fox News' Senior Political Analyst's marriage to his first wife, Meredith Schwarz didn't bear him any children.
The Princeton University Alum had married in March of 2004, three weeks before he was sent to the infamous U.S. detention facility in Guantanamo Bay for military duty. After six years together as a married couple, Pete's high school sweetheart called it quit in 2009.
Post Divorce: Dating A Fox News' Executive
For a guy who has been married twice, he has never been fully able to embrace the quirks of having a wife. His inability to properly place his wedding ring on his fingers is telling his intent as a married man.
Interesting:- Dana Perino: 20 Years of Married Life But No Children, Husband and Divorce?
In December 2017, a fan questioned the placement of his wedding ring when he tweeted a picture of him wearing it in his index finger as opposed to its usual place -- the designated ring finger. The fan, who goes by "Delray" asked:
"Hey @PeteHegseth why do you wear that ring on your index finger?"
Hopefully, his present girlfriend and the woman initially referred to as an unnamed Fox News executive, Jennifer Rauchet will help him better place his wedding ring. The pair welcomed a baby daughter, Gwen in August of 2017.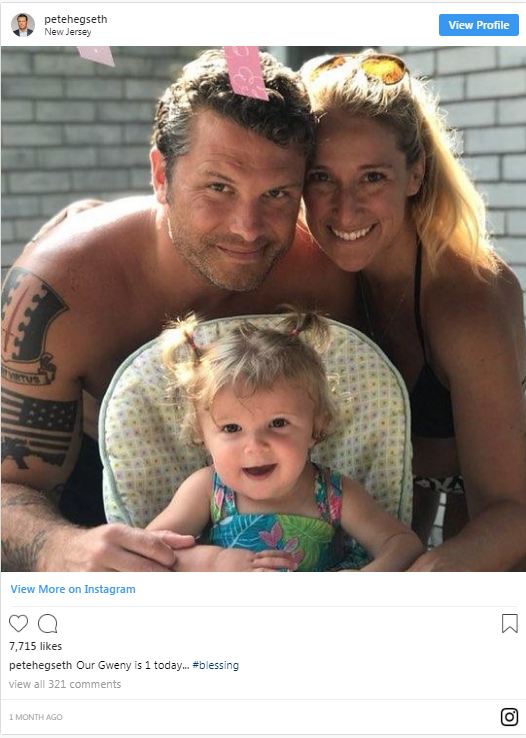 Pete Hegseth and girlfriend Jennifer Rauchet celebrate their daughter's birthday in August 2018 (Photo: Pete Hegseth's Instagram)
To put it in context, the birth of Gwen came a month after Pete's ex-wife, Samantha had officially filed for the divorce.
Better Not Miss:- Sophie Flack & Husband Reveals Daughter, Second Child A Bliss - Details!
Pete and his present girlfriend, Jennifer don't seem to mind the toxic air surrounding their unethical union as both appear gleeful whenever pictured together.
Allegations Against Pete
The TV host was reportedly the center of controversy when he was found to preach American family values to appeal towards the conservatives. Despite being a two-time divorcee and a father to a child out of wedlock, he allegedly presented that to preserve the sanctity of marriage as one must refrain from divorce.
Well, Pete was never new to alleged dubious views, he shocked the audience in February 2019 when he revealed that he hadn't washed his hands for ten years.
According to the TV host, germs weren't real, and he could not get sick via bacteria from his hands.
People believe that Pete's claims regarding family values and challenging science are to present himself as the perfect conservative. No wonder he is allegedly president Trump's favorite.
Although the blames surround him that he fakes his antics to appeal to a  group of people, Pete seems unbothered by it. He continues to carry on with his life without paying heed to the naysayers.