Entertainment
Is Park Shin-hye Still Dating Her Actor Boyfriend? Reveals Her Weight Loss To Everybody
Celebrities maintain a close guard over their personal life, making it a big mystery. However, when they share a sizzling onscreen chemistry without being vocal about their life, then they are linked together by their fans and conjectured to be a real life couple as well.
Sharing a similar story is an international Hallyu icon, Park Shin Hye who is linked with her on-screen love. But did the onscreen pair date in real life as well? Or are these all just conjectures by the media? Let's find out.
Park Shin Hye's Relationships!
Park Shin Hye is fiercely secretive about her personal life, and least information about her personal life and boyfriend has circulated in the media.However, Park Shin Hye romanced with actor Lee Min Ho in the 2013 drama series "The Heirs." The show tasted success, and they shared a sizzling onscreen chemistry.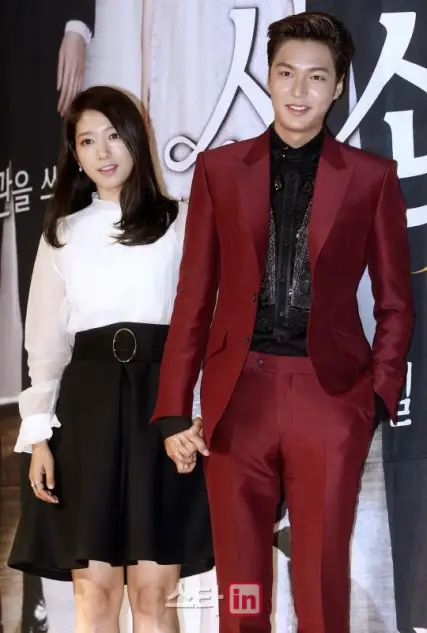 Caption: Park Shin Hye hand in hands with her onscreen love Lee Min Ho.
Photo Credit:koreasaranghee.wordpress.com
In January 2014, Chinese media reportedly claimed that they were dating for the past two months, but Lee Min Ho's agency stated the news as,
"ridiculous and 300% false."
Moreover, Park Shin Hye's agency credited the success of their drama "The Heirs" in China for the rumors and stated,
"groundless rumors"
Similarly, in 2014, Park romanced with actor Lee Jong Suk in the hit drama "Pinocchio." Following the amazing onscreen chemistry, they were again conjectured to be dating each other and were reportedly spotted outside each other's home and allegedly on dates.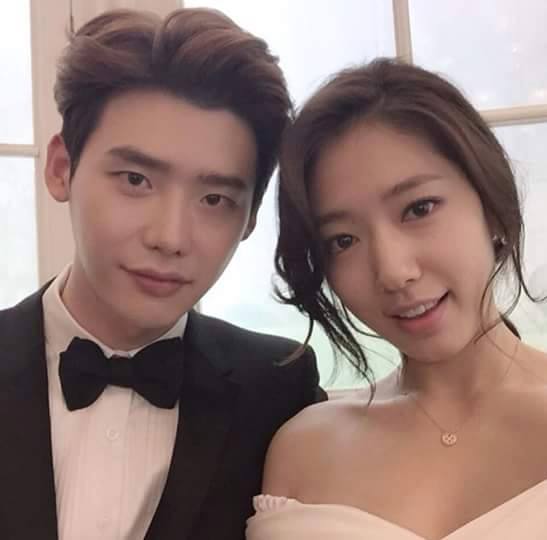 Caption: Park Shin Hee with her onscreen partner and close friend Lee Jong Suk.
Photo Credit: dramafever.com
The agencies of both the stars slammed the rumors quickly and named their relationship as,
"just close friends."
On one of the rare occasions back in January 2015, Shin Hye opened up about her relationships and revealed that she has been dating on and off without the peoples' knowledge.
She shared that she remains single due to her busy work schedule. As per Park,
"I don't think I'm good at keeping a long-term relationship. I spend so much time on my work, totally absorbed, that it's hard for me to date. It's difficult for both me and my partner. Unfortunately, nobody seems to be attracted to me. I guess it's not great to have many male friends. It just means that I'm not attractive as a woman. I used to seriously wonder if I had no feminine charms."
She further added,
"It's so hard for me because dating isn't just about seeing each other because you like one another. You have to make the effort and sacrifice your own time for your partner. I'm not good at focusing on other stuff when I have something on my mind. That is why I sometimes don't even contact my friends or family that often. Although I wanted to marry early in the past, I am now far from thinking about marriage just because I have more I want to accomplish as time has passed by."
She admitted being in a relationship but has not revealed the identity of her boyfriend yet. And her ardent fans are left guessing about her love. However, we hope that amidst her busy career she finds her true love and lives a blissful married life.
Park Shin Hye's Weight Loss Plan Revealed
Beautiful actress Park Shin Hye stands tall with the height of 5 feet and 6 inches and has a nice figure. But the news of Park Shin Hye's weight loss plan shocked her fans across the globe.
Actors strive to give a different look and personality to every character they portray, so she opted for a weight loss program to fit into her role in the drama "Doctors." In the show, she appears much slimmer as she has shed fat from her face and legs.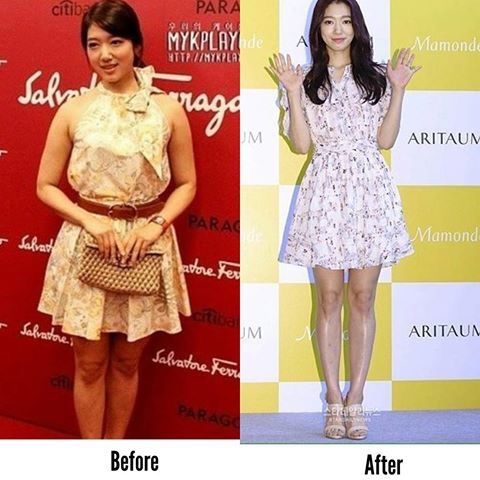 Caption: Before and after weight loss pictures of Park Shin Hye for her character in Doctors.
Photo credit: aiminoapps.com
The diet plan of Shin Hye's weight loss plan includes cucumber and a cup of low-fat milk in the morning, two cucumbers and half cup rice for lunch and two cucumber and cabbages for dinner. Moreover, she ate red bean soup and pumpkins soup for glowing skin and anti puffiness and stopped eating after 6 p.m.
Another important aspect of effectively losing weight is exercise, so she did a workout on a regular basis, cycled two or three times a week including a modern dance routine.
If you are thinking to adopt the weight loss plans? Then think twice as Shin Hye did not continue the diet for a long time, as it was opted only to lose weight fast for the drama.
South Korean actress and singer Park Shin Hye made her acting debut with Korean drama Stairway to Heaven in 2003. And her breakthrough performance was in the SBS drama You Are Beautiful in 2009.
Her most memorable performance includes Cyrano Agency, Heartstrings, The Heirs, Pinocchio, Doctors. And as a singer she has sung songs including Lovely Day, Without Words, The Day We Fall In Love, Memories. She earns an estimated salary of $21, 000 per episode from her drama, which means she has accumulated a splendid net worth. However, Park it yet to reveal it in the exact figures.