Entertainment
Beautiful Actress Katy Mixon: Is She Still Dating her Manager Boyfriend? Or Is She Married? Pregnant?
With the sixth season of Mike & Molly coming to an end in 2016, co-star of the show, Katy Mixon, age 35, will soon be seen in her new show, American Housewife, which is a hit ABC Comedy series.
If you have watched Minion, then you have indeed noticed the melodious voice of the character Tina played by Katy in the 2015 film. Not only her voice but her high physical sex appeal has made her one of the beautiful actresses in the TV industry.
Is she Married, Husband or Boyfriend, Dating?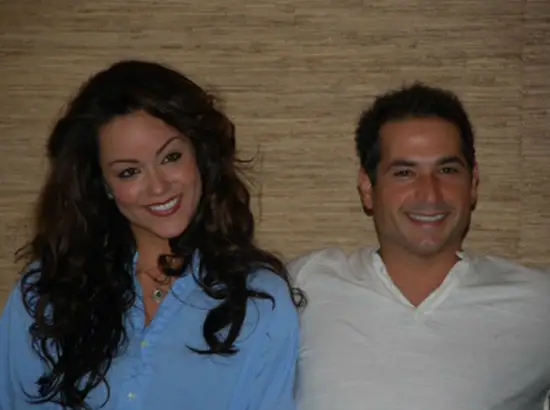 Caption: Katy Mixon and Bobby Dee back when they were in a relationship
Source: pininterest.com
Katy Mixon started dating celebrity chef Bobby Dee in 2010. But the couple never got married and couldn't get along for a long period. They got separated in 2013 after dating for about three years. In an interview with knoxnews.com in 2013, Bobby Dee revealed much about their short relationship. She said:
"Katy (of "Mike and Molly" sitcom fame) and I were in a relationship for several years, and she is a wonderful woman, but when she moved to Los Angeles we had to make a really hard decision to end that relationship. It was one of the saddest days of my life. It's still hurtful to this day."
Recently Engaged?
Katy Mixon is recently engaged to Olympian Breaux Greer, who is an American javelin thrower and eight-time American Champion in the game. Greer is an American record holder himself with a throw of 91.29 meters in the game.
"I'm engaged to the most amazing man. I'm so in love with him." She said to "Extra's" AJ Calloway at H&M studios in NYC on October 25, 2016.
Lead role in American Housewife?
As soon as of Mike&Molly ended in 2016, co-star of the show, Katy Mixon signed for her new show, American Housewife which is ABC Comedy series. Mixon told ET's Leanne Aguilera on August 4, 2016.
"Mike & Molly wrapped, I think, on Jan. 29 and I walked in on Feb. 4 into that room of American Housewife," "It is just the biggest gift in the world. I could not be more grateful."
Her role in American housewife is that of a housewife where she is a confident wife and mother of three children. In the same statement she said;
"I love it in the sense that everybody can relate," she says. "Men, women, kids, everybody deals with insecurities. That's humanity."
Mixon said that the show 'American housewife' deals with serious issues like body image and health issues.
"Me personally, I have never let the media dictate my identity," she said. "I don't hold what I am, either I'm a size 14, or a size 4, a size 8, I have never allowed that to be my self-worth. Katie Otto deals with it though on a regular basis and so, we touch on it."
Talks about pregnancy and role in Housewife!
Just a few days after wrapping a six-year run on series "Mike & Molly," Katy Mixon began shooting new show "American Housewife," changing her character from party-girl sister Victoria to unapologetic mother of three children Katie Otto.
In this interview, Mixon talks to Variety about diving into her starring role and portraying a TV mom while preparing to become a mother in real life.
She said,
I was so ready; I welcomed it with open arms. I found out that "Mike & Molly" was done that October, and I wanted to do something very different from what I had done. Going from the Victoria character to Katie Otto, who has three children and wears hardly any makeup — and covers everything — it was just amazing. I walked in and met all of [the "American Housewife" team] and put my take on the character.
Earlier in December of 2016, she revealed that she was pregnant with first child, a son due in the spring. Mixon and Greer told PEOPLE of their exciting news.
"We truly are so grateful for this time in our life. We are ready to rock 'n' roll!"
The couple has been together for more than four years and is engaged to be married soon. A couple's baby boy will join their pup Gracie as the newest member of the family.
Her net worth is that of $2 Million which The American actress earned from the many characters she has portrayed.