Two times Golden Globe-winning actor Paul Giamatti, age 51, needs no introduction. In a career spanning decades, he continues to entertain the audiences via his diverse roles.
With his massive popularity, he has garnered attention for not only his professional achievements but, also personal life.
On His Married Life 
Paul belongs to the old school of romance in terms of his married life. In Hollywood, where relationships don't last for months, The Illusionist actor has been married to his wife, Elizabeth Ora Cohen for 21 long years. Both the alumni of Yale School of Drama may have met at the prestigious Ivy League School. 
Explore:- Michael Sheen Wife, Partner, Gay
When the pair got married back in October 1997, Paul was a struggling actor. His acting credit included enacting Howard Stern's boss in the film, Private Parts. Paul's wife, on the other hand, was starting in the industry as a writer.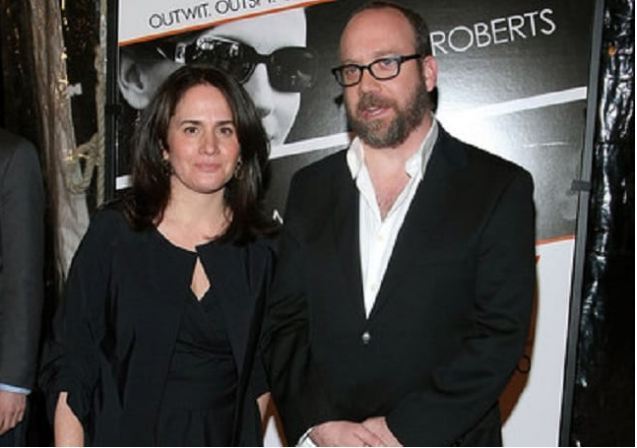 Paul Giamatti poses with wife Elizabeth Ora Cohen (Photo: heightline.com)
Slowly and steadily the pair kept honing their crafts and started tasting success. In 2005, Paul broke out as an actor in the movie Cinderella Man and snagged an Oscar nomination in the category Best Supporting Actor for his role. 
Continuing in the path of his success, he managed to get an Emmy award in 2009. Besides, he proved his mettle as an actor playing lead roles in Sideways, Straight Outta Compton, American Splendor, Win Win, and Barney's Vision. 
The Saving Private Ryan actor's wife is a multifaceted talent in her own right. She is a producer and director in movies namely A Woman Like Me, Three Girls and Their Brother, and All Is Bright. 
With her support, Paul has managed to accumulate a net worth of $25 million. Along with the whooping net worth, the couple shares an 18-year-old son named Samuel. 
Paul's Successful Father 
Paul was born in a very accomplished family. His dad, Angelo Bartlett Giamatti was a professor of Renaissance Literature at Yale University. Later, he went on to be appointed as the youngest president at the Ivy League University.
You May Also Like:- Drena De Niro: Eldest Of Six Children of Famous Father – Is She Married?
A risk taker, the talented man changed his career in his 50s when he left academia to join the administration of Major Baseball League. He was appointed the president of National League and soon after became the commissioner of Baseball in 1989. But, Paul's father died just five months after his promotion due to a heart attack. 
Along with the Oscar nominee's father, his mother was also a sharp mind. Paul's mother Toni S. Giamatti was an actress before she eventually gave up the creative profession after marriage. 
Paul is not the only child of his talented parents. Among three children, he is the youngest one. One of his siblings, brother Marcus Giamatti, is an actor while his sister, Elena is a jewelry designer.
The three siblings were brought up in a home where religion was not practiced actively. Paul's father rejected the Catholic church at a young age; whereas, his mother didn't practice any religion.