Entertainment
Actress Miranda Richardson Secretly Married? Or Is She Still Searching For a Perfect Husband?
If you are a television personality, then your personal life is not private until you choose to maintain privacy on it. To reveal the information about personal life is entirely one's choice but if you are one of the talented television personalities with numerous fans and followers, your fans would obviously like to have a glance on your success, achievements, family background, love life and much more.
Well, the "Blackadder" actress Miranda Richardson has confused everyone of her fans about her relationship status. Is she married or is still searching for Mr. Right? Let's find it out.
Richardson was not married by 2009. In an interview with Dailymail, Richardson was asked whether she regrets not getting married and having children? She answered-
"My pets - two dogs, two cats and an axolotl (Mexican salamander) - are like family. I think marriage would be quite good for me, but I'm not going to just go out and hire someone."
Miranda Richardson has been maintaining privacy in her personal life which has created difficulty for us to know whether she is married now or not. Has met her partner?
Well, there are some people who might be assuming her as a gay/lesbian as she has not been married even at the late fifties. She has neither talked about her sexuality. If you have any idea about her sexuality and the reason behind her being unmarried, you can comment below.
Above all, Miranda is said to be in love several times. She considers it as an "illness." In 2014, she talked about her marriage to "radiotimes.com". She said-
"And I may not marry. People I know do it as much for tax reasons as security."
Rumor about her Getting Married, Husband, and Divorced?
Miranda Richardson, 58, is said to be married to an actor Rowan Atkinson by filmreference.com. They say that she had a divorce with her husband, but this news seems to be fake. It might just be a rumor which is not yet verified.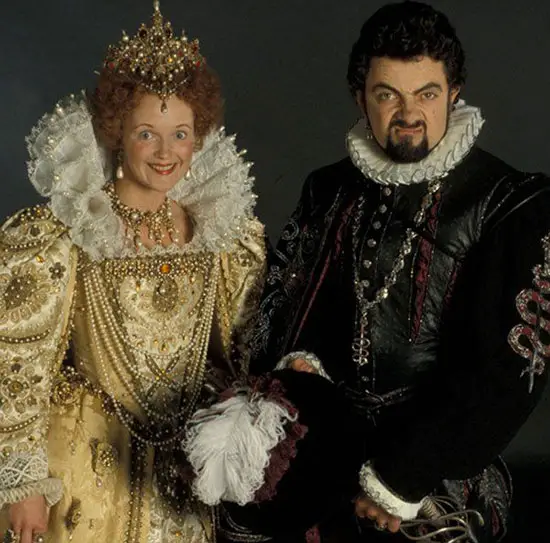 Caption: Miranda Richardson (Queenie) with Rowan Atkinson (Lord Blackadder) in Blackadder II.
Source: Printest.com
Miranda Richardson's Short Bio:
English actress, Miranda Jane Richardson was born on 3 March 1958, in Southport. She was born to William Alan Richardson and Marian Georgina as their second daughter. In the year 1985, Miranda made her film debut in "Dance with a Stranger". She is also popular for appearing in Damage (1992) for which she received Academy Award nominations.
Similarly, she has been given a Best Actress Olivier Award nomination for appearing in "A Lie of the Mind" in 1987. Her recent film credit includes Muppets Most Wanted, Mapp and Lucia, An Inspector Calls, And Then There Were None and Stronger. She is shooting Stronger in a role Patty Bauman for 2017.