Entertainment
Actress Miranda Richardson Secretly Married? Or Is She Still Searching For a Perfect Husband?
A television personality's personal life is never private until they choose to maintain privacy on it.
To reveal the information about personal life is entirely one's choice but if a person is one of the talented television personalities with numerous fans and followers, their fans would obviously like to have a glance on the star's success, achievements, family background, love life and much more.
Blackadder actress Miranda Richardson has confused every one of her fans about her relationship status. Is she married or is still searching for Mr. Right?
Married To Husband Or Gay?
Richardson was not married by 2009. In an interview with Dailymail, Richardson was asked whether she regrets not getting married and having children? She answered-
"My pets - two dogs, two cats and an axolotl (Mexican salamander) - are like family. I think marriage would be quite good for me, but I'm not going to just go out and hire someone."
You May Also Like: Magda Szubanski Goes Candid On Relationship, Reveals Lesbian Partner?
Miranda Richardson has been maintaining privacy in her personal life which has created suspense regarding whether she is married now or not. However, the actress was rumored to be married to actor Rowan Atkinson by filmreference.com.
They said that she had a divorce with her husband, but this news was soon dismissed and proved to be untrue.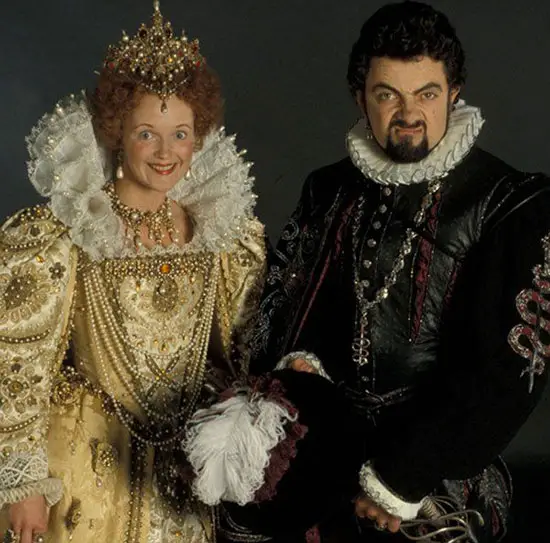 Miranda Richardson (Queenie) with Rowan Atkinson (Lord Blackadder) in Blackadder II. (Photo: Pintrest.com)
There have also been some rumors suggesting her to be a gay/lesbian as she has not been married even at her sixties. She has neither talked about her sexuality. However, her statement about how she has been in love several times in her life has dismissed the rumors considering her to be gay.
See Also: Aimee Kelly Married With Husband At Young Age? 'Wolfblood' Star's Status Now
In 2014, she talked about her marriage to "radiotimes.com" where she considered love to be an 'illness.' She further mentioned that she might never consider the possibility of getting married after reaching the current phase of her life.
"And I may not marry. People I know do it as much for tax reasons as security."
Now, standing in the later phase of her career at the age of 60, Miranda might not be wrong in her decision to never marry in the future. However, the actress might leave some space in her life for destiny to play its part.
Miranda Richardson's Short Bio:
English actress, Miranda Jane Richardson was born on 3 March 1958, in Southport. She was born to William Alan Richardson and Marian Georgina as their second daughter. In the year 1985, Miranda made her film debut in "Dance with a Stranger". She is also popular for appearing in Damage (1992) for which she received Academy Award nominations.
Similarly, she has been given a Best Actress Olivier Award nomination for appearing in "A Lie of the Mind" in 1987. Her recent film credit includes Muppets Most Wanted, Mapp and Lucia, An Inspector Calls, And Then There Were None and Stronger. She also appeared in a role of Patty Bauman in 2017.
Don't Miss: Jessica Marie Garcia Getting Married At Age 31? Husband-To-Be Spoiling Her​​​​​​​
She has also appeared as Sue Thackery in British drama series Girlfriend in 2018. She is also all set to play the part of Madame Tracy in an upcoming six-part television serial Good Omens in 2019.