Entertainment
Alison Victoria Got Married To Her Insurance Agent Husband In A Perfect Way! Any Chances Of Divorce?
Everybody desires to wed quintessentially, but some people always have things they feel could have been better when they are done with it. That being said, a picture perfect wedding isn't something that every person gets to be a part of.
Alison Victoria, famously renowned for being the first female host of the DIY Network series Crashers who is also a top-notch interior designer, belongs to the category of few lucky people, to have had experienced a flawless wedding with husband, Luke Harding.
Let's figure out, what made her wedding so perfect? And get some insight into her marital life that if divorce stands a chance between the two.
The Romantic Proposal That Ended Up On Perfect Marriage!
A guy proposing his girl, under the moonlight at an ideal destination and a bottle of champagne for celebration sounds something romantically fictional. But, things like that happens in real life, for, fairy tales comes to life at times.
For all the guys who are charmed by Alison Victoria's perfect looks and intense personality, sorry fellas, she is no more single! Alison has already experienced the extreme amount of love from Luke Harding who is an owner of the insurance agency, as he planned a grand proposal for her, back in time. She described how it all went down and how she was left in an awe the whole time,
"We were in Paris, and we were having drinks at our hotel after dinner, At midnight, the concierge came out to us and said, 'Mr. Harding, we have your car ready.' He drove us to the Eiffel Tower with a blanket, Champagne and the biggest bag of chocolate truffles. Luke proposed during our midnight picnic and said he wanted to wait for this night because it was his parents' 34th wedding anniversary, and their marriage was something he wanted with me."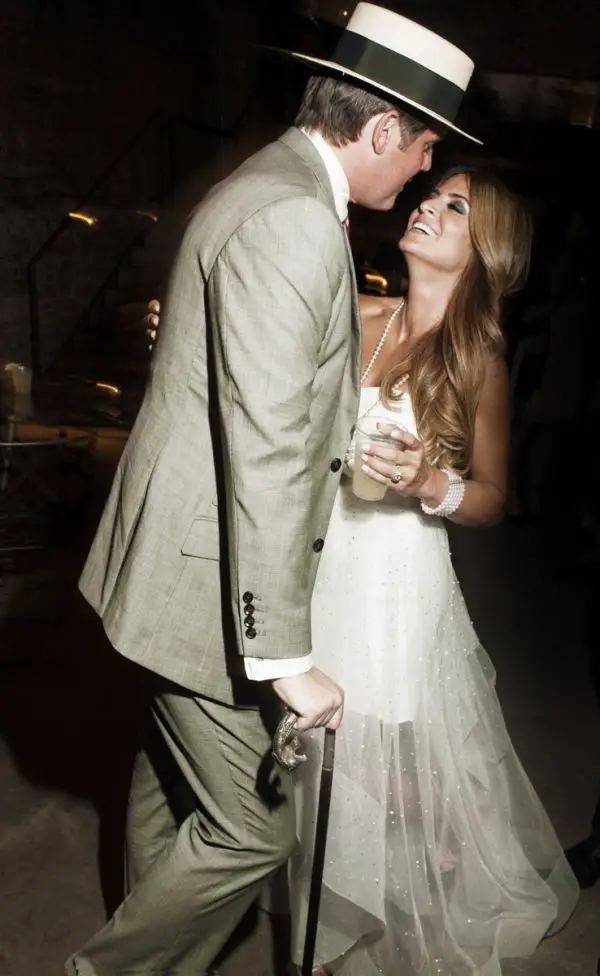 Photo Caption: Alison, sharing laughter with her fiance Luke Harding, at their engagement on June 1st, 2013.
Photo Credit: chicagosplash.com
She admitted it was the most romantic spot on the planet where Luke proposed her.
Despite being an interior designer who makes sure about the things being perfect, she wasn't the girl who dreamt of her wedding for years and planned everything to perfection. It was rather planned during a period when she was simultaneously hosting one of the most popular home-design shows on TV.
The couple together planned their wedding for 120-person, the venue of which was at The Drake Hotel in the year 2014. Describing her big day, Alison talked,
"I wanted to keep it very classic, Our colors were white and pale blush with gold accents. But don't let the demure colors fool you—this wedding was full of surprises. I know that weddings are really not about the bride and groom, It's about everyone else, so we wanted to make sure it was a night to remember—and we definitely did that with the Sexy Sax Man. For those that knew who he was, it was the greatest surprise ever—and for those that had never heard of him, like my 82-year-old father, it was the most terrifying and somewhat offensive moment of their lives!"
She wanted everyone to have an amazing night on their wedding, and as she desired, everything lived up to expectation.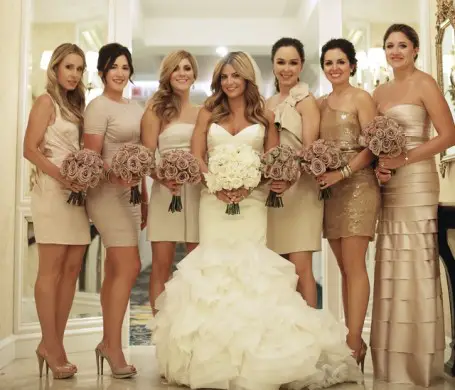 Caption: Alison dressed up in her beautiful gown accompanied by her bridesmaid.
Photo Credit: Pinterest.com
Meanwhile, the couple is living a happily married life, and divorce isn't on their list of things, they would need to talk about, as of now.
Know More About Alison Victoria:
Born to her white parents on October 31, 1981, Alison Victoria is of an American nationality as she originally is a native of Chicago, Illinois. She did her graduation from the University of Nevada, Las Vegas. Here talent and immensely creative attribute contributed in the fame she possesses and rewarded her with the opportunity of hosting and designing the HGTV series kitchen crasher.
At the age of 35, she already is an owner and consultant of her firm Alison Victoria Interiors. Apart from her career, she is equally triumphant in her personal life with her loving Husband, Luke Harding. The couple owns a beautiful house together, where Alison had her hands in the interior designing.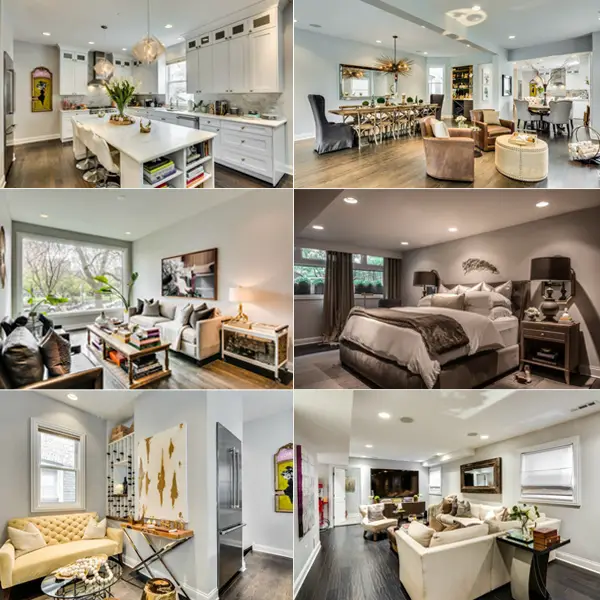 Caption: The interior of Alison's house renovated by the lady, herself.
They are now looking to sell the renovated home and has estimated $1.5 million as its worth.
Hopefully, their relationship will blossom even more, as the days passes by!