Entertainment
Producer Angie Stone With Husband In Past Reflects Son & Daughter Differences
American singer cum actress Angie Stone rose to fame after her albums Black Diamond and Mahogany Soul achieved back to back gold status.
The singer with a rich melodious voice was a married woman in the past and has been involved in multiple affairs in her time. The South Carolina native has also been the face of the news for her preferential treatment of her son over the daughter.
Husband And Affairs
It's not always her songs and vocals that helped her hug the limelight. Her marital life and her affairs have had an ample amount of coverage in the media.
See Also: Ariela Barer Bio: Age 19 Actress Parents, Ethnicity Dating Status Revealed
The music producer was married to fellow singer Lil' Rodney C! in the 80s. Angie had a daughter Diamond from her husband in 1984. However, the couple's marriage did not last long as the husband-wife duo separated in the 90s.
And it was the ten times Grammy nominated singer's affair with neo-soul singer D'Angelo which heated up the media in the mid-90s. D'Angelo was regarded as one of the most promising singers at the time and his romance with someone 13 years his senior made the couple media darlings, the 90s answer to Beyonce and Jay Z.
The couple was together way before D'Angelo even got his name on the radar of the media. Back then, he was just 19, and Angie remained his stone and also braided his short hair for his first album.
It turns out the couple even shared a son, Michael D'Angelo, who was born on 28 February, from their 4-year relationship.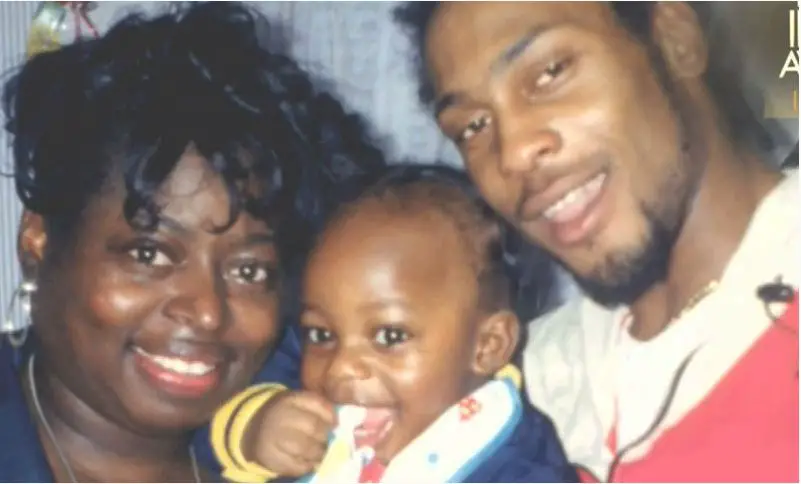 Angie Stone with D'Angelo and son Michael back in the 2000s (Photo: iloveoldschoolmusic.com)
However, in 1999 the Celebrity Fit Club Star was diagnosed with type II diabetes and struggled to manage her weight leading to her divorce with D'Angelo.
After a void of relationships in the No More Rain singer's life, she again found love in early 2009. She confirmed about dating an airport worker Ashanti, and the couple was engaged in December 2009. She called her fiance the right man for her and explained that he was god's gift to her, speaking to Essence magazine in 2009.
She said of her fiance:
"When we met, we just hugged each other and I knew this was the man I was going to spend the rest of my life with and vice versa. He's an auditor for an airline, a wonderful father to his two kids, my best friend and a good man as well."
The singer even explained that they had already decided that Atlantis in the Bahamas was going to be the place they would turn husband and wife.
However, their relationship petered out in 2014, after she accused her fiance cum manager of cheating on her with the R&B Divas: Atlanta crew worker. The accusations culminated in her separation with the man she thought she would call her husband.
Don't Miss: Tana Mongeau Wiki: Age, Affair, Net Worth Of Girl Who Was Dating Mac Miller
It's not just her romantic life that has helped her gain the media attention, her relationship with daughter Diamond was also much talked about.
Contrasting Relationship With Son And Daughter
Angie Stone, who resides in Atlanta Georgia with her son, was involved in a bitter feud with her daughter diamond from her ex-husband Lil' Rodney C! in March 2015. The star reportedly punched her daughter Diamond with metal jewelry after having differences knocking out the front two teeth.
Police was called to the scene and resulted in her arrest on an assault charge. The star in her statement said that it was in self-defense she struck her daughter and were embroiled in a full-fledged fight before being intervened by her son.
The singer was released after posting bail bonds a day after her arrest, and the case was dropped in April 2016.
Despite having bad blood with her daughter, she is very close to her son, Michael. In 2016, a year after her arrest for aggravated assault, the Wish I Didn't Miss You hitmaker posted a cute photo with her son on Twitter, saying that time had just flown away and her son had outgrown her.
The mother is notoriously close to her son and is providing every piece of support to launch his career.
You may also like: Dominique Fishback Bio: Age & Parents To Boyfriend & Dating Of Night Comes On Star​​​​​​​
Apart from her support for her son in his career, Angie, recently performed at Musical Tribute Saluting Aretha Franklin which took place on 30 August at Chene Park Amphitheater in Detroit.
On the stage, she was accompanied by Dee Dee Bridgewater, KiKi Sheard, Aretha's son Eddie Franklin, Jhonny Gill along with few other names.