Entertainment
Ashley Iaconetti Dating Kevin Wendt! Romance on Fleek
Love can be found when it is least expected!
TV Personality Ashley Iaconetti, best known for her appearance on the season 19 of ABC reality TV show 'The Bachelor,' somewhat fits the quote as she too found the love she was longing for in an unexpected person.
Curious about knowing how love opened up the door for her? Well, read along to feed your curiosity!
Ashley Iaconetti And Kevin Wendt's Romance
Ashley Iaconetti is currently in a romantic relationship with Kevin Wendt, a former Canadian Bachelorette contestant. The duo competed on the Olympic-themed spin-off show 'The Bachelor Winter Games.'
Ashley first met Kevin in the show itself. While talking with PEOPLE, Ashley opened up about the time when she first saw Kevin. She divulged,
"When I saw him for the first time at the parade, I was like, 'That means trouble. He's hot. I'm probably going to cry, and it's not going to work out,'"
However, Ashley joined the show with no intentions of finding her other half. She added,
"I went into the Winter Games just with the intention of hanging out with my friends ,so I had no idea that I'd meet somebody, too. I definitely was like, 'Foreign guys!' But Canada, sure."
The couple has been portrayed on the show as being "hot and heavy" with plenty of makeout sessions.
However, Ashley's v-card has been the topic of debate since the first time she appeared on 'The Bachelor' franchise. Well, the topic has not yet been out of the air as she is now dating Kevin Wendt.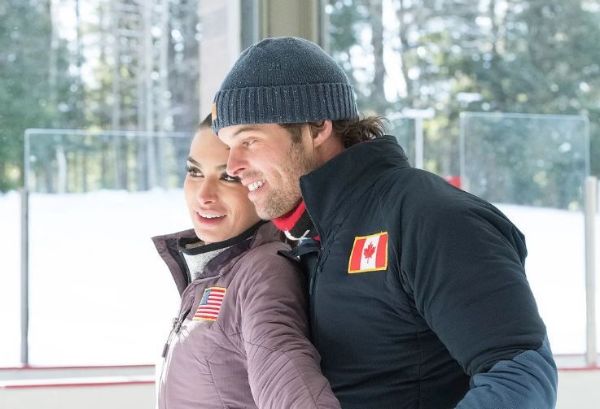 Ashley Iaconetti with Kevin Wendt (Photo: people.com)
Ashley, with her boyfriend Kevin, had their experience in the fantasy suite which raised doubt among the fans if Ashely loses her V-card on the show. A fan of Ashley tweeted,
"DID @ashleyiaco JUST MAKE HISTORY ON THE @BachWinterGames?? First contestant to lose their v card on the show??"
To the tweet, Ashley replied,
"No. Pizza, wine, talking, and making out. I want this to be clear,"
She is clear now; however, in the beginning, Ashley was determined to not open up about it as someone else was associated with that topic of her life.
Before Kevin, she was involved with Jared Haibon, but the connection was not as expected to be. She even had her name linked with Ben Higgins after they were spotted together in a concert.
Ashley Iaconetti's Profile
Ashley Laconetti was born on 6 March 1988 in Great Falls, Virginia. She grew up in a family of four along with her sister Lauren around her. Her parents share the bond of love for 40 years, leaving an example of love for their children.
Ashley, who stands at the height of 168cm(5 feet 5 inch), currently lives in Wayne, New Jersey. She graduated from Langley High School in Northern Virginia in 2006 after which she attended James Madison University to pursue her interest in Media Arts and Design.
After completing her undergraduate, she joined S.I. Newhouse School of Public Communications at Syracuse University, New York where she earned her master's degree. After graduating from Newhouse School, she completed her internship at Syracuse's ABC affiliate NewsChannel 9 WSYR.
After completing her education and gaining the degree, she worked as a sports reporter and freelance journalist for some time.
However, she now has a job in New York City as a freelance journalist for Cosmopolitan. On the Cosmopolitan, she writes about the 'Bachelor in Paradise.'
Besides that, the reality TV star Ashley is an American make-up artist, videographer, and blogger. She rose to fame after competing for the heart of Chris Soules on the hit ABC series 'The Bachelor,' season nineteen.
Even though she had to leave the show in week five, she re-appeared on another reality series, 'Bachelor in Paradise.' After that, she was featured in both season two and three of the show. Along with it, she also appeared on the spin-off talk show 'Bachelor in Paradise: After Paradise.'
Similarly, she has made guest appearances on talk shows and television series like 'Good Morning America,' 'Entertainment Tonight,' 'Million Dollar Matchmaker,' 'Ellen: The Ellen DeGeneres Show' and 'Access Hollywood Live.'
Apart from her work behind the cameras, she has worked as a reporter for 'Jets Insider.' She also has a blog where she discusses her thoughts on various events from the shows she appears in.
Likewise, she also provides beauty and make-up tips to her readers which has gained her a substantial following on her beauty and lifestyle blog Duchess Kimberly.
In addition to those, Ashley owns a video production company called E & S Media Creations. The company is dedicated to a wedding, sports, and corporate videography.
With her involvement in various career paths, she has undoubtedly garnered a notable wealth to her, but the exact figures of her net worth remain confined, but it is estimated to be in early millions.
Think we're missing something? Do let us know in the comment section below!