Entertainment
Brad James: 5 Reasons Why His Girlfriend Will be Lucky if She is Dating Him
If you have a long list of celebrity crushes, you probably have the name of the well-known American actor Brad James, who is perfect, be it looks, muscles or career to success.
The single actor Brad is the Prince Charming, who stands in the top of the dating lists for his thousands of admirers. Whether it's full-fledged career or hulk body, Brad James has several reasons to make his future girlfriend lucky.
If you're aspiring to know more about this handsome hunk, we have crunched down the five reasons, and you surely don't want to miss!
1) Brad James is
Marine

both in real life and reel life!

Who would not want a boyfriend who is audacious and protective enough?

Well, the American actor, Brad James is not only daring but also holds the abilities to protect the family as he has got the military experience as well.

The thirty-six-year-old Brad learned all the fighting skills, hand to hand combat, line-training, and Brazilian jiu-jitsu during his time in Marine. His military experience and fighting skills gleam in his healthy physique too.

Brad took the real-life military experience to reel life as 'Calvin Hastings' in a supernatural drama "Superstition."

On the show, he portrays an ex U.S. Marine army, who returned home after 16 years of duty.
2) James has the Physique that can glue the eyes:
If you are looking for muscles to guise, Brad James has got it all from deadly looks, killer abs and the complexion that fixes the gazers.
The actor, Brad James is strictly health-conscious and adapts a healthy lifestyle.The actor himself flaunts his killer abs on social platforms.
Brad took Instagram to flaunt his ripped body back on October 19, 2017, which he captioned:
"Time to clean up my diet... and my room...

Gimme a month... for both...
#throwback #nomorebreadforme#SuperstitionSyFy is #FridayNight#CalvinHastings"
3) Brad James Has his share of experience in Dating
Brad James is not a rookie in the dating game. He has dated the TLC singer Rozonda Chilli Thomas in 2015, who was ten years older than him. His bond with the singer was to such extent that he even went to Chilli's son's high school graduation when in the relationship.
Caption - Brad James with Chilli's son at his high school graduation
Photo Credit - ilovedschoolmusic.com
However, the reign of James's dating life with Chilli ended in 2016, though the duo hardly spoke any words about it.
Before the singer Chilli, Brad was in a serious relationship with Jasmine Burke. Despite their seriousness, Jasmine did not turn up to be Brad's wife.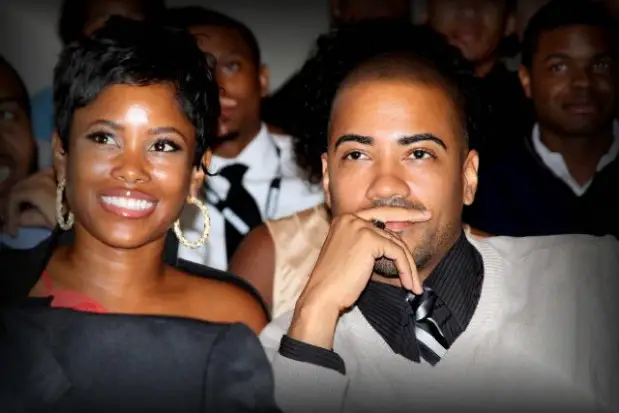 Caption - Brad James with his then-girlfriend Jasmine Burke
Photo Credit - ilovedschoolmusic.com
Well, isn't this appealing to his future girlfriend, to know that her man knows all the pros and cons of romance?
4) Brad James is Too Talented Actor to Handle!
The former Marine was never the renowned actor to start with. Brad was just in his early twenties when he was wandering on several professions and finally hooked for the acting. He explains his first experience about how he went for acting as,
"I was walking in Atlanta and a woman stopped me and asked me to attend an audition.I was chosen for a part, but she wasn't. We still became friends."
He further adds,
"Acting is something I always wanted to do. But I didn't know how to get started in Augusta."
Brad landed his first success from his debut movie "Champion Road," playing the lead as John Merser. No wonder, he was his own stuntman for the film taken his time he spent for gym and health.
He later worked in the projects like 'Meet the Browns,' 'Vampire Diaries,' 'One Tree Hill,' 'Let's Stay Together,' 'Reed Between the LInes,' 'For Better or Worse,' and 'Devious Maids.' He was even nominated for the Best Actor at the 2013 Georgia Entertainment Gala.
As of now, Brad is involved in a big project, a TV series named 'Superstition(2017).'
5) Brad James Rejected the offer from the Reality Show "Most Eligible Atlanta"
Brad James's antics never comes to an end. There is no question about him as a serious actor, and as a cherry on the cake, James is just humble and borderline shy for the achievements he gathered.He demonstrated that by turning down an offer from the show "Most Eligible Atlanta."
The offer was too good to lose, but the actor chose to focus more on his movie and TV works. Brad sure shows he is hard not only on his muscles, but on his principles, ideals, and profession as well!