Entertainment
Cancer Survivor Brooke Burke-Charvet: Inside Glamorous Life With Husband David Charvet
American model and host of the E! network's popular travelogue series Wild On, Brooke Burke-Charvet, who is also a cancer survivor, is now living a fascinating life with her French singer and model husband, David Charvet.
If you crave to know her cancer story along with her current relationship with her husband, then you've hit the right place!
Brooke Burke's Rejoicing Life With Husband
The Dancing with the Stars co-host, Brooke, and the Baywatch star, David exchanged vows on 12 August 2011 in the French Caribbean island of St. Barts in front of their children. However, Brooke revealed that they did not tell anyone about their wedding, not even their mothers.
An insider told MailOnline that the couple wanted their wedding to be a private one. Daily Mail further added that it was a spontaneous decision and the couple wanted it to, just be them and their children.
Similarly, a source said that their family is an incredibly tight unit and that they are very much in love. The source further added that David adores Brooke and their family and that they can't imagine being with anyone else.
Brooke, who enjoys a net worth of $ 25 million, has been together with David for almost eleven years, and they share two children together, daughter Heaven Rain and son Shaya Braven. The couple, who now rejoices married life, got engaged around August 2006.
But before this rejoicing married life, she had been through a stumbling relationship with Plastic surgeon Garth Fisher. The then-couple first got married in 2001 and got divorced after almost four years in 2005.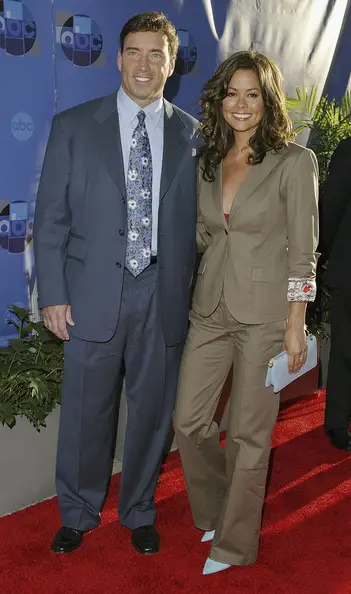 Brooke and Garth attending an event (Photo: zimbio.com)
The former couple Brooke and Garth together share two children, Sierra Sky, and Neriah. In an interview with PEOPLE, she stated that despite the divorce, they have a great deal of respect for each other and remain committed to raising their two children together.
Brooke Burke's Victorious Battle With Cancer
In July 2012, Brooke shared in a post that she had been ignoring her doctor's recommendation to undergo a thyroid ultrasound after the doctor found a lump in her neck during her routine exam.
Brooke shocked her fans later on November revealing in a video that she had been diagnosed with thyroid cancer. She further explained in the video,
I feel really good. I've never felt better. That's what's so crazy about this whole thing, and you never ever think that some tiny nodule, something that I didn't even know was going on in my body -- I went for a regular physical, and that's how I discovered this.
Just after a month after being diagnosed with cancer, she successfully underwent thyroid surgery in December 2012, and she proudly showed off her scar along with her incredible figure later in January 2013.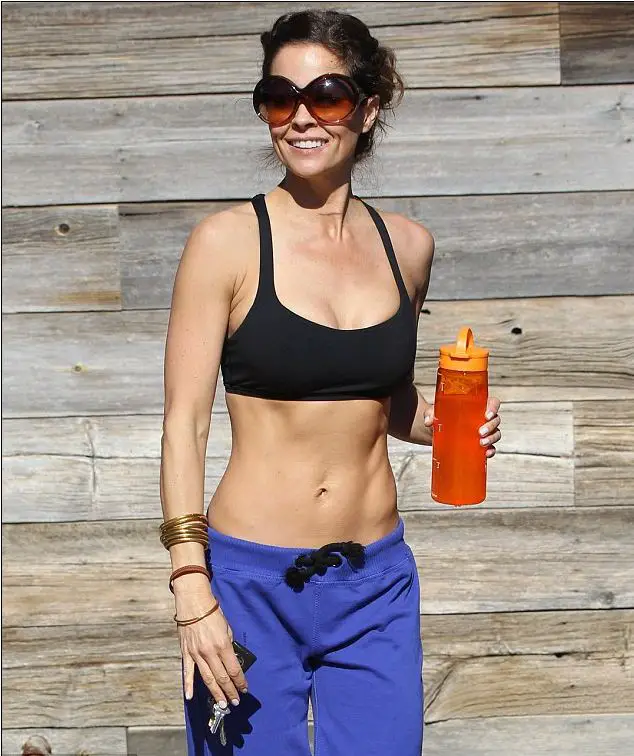 Brooke after successfully fighting thyroid cancer (Photo: dailymail.com)
After a couple of yeatrs of recovery, on April 2014, Brooke uploaded a video on YouTube sharing a 'seven moves' exercise video for a better butt. Recently in March 2018, she took it to her Instagram sharing a workout video for her fans and followers.
Think we're missing something? Do let us know in the comment section below!