Entertainment
Cameron Mathison Family With Wife: Covered In Sweat, That's How It Started
Every couple has a story to share of how they met and fell in love, but most of them are similar old tales: meeting in a line of Starbucks and getting their orders misplaced or meeting through a friend.
Nevertheless, Actor Cameron Mathison and his wife's story is much more exciting and athletic than normal love myths. The pair, who share similar interests, fell in love during one of the thrilling pastimes they experienced together.
Married for several years now, the couple was indeed destined to be together and raise a family of their own.
Proposal At Summit Welcomes Family Bliss
Cameron gave up his bachelor status a long time ago and is living a happily married life with wife of years.
He first met his wife, Vanessa Arevalo in the early 2000s when they took up a ski trip. While skiing, the actor realized that he was madly in love with Vanessa and even hoped to marry her someday. With the likeness, they started dating.
Love Story You Shouldn't Miss:- Tony Stewart, Girlfriend Escalate! Engaged & Getting Married Now
Later, as a couple, the pair took a trip to the Vail Mountain located in Colorado. By the time they reached the summit, both Cameron and Vanessa were sweating and tired. But, the exhaustion all faded away as the Washed Up actor surprised his girlfriend with a marriage proposal.
Vanessa immediately accepted his loving gesture and affirmed to begin a new chapter in their life. So, Cameron and his partner got married via a romantic wedding ceremony attended by friends and family on 27 July 2002.
Two weeks after the wedding, Cameron's wife became pregnant with the pair's first child: a son named Lucas, who was born in April 2003. Soon after his delivery, the child had complications and had to be admitted to the ICU for a while. Nevertheless, with loving parents by side, he recovered. He is in good health now and is pursuing his high school education.
Adding the family bliss, the Mathisons welcomed the fourth member of their family: a daughter named Leila in 2006.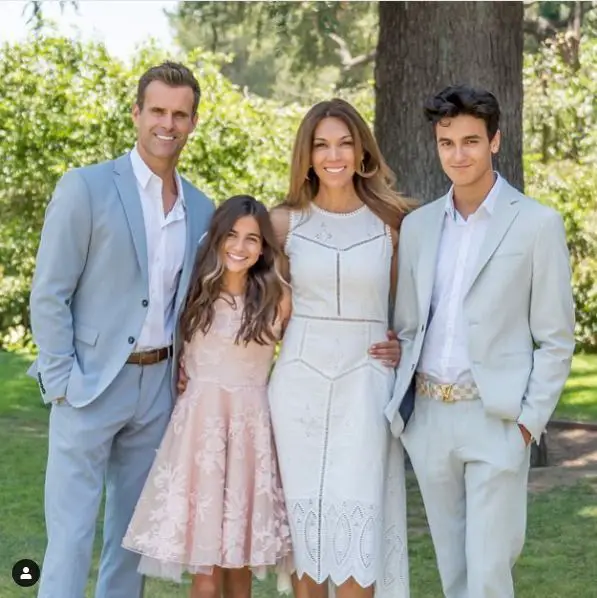 Cameron Mathison attends daughter, Leila's sixth-grade graduation with family in June 2018 (Photo: Cameron Mathison's Instagram)
Despite remaining married for nearly 17 years, Cameron and his wife's love for one another show no decline. In fact, it has been multiplied with the presence of their children, a handsome son and a daughter, who is soon to enter her teenage
Disabled Child To Hollywood Star; Net Worth, Height, & Weight
Cameron suffered a degenerative bone disease from his birth. He wasn't able to even walk till he reached the age of seven. But, battling the odds, he has now long recovered from his illness.
Survivor Of Such-Like Illness:- Jayne Kennedy Now Free From Illness? A Glimpse At How The Actress Looks Like in 2017
His disability taught him a valuable life lesson which was to always give the primary focus to his health. He started participating in weight-lifting and other physical activities maintaining his healthy life and keeping his weight in control.
Cameron currently weighs around 190 pounds and possesses a tall height of 6 feet and 2 inches. His body fitness even helped him in his acting career. To this day, he has acted in several movies and TV shows including All My Children, 54, CSI: Crime Scene Investigation, What I Like About You, See Jane Date, and more.
Cameron, age 49, is also doing well with his finances. He enjoys a net worth of $2 million as of 2019.