Entertainment
Camren Bicondova Of Mixed Ethnicity Boyfriend & Dating Status Revealed!
American actress Camren Bicondova may be the age of 19, but she has already kept the popular the Fox Batman TV series, Gotham under her resume. With enthusiasm and big dreams on her heart, Camren, also a dancer, is aspiring to her passion in every way and her early steps have landed in the right direction already.
There's no question the actress is reaching new heights in her career, but there still lingers a question mark, if that's the same in case of her love life. She was rumored to be dating her co-star from the series, Gotham, which she later addressed the matter herself.
Possible Boyfriend Rumors: On-Screen To Off-Screen?
If it's about career, Camren Bicondova is aspiring actress, who also kept dancing in her resume being part of the all-girl dance group 8 Flavahz. Her dancing career was not bad in itself as her dance group finished in the second place on season 7 of America's Best Dance Crew.
But, when the focus turns to her love life, she has full on on-screen romance to flaunt.
In the series Gotham, the actress portrayed the role of Selina, the love interest of Bruce portrayed by her co-actor David Mazouz. With their fiery on-screen chemistry, the pair has been able to awe the viewers with their borderline friendship, like in the comic books of the series. Top of it, the pair's friendship also includes a lot of sexual tension too.
So, as the dating rumors mill is always churning, many began to root in their heart to hearts to witness the same romance in real life. Soon, the pair was rumored to be seeing each other romantically off the screen as well.
And one of Camren's tweet on August 2014 brought more spice to the rumors. The actress, who has a ravishing net worth, tweeted about their "hanging outs" away from the set.
Replying to Camren's tweet, David posted a picture of him with Camren while they both posted up in front of Gotham's poster. He wrote,
"@camrenbicondova so much hanging with you too (Props to jessi Bicondova for the awesome pic)"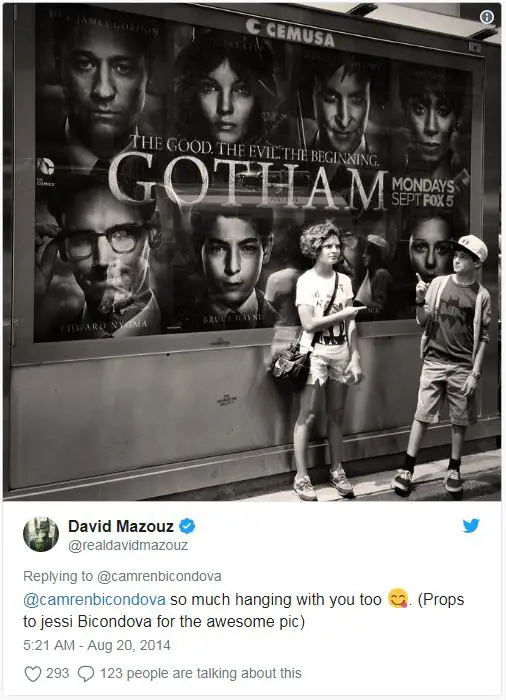 Camren Bicondova with David Mazouz in August 2014 (Photo: David Mazouz's Twitter)
Well, they do seem like pretty good match off and away from the camera as well.
Addresses Dating Rumors In Video, Ethnicity
The San Diego, California native's on-screen chemistry with David may confuse many heads, but turns out, they do not have much going off the camera. The flying rumors of them seeing each other romantically was cleared off by Camren, the daughter of second-generation Spanish immigrant parents.
Camren, who is of mixed ethnicity, revealed her dating life among her admirers who were eager to know about her and David's off-screen relationship.
The 1.57 m tall aritst, in a video posted on Twiter by one of the Gotham fan page The Bat & The Cat in August 2017, revealed that Camren and David were not involved romantically off the screen. She even clarified that even though she shares romantic scenes with David on the series, she does not feel the same in real life.
Well, even though fans of Gotham were rooting for them to be together, they share no such romance away from their portrayal in the series.