Entertainment
Cancer Survivor Amy Robach: Her Married life, Husband, and Divorce
Cancer is a reminder that life is valuable. Everyone needs to get rid of drama and enjoy every day. Meet Amy Robach who is an American television journalist. News Anchor for Good Morning America, Robach is a cancer survivor who has also been an inspiration to many of the cancer patients.
Amy Robach, a Cancer Survivor:
On October 1, 2013, Robach received a mammogram on live television. She was diagnosed with breast cancer. She revealed it on November 11, 2013, on Good Morning America.
Amy took a space from broadcasting to undergo a bilateral mastectomy. A second malignant tumor was found in her other breast and cancer had already spread to her lymph nodes. Robach has undergone eight rounds of radiation,chemotherapy and reconstruction surgery.
Cancer nearly ruined Amy's Marital Relation:
Cancer not only brought physical pain to her but also dragged her into an emotional chaos. It almost ruined her marriage to former Melrose Place actor Andrew Shue. Shue is her second husband to whom she got married on February 6, 2010. Amy's ordeal caused many hurdles but Shue was by her side as a supportive husband. Cancer made their marriage stronger. In an interview with people, Robach said-
"This was not something I would wish on anyone's marriage, but I think it was especially hard on a newer marriage. All of a sudden I felt like I needed him in a very needy way, and that's not my personality," she says. "When I had my crisis I completely crumbled. It threw everything up in the air. It was rough for several months."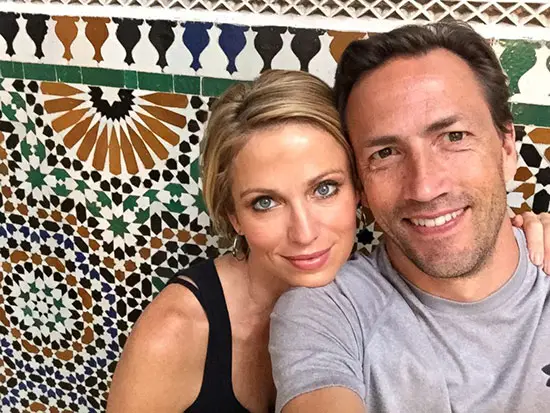 Caption: Cancer survivor Amy Robach and her husband Andrew Shue
Source: tumblr.com
Her First Marriage:
Amy was previously married to Tim McIntosh in the year 1996. According to the source, Tim Mcintosh is a baseball player. Amy has two daughters, Ava (2002) and Analise (2006) with Tim. She had an uncontested divorce in the year 2008.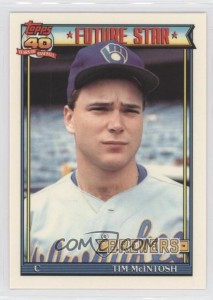 Caption: Amy Robach's ex-husband Tim Mcintosh.
Source: seamheads.com
Amy and Shue have been parenting their combined children. Amy has two daughters, Ava (2002) and Analise (2006) with her ex-husband Tim McIntosh whereas Shue has three sons, Nate (1997) Aidan (1999) and Wyatt (2004) from his ex-wife Jennifer Hageney. She is now happily cherishing every moment with her family.
Born on February 6, 1973, Amy Robach is an American Journalist who is currently working for ABC News. Good morning America's host Amy previously worked for NBC News as its national correspondent. She is a graduate of the University of Georgia where she has earned high honors in Broadcast Journalism. In the year 1994, Amy stood 4th runner-up in Miss Georgia pageant.