Entertainment
Charles Melton Girlfriend, Parents, Ethnicity, Net Worth
Charles Melton is the new celebrity sensation, who is cementing his spot amongst the acting giants in the film industry.
Starting as a model, Charles quickly gained public attention after replacing Ross Butler in the second season in the hit Netflix series, Riverdale.
Previously, he modeled for brands like Armani, Azalea, Old Navy, and walked for New York Fashion Week, Park & Ronen, and VLOV New.
Dating Girlfriend Or Gay,
Charles Melton is the heartthrob of many fans all over the world. But, unfortunate for them, the Sun Is Also A Star actor is off the hook and not gay.
He is partnered with his Riverdale co-star Camila Mendes since September 2018. The romance, which started on-screen as Veronica and Reggie, soon turned into a real-life dating affair.
After meeting at the sets of Riverdale, both Camila and Charles developed a liking for each other. Soon, they appeared as girlfriend and boyfriend, making the Riverdale fans more excited.
Related Story:- Riverdale Star Charles Melton Age 27 & Camila Mendes Dating Rumors! True?
Though they tend to keep it down when it comes to talks about their relationship. But still, the two do not miss a chance to shower love for one another whenever they get an opportunity on social media.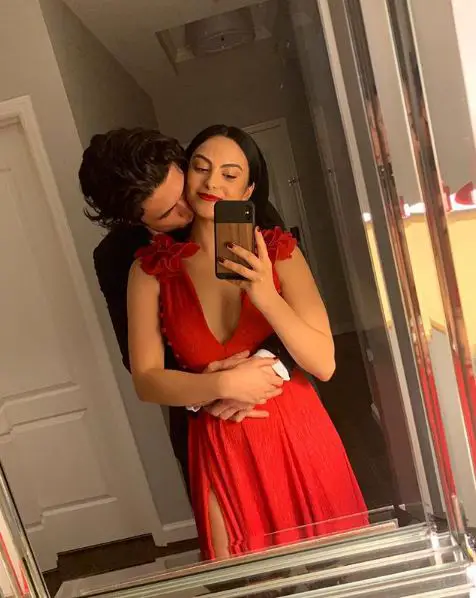 Charles Melton with girlfriend Camila Mendes in February 2019 (Photo: Charles Melton's Instagram)
As of August 2019, the loving couple celebrated their first anniversary as they continue to inspire and love each other in every path of their lives.
Parents, Age, Height
Charles Melton was born in Alaska but raised in Manhattan along with a sister, Tammie Milton. He inherited mixed ethnicity from his parents: Sukyong and Philip, whose family roots are British and Korean.
Growing up, the Alaska native was frequently shifting places due to his father's army career. Still, he attended college at Kansas State University and played football there.
Interestingly, he dropped out of college to pursue a career in modeling. His height of 6 feet 1 inch (1.81m) also helped him in the job a lot. However, modeling for three long years, the 28-year-old shifted towards acting.
He made his first appearance in Glee and continued to do good in the same landing roles in American Horror Story, Faces Without Eyes, and Riverdale.
As of late his new movie, Bad Boys for Life is on post-production. With his first major film on the roll, fans are excited to see their favorite do well.
Net Worth Info
While Charles Melton is still booking his spot in the film industry, his modeling ventures can't be taken for granted.
Since 2012, he started his career in modeling and worked for the various top brands all over the world. The Glee actor also starred on the cover page of Prestige magazine.
Also Read:- Who Is Victor Houston, Camila Mendes' Boyfriend? Bio, Age, Job, Net Worth & Facts
Interestingly, he left behind his staggering modeling career and entered into the film industry from the series Glee, in which he appeared as a model.
Now, a full-fledge actor, Charles bags a median salary of $50K and accumulates an evergrowing net worth for himself.
Similarly, the model is starting to land more prominent roles in movies and TV series alike. Also, he is coming up in the new film Bad Boys for Life alongside Will Smith and Martin Lawrence.