Entertainment
Chris Hayes: All You need to Know about this MSNBC Host, Married Life, Wife, Salary and Net Worth
Having received the title of the youngest host of a prime-time show, Chris Hayes has marked a profound imprint in his journalism career. Besides his career in television he also has some life behind the screen, so today we are covering the off-screen life of this young rising star and unleashing his fan about his love, marriage and his break up the story along with some career details.
Personal Life: Married, Wife and Children?
In the year 2007, the prime time show host got married to his college sweetheart Kate Shaw an assistant professor of law at Benjamin N. Cardozo School of Law. Both the duos got blessed with their first child a baby girl Ryan Elizabeth Shaw Hayes in the November 2011 whereas the pair got blessed with their second child a baby boy named David Emanuel Shaw-Hayes in the year March 2014.
The author seems to have no intention of hiding his relationship status. Therefore he was seen with his wife in plenty of events and further he has mentioned the name of his wife in lots of interviews.
In an interview published by Ibtimes on 12th September 2015, he said himself to be lucky in having a wife who has helped him to become an amazing person despite having insane work and hectic working hours on the job. He said:
"Having known each other as long as we have has insulated me from what this job can do to you. She's by far the most accomplished person in our household. Everything that I am as a human being has been constituted by that relationship. I often think about the stress of the job and that the crazy psychological effects of being on television would easily drive a person insane, or make them into a monster, in the absence of having an amazing relationship. I'm lucky."
Well, looking at their strong bond we are quite sure that the couple is the match made in heaven and shares a healthy relationship like in this picture below where they are enjoying quality time together.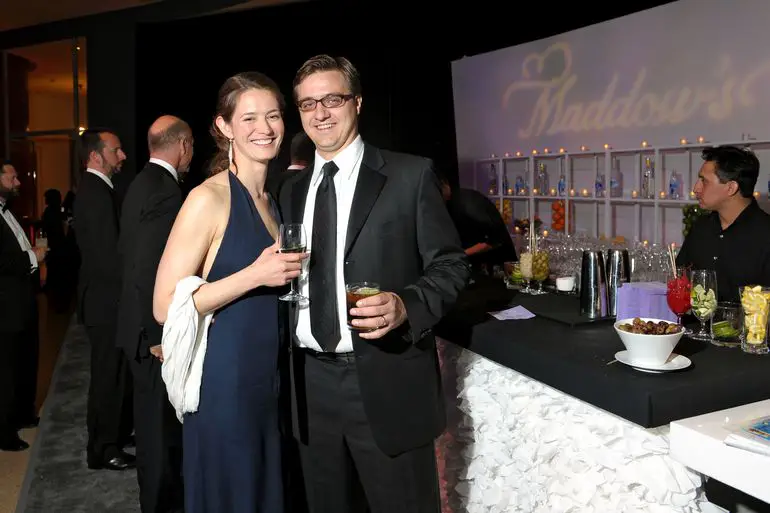 Caption: Chris Hayes with his wife Kate Shaw attending a party in 2014
Source: liberalamerica.org
Well, this news might have broken few hearts of his fan followers who might have a secret crush towards this host while some fans might be giving well-wishers for the married couple who celebrated his 17 years of togetherness with his two children.
There aren't any rumors of him getting divorced or about his being gay.Thus, he is a happily married man and enjoying his fatherhood.
Was there any ups and down in his career life?
As published by Huffingpost on 19th September 2011, Chris Hayes along with his co-star Rachel Maddow had a thorough discussion about the difficulties faced by the television host to present and get the show right. He has even expressed about the difficulty encountered while interviewing high profile politician even when he has conducted and hosted plenty of shows. He said:
"It's very hard to do a good interview, I find, with a politician,I always feel like I've kind of been defused."
Here is the video clip where Chris is taking an interview with Bernie Sanders about the ups and downs of the US Presidential Election 2016 which is going to be held on Tuesday, November 8, 2016.
Caption: An interview conducted by Chris Hayes with Bernie Sanders on his show"All In" at 30th June 2016:
Well, there never has been any downfall in the career of this man. What we have observed is only the upward trend in his career chart. As posted byibtimes.com on 12th September 2015, Chris was declared as the "dead host walking for the better part of a year" by the industry. T
he title had claimed to be right when in 2013, his show "All In" consistently was ranked in the number three position in all the cable news channel. Whereas, in the quarter of 2015, he had managed to gather the total viewers of 540000 overnight which happened to drop the show rating by 12% since the previous year.
However, in the year 2016, he pulled his show rating of "All In" to 32% which previously had declined to 12%.The host surpassed the most popular host Chirs Matthews and Cooper. In the year 28th September 2015, his show" All In" even grabbed the Emmy Awards.
Thus, even though there have been ups and down in his career he still seems to be the favorite host for all of his fan following and his good wishes.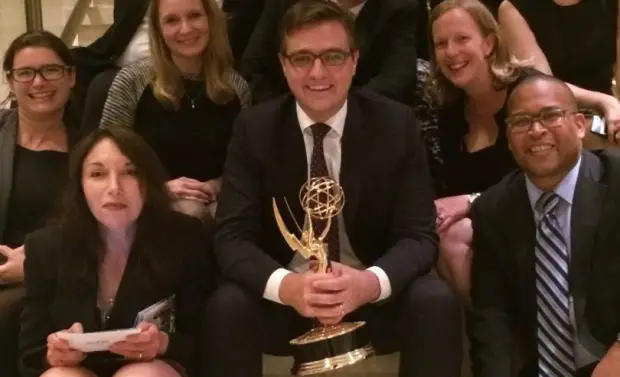 Caption: Chris Hayes won an Emmy Award for the show" All In" (2015)
Source: ibtimes.com
Chris Hayes's Short Bio:
Chris Hayes was born on February 1979 in The Bronx, New York City to an Irish father and an Italian-American mother. He attended Hunter College High School in the New York City and Brown University for his undergraduate education.
He has an estimated net worth of $5 million whereas his salary is assumed to $6 million per annum.
Chris is now devoting his time on his next book " A Colony in Nation" which is likely to be published in the year 2017. Chris is also working on the MSNBC channel and is the editor of The Nation magazine. He currently resides with his wife and his two children at Washington D.C.