Entertainment
Chris Motionless, Relationship With Girlfriend – Artistic And Rare!
Famous American metal singer, Chris Motionless, who is the lead vocalist of the band 'Motionless in White' has created a rage among the fans with the singles like Ghost in the Mirror and Puppets (The First Snow).
Moreover, the fans of Chris Motionless are intrigued to known every possible detail about his personal life; love life being the foremost. So, in this segment, we would be talking about his romantic life with his artistic girlfriend. Without further ado let's get started!
Relationship: Chris Motionless Dating Artistic Girlfriend
Chirs Motionless prefers to keep his love life low key thus least information about his romantic life has surfaced the media.
Although Chris has maintained suspense over their first meeting and the tenure of their relationship, it is known that he is dating Instagrammer, Gaiapatra. She is an alternative punk makeup artist who eventually showcased her artistic talent via Instagram.
Discover:- WWE Newbie Kacy Catanzaro Shows Off Boyfriend, It's Not Bret Steffensen
Also, Chirs hinted his romantic connection with Gaiapatra as he wished his fans and followers on the occasion of Valentine's Day with their picture back in April 2016. Moreover, Chris has worked with his girlfriend Gaiapatra for the cover of Alternative Press for Warped Tour where she was his makeup artist.
Further, it's not only Chris, who gives a glimpse of his association with his girlfriend, as she also shares pictures of the couple via Instagram.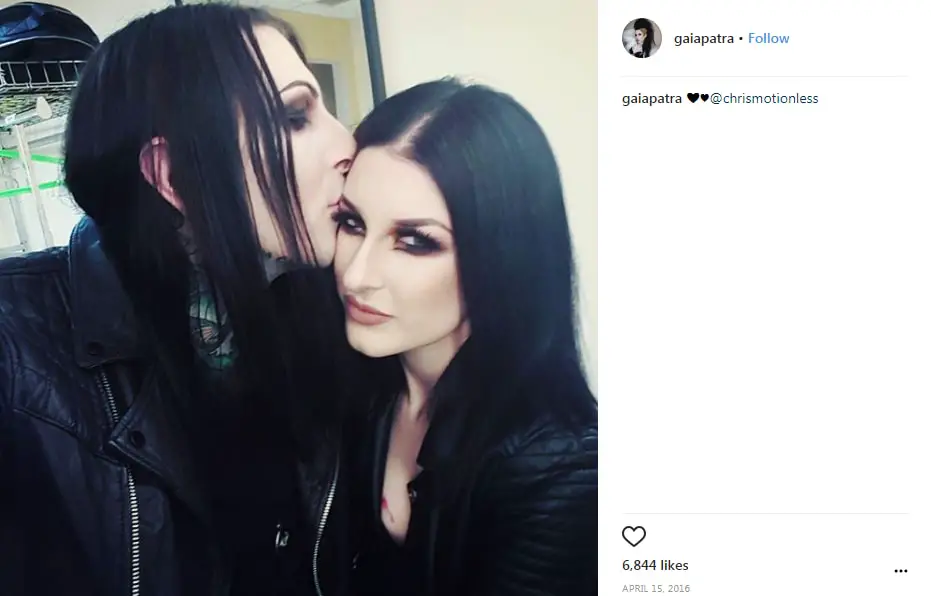 Chris' girlfriend, Gaipatra puts up a post of her getting kissed by him (Photo: Gaiapatra's Instagram)
With passing time the relationship between Chris and Gaiapatra seemingly blossomed, and together the couple even traveled London, Berlin, and Stockholm back in March 2017.
Read Also:- Alex Murrel & Hunky Husband Kyle Johnson's New Baby Boy! 'Laguna Beach' Star Shares
Moreover, although Chris had visited Europe for work, he took out time to be a tourist with his girlfriend and even shared a picture with his fans and followers via social media.
Also, Gaiapatra shared a picture, with boyfriend Chris and stated that she had an amazing time in London.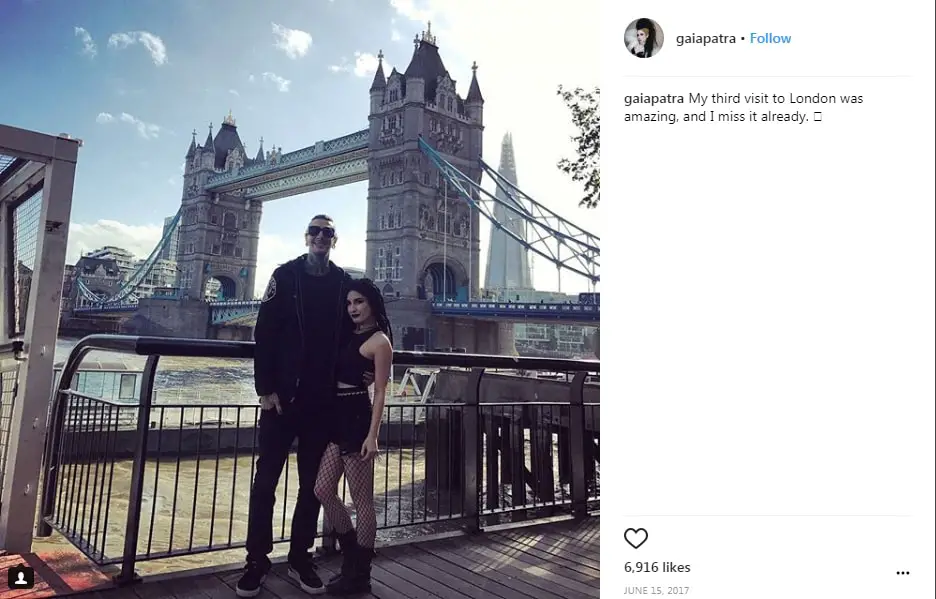 Chris' girlfriend shares the picture of the duo from London (Photo: Gaiapatra's Instagram)
Well, as the couple gives a sneak peek into their love life, the fans have become curious about them escalating their relationship into a marital union.
Chris Outrageous Take On Getting Married Amidst Gay Allegations
The possibility of a couple surprising the fans by getting married and proclaiming each other as husband and wife stand a chance. But, nothing could be assured of until they come forward and speak on the matter and it seems that fans have to wait for a while as of now!
Before dating Gaiapatra, Chris was in a relationship with Sabrina Malfoy back in 2013; however, their relationship couldn't survive long and eventually, they broke up with each other.
Discover:- April Rose Age 30 Ideal Husband; "I Absolutely Love Smart Men" Says Model
Perhaps, this could be attributed to Chris' disdain for marriages. His anti-marriage rhetorics is well documented, having expressed anti-marriage sentiments in numerous occasions.
And his anti-marriage sentiment was on full display when he was interviewed by Rock Sound's official YouTube page in July of 2018. When asked if he believed in the concept of marriage, he simply replied:
"I don't intend to ever get married."
He immediately followed up by claiming to understand why people get married. However, this doesn't mean he doesn't believe in the relationship. For him, the so-called intense relationship does exist.
Hopefully, Gaiapatra's influence will make him come around on the topic of marriage and the importance of the wife-husband relationship.
Despite being in relationships with women, Chris has gotten linked with gay rumors. The rumors have been limited to stories though, as he hasn't come forth to comment on the matter and further no evidence in support of his gay rumors have surfaced in the media yet!