Entertainment
April Rose Age 30 Ideal Husband; "I Absolutely Love Smart Men" Says Model
The winner of 2008's Maxim's "Hometown Hotties," April Rose Haydock has been the on the top list of the search section. She discussed about the quality of her ideal boyfriend...She was sexually harassed at the age of.....With her unsupportive parents and friends, she decided to be.....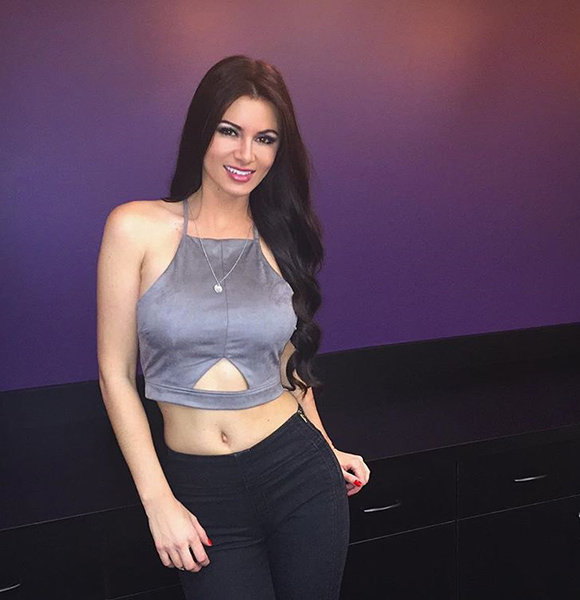 Once the rape crisis counselor lifted the trophy of "Hometown Hotties contest," April Rose has been dominating the entertainment world with her great talent in which her sexy body figure worked as a special ingredient.
Hosting the Chicago's radio show, The Loop Rock Girl, making her debut with Grown Ups 2 has undoubtedly increased her Instagram followers shipping her to the next height of popularity.
With her sizzling avatar, she has become the ideal girl for many dashing guys out there. But April has not revealed anything about her boyfriend. However, hinting at her single relationship status, she spilled the quality of the boy which she is looking on her future husband.
Looking For "Smart" Boyfriend; Met Husband-Like-Figure? 
The winner of 2008's Maxim's "Hometown Hotties," April Rose Haydock has been the on the top list of the search section. With many well-deserving young, dashing man trying their way to the 30 aged beauty, she discussed with Maxim on January 2018 what she prefers to be in her ideal boyfriend.
See Also:-  Tatto Artist Megan Massacre Reveals Dating Essentials; Meet Ideal Boyfriend
Well, she does not only prefer the dashing, handsome guy, she also goes for the level of intelligence. If anyone wants to approach her, then he must be smart, and absolutely smart.
She claims the level of smart in men is what catch her attention. And her ideal boyfriend should be self-assured and confident.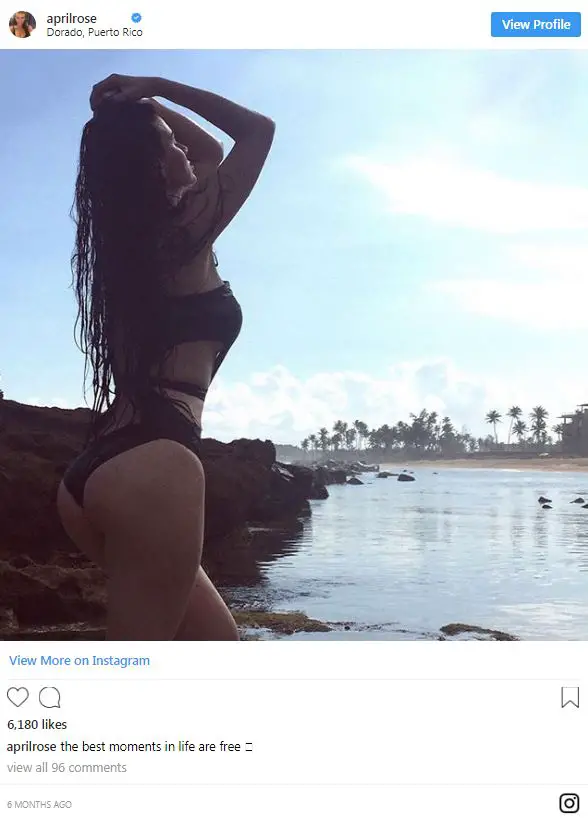 April Rose flaunting her perfect body on Instagram in March 2018 (Photo: April Rose's Instagram)
But even if she is attracted to someone, she describes that she is shy to approach a man. Similar to every lady, she wants the guy to give a shot after they made eye contact with her. 
"I'm really shy. I'll never approach a man. Sucks, I know! But I think it's all about the eye contact then."
So, guys if you are smart enough to catch her attention, then don't delay to make a call!
Read Also:- Cuban Doll Personal Details: Age, Real Name And Ideal Boyfriend – All Revealed
Here, the  Chicago native, announces what her ideal date should be like. Since she is very flexible towards everything either it would be food or the place, she enjoys the moment if her boyfriend asks her what they should do.
"I don't care where we go I just love when a man tells me what we're doing. I'm really down for anything, and I eat everything—no restrictions—so you can bring me anywhere!"
Whenever she is on the romantic date, a Booz of drink adds the essence to the romance. Since she does not drink more, after a shot she would be in the different level.
However, she described that she has not met someone of her type to whom she could call her husband. But April, who once kissed the woman on Instagram video, really cherishes the moment when someone approaches her on Instagram Direct Message after meeting her.
You May Also Like:- Did CNN's Alisyn Camerota Leave Fox News Because Roger Ailes Sexually Harassed Her?
Sexually Assaulted; Unsupportive Parents, Sexual Assault Medical Counselor
Similar to the sexually assaulted story of the UFC star, Paige VanZant during her early teens, the sexy Maxim cover girl, April Rose faced the terrifying sexual assault on her late teens which she claims the memories still haunt her.
The Grown Ups 2 star was at her 17 when she faced the sexual harassment in her hometown Chicago by her high school friend at a party. Her high school friends attended the small house party and she was in her sleep when she was sexually assaulted. She shed light on her horrible past while talking to Daily Mail back in 2013:
'I was at a small house party, it was late at night and I had fallen asleep and woke up to the assault.
Soon after she woke up to the assault, she went to the hospital where she faced the unsupportive doctors and police officers which made her feel more guilty and uncomfortable. 
Don't Miss:- Aurora Perrineau Boyfriend! 'Equals' Star Dating Amid Rape Conflict?
Though she told some of her friends and parents, they were totally indifference towards her pain and struggle. That was the time; she decided to work for the victimized women and be their ultimate support.
The harassment attacked her mental health that she became a rape crisis counselor in collaboration with police and hospitals before making her appearance in the entertainment industry.
"There was no-one to hold my hand and that's part of why I became a crisis counselor. I wanted to work with women because I understood it so much. You can't explain how it feels until you've lived through it and how vulnerable it makes you feel."
She became a certified Sexual Assault Medical Counselor who responded to every call and scream of the sexual assault and rape victims in Chicago hospitals for six years.
"I helped women with their self-worth as that is a huge thing that is taken from you."
Responding to other women's cry also helped her to heal her own bitter past experience which still haunts like a nightmare. And she is standing strong, healing her deep-cut wound and making her name into the entertainment world.