Entertainment
Countess Vaughn, Divorced Mother of 2 Children, Significant Weight Loss
If you like to watch the drama-packed reality TV show, 'Hollywood Divas', then you must know Countess Vaughn. In her show, she has been an interesting element. Despite being a mother of two children, she proved the world that she is no ordinary soccer mom when she successfully achieved her goal with significant weight loss.
Vaughn's Weight Loss:
Countess Vaughn has been storming her Instagram with sizzling pictures of herself. And why wouldn't she? After all, the body she has been flaunting is achieved by loads of efforts she put into it. Following this remarkable attainment, she revealed all her weight loss secrets to the 'People's Magazine' in 2015.
Regular Fitness:
Vaughn's weight loss procedure included months of daily workouts, strict diets, and a painful liposuction. She has revealed that she does the workout for 30 to 45 minutes every day with music to make it more fun. Her daily fitness routine helps her become energized for the entire day.
Dietary Plans:
She also follows a very strict dietary plan. She consumes a proportionate meal and instead of consuming 2 or 3 meals a day, she has taken in the idea of snacking. Her favorite choices for snacks are yogurt and nuts. This was the hard part for her, as she had to resist eating her favorite food items like fried chicken. So, to help with this, she ate one piece instead of 3 or simply moved away from the food.
Liposuction Surgery:
She has also confessed openly that she went through a liposuction for the second time. She had the first one in 2003 after the birth of her son. \
She looks at the surgery as a treat to herself. She has reportedly gone through the surgery not just to look good but feel healthy as well.
Married Life, Husband, and Her Children:
So, Why did the 37-year-old actress go through all this trouble?
"I wanted to do a mommy makeover. I had done it after my oldest child. I really needed to just treat myself, and I'm happy about it!" she said to the People's Magazine.
She does love her children very much. She has two children; both are from his marriage to Joseph James. The couple divorced on July 3, 2003, after being married for 3.5 years. She has an older son, Jaylen James and a daughter, Sasha.
BE careful about wearing caps/hats....I learned that they put embalming fluid in them...so I no longer allow my son to wear hats! #BeCareful

— Countess Vaughn (@CountessDVaughn) June 21, 2013
Vaughn reveled a really big personal secret on October 2014 as per a therapy session in an episode of 'Hollywood Divas'. While taking a therapy session, Vaugh revealed that she had an abortion after an unwanted pregnancy when she was 18 years old and just starting her career. She knew that for a black girl to be pregnant in Hollywood meant the end of their career, so she decided to get rid of the baby.
After revealing such a shocking personal infor mation about herself she spoke to US Weekly saying,
"I really needed my show to release all that I've been carrying all this time," she adds. "I've beat myself up for so long about it, and I just felt like, 'You know what girl, you've got to tell somebody.' I like to keep it real at all times."
Thank you for your transparency regarding your insecurities and your abortion @CountessDVaughn ! By sharing you have helped many????

— ??Sincere?? (@Sincereshy) December 4, 2014
Her New Start:
Even though her past relationship was a failure, she is currently happy with her new boyfriend. The unnamed mystery man of Vaughn's life has been her soulmate for 10 years now and apparently he is the husband to be. Vaughn took to Instagram to post a picture of her man popping the question, captioning it with ""He asked to marry me ….in I said yes,"
My Engagement:
The picture, however, has mysteriously disappeared from her Instagram, but a photo was later posted by her in her lingerie with a similar caption.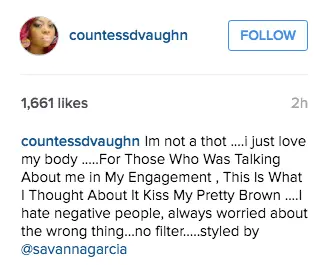 Caption: of Countess Vaughn where she mentions her engagement.
Source: wordpress.com (blog)
Countess's Short Bio:
Countess Vaughn was born on 8th August 1978 in Idabel, Oklahoma. She started performing at a small age of 3 years when she started singing in the church. She had won 'Star Search Junior Vocalist Champion' in 1988 and soon after was cast in NBC's '227'. She released her first album 'Countess in 1992. but she is mostly famous for starring in the UPN sitcom, 'Moesha' from 1996 to 1999.
She has an estimated net worth of 900 thousand dollars that is mainly from her acting profession and reality series. Some of her recent activities that have brought her to the limelight are her apology to her 'Moesha' co-star, Brandy, ending their 20-year long feud. She had also sorted the argument between her and Golden, her 'Hollywood Divas' co-star.