Entertainment
Is Cristin Milioti Secretly Married And Has Children? Where Is She Now After Taking Leave From HIMYM?
Cristin Milioti is best known for her role as that of Tracy McConnel in television series, how I met your mother. The show ended in 2014. A versatile singer, as well as an actress, is also the winner of Grammy award but how well do you know about the personal life of Milioti? We'll follow it up!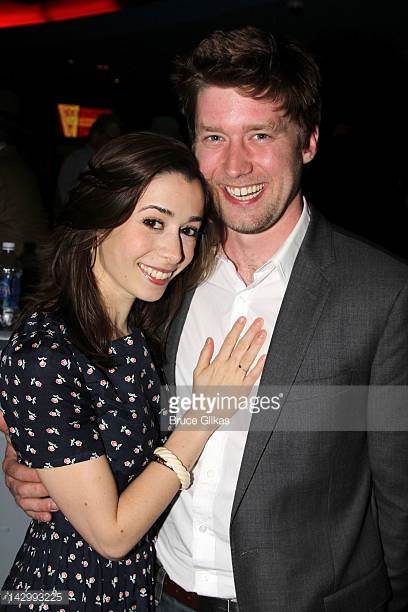 Caption: Cristin Milioti and Jesse Hooker posing together at 27th Annual Lortel Award Nominations Reception in 2012.
Photo Credit: gettyimages.com
Milioti started dating Jesse Hooker back in 2008. Although both of them have had been subject to engagement rumors, which Cristin told the New York Times in September of 2013 and was completely untrue.
In any case, engaged, married, dating, Milioti and her boyfriend have been together for some time, six years. Her boyfriend back then is a furniture maker.
Hooker is a very talented reclaimed furniture designer based out of Brooklyn. He owns as well as designs for the company Hooker & Co., and its website states that:
"It revitalizes lovally reclaimed materials in its handcrafted furniture. Each piece, designed and built in Brooklyn, is a celebration of the borough's rich industrial heritage."
Before turning to furniture designing, Jesse Hooker was an actor. He has also done some small parts in soap operas and a role in Law and Order, along with his stage work. Milioti said of Jesse:
"He makes beautiful stuff. Tables, seating, and all from reclaimed material."
Back then, the couple's home was located in Bushwick, Brooklyn and apartment were filled with his designs. In real life, Cristin Milioti and Jesse Hooker met in 2008 and started dating a few years later.
Currently, she is single and is not involved in any relationship. She is not married and doesn't have a husband nor children. As of now, she is not seen in any Television series nor movies. She was recently seen in a film in 2016 named Breakable you in a role of Maud Weller. Moreover, she was also seen in a television series in 2016, The Venture Bros in three episodes.
Caption: Cristin Milioti appeared recently on Running Late Show on January 24, 2017.
Her measurements features, 1.57 meters in height, as of 2014 she was 49 kilograms and body size included 34-25-35 inches. Moreover, she is known for her works in Broadway theater productions such as Stunning, The face as well as Tony Award-winning musical Once.
Milioti is also known for playing Tracy McConnell, the role of titular mother, on the hit sitcom, How I Met Your Mother from 2013 till 2014, as well as the role of Teresa Petrillo Belfort in 'The Wolf of Wall Street' movie.
Most importantly, she has won a Grammy Award as well as has been nominated for a Tony Award. Milioti, being an American actress as well as a singer, her net worth is that of $2million.