Entertainment
Cristina Greeven Cuomo Bio: 2001 Wedding Gave New Family - Personal Life Insight
Christina Greeven Cuomo, the editor in chief of Manhattan magazine and Beach magazine, is living prosperously with her husband and children. Well, it is a well-known fact, but do you crave to know about Christina's family life in detail?
If yes, then keep reading, as we've tried summing up all there is to know in the following context!
Cristina Greeven Cuomo's Family Life
Cristina Green Cuomo, host of PBS' Best Places to Live is living a perfect married life with husband and kids. Cristina shares 16 years of marital bond with her husband, Christopher Cuomo, who is a CNN anchor.
Cristina tied the nuptial knot with Christopher, the youngest son of the former governor in a Catholic ceremony on Long Island.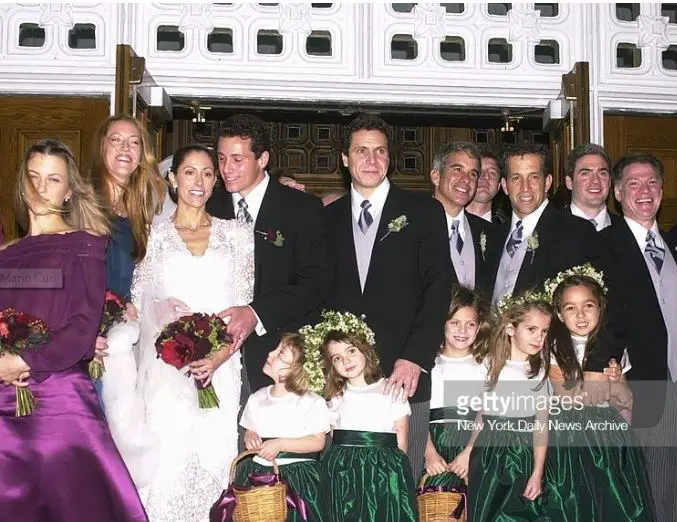 Cristina Green Cuomo's wedding picture with Christopher Cuomo (Photo: gettyimages.com)
The wedding ceremony took place on 24 November 2001 at the Sacred Hearts of Jesus and Mary Catholic Church in Southampton. During the wedding, Cristina showed up more than a half hour late than the stated time.
However, the wedding later went the way it was planned. Mario Cuomo, the father of Christopher, opened up about the relationship of the bride and groom during the wedding with a report that said,
"If this match between Chris and Cristina is not made in heaven, it's certainly made in the vicinity near heaven. They are both bright, sincere and intelligent people."
Christina is a mother of three; she shares Mario and Caroline with her husband and her godson Otto.
Husband and wife should always be supportive to one another, and sharing the same notion is our couple; Christopher has always had the support of his wife during his troubled times.
Back in 2016, Christopher was accused of Drag racing while hitting a Mercedes SUV during his wife's chic party for beach magazine. Christina was there showing her support towards her husband while she talked with the police defending her man.
Cristina Greeven Cuomo's Bio
Cristina Greeven Cuomo, who is at the age of 47, grew up in New York City. She gained her academic education and graduated from Cornell University in 1992.
After graduation, she took her step in the world of writing and magazines. She found and ran the lifestyle magazine, Manhattan File for seven years as a Publisher and Editor-in-Chief. Later, she served as part-owner and Vice Chairman at Niche Media Holdings, LLC. There she worked with all departments including marketing, event promotions, advertising, and editorial.
Cristina later joined forces with Jason Binn and launched all its publications as the Vice-Chairman. Now, she works in The Purist, the digital magazine with a theme of an adventure in wellness.
Throughout her career, she has undoubtedly earned sound finance to her name, and despite the net worth of this aspiring lady remain confined, it can be estimated to be dwelling in millions.