Entertainment
Howie Carr: Radio, Show, Twitter, Net Worth & Essential Facts
Controversial radio show host Howie Carr, age...His net worth and salary might be skyrocketing with every passing day......but somehow the veteran radio show host...On Twitter, the 66-year-old goes by...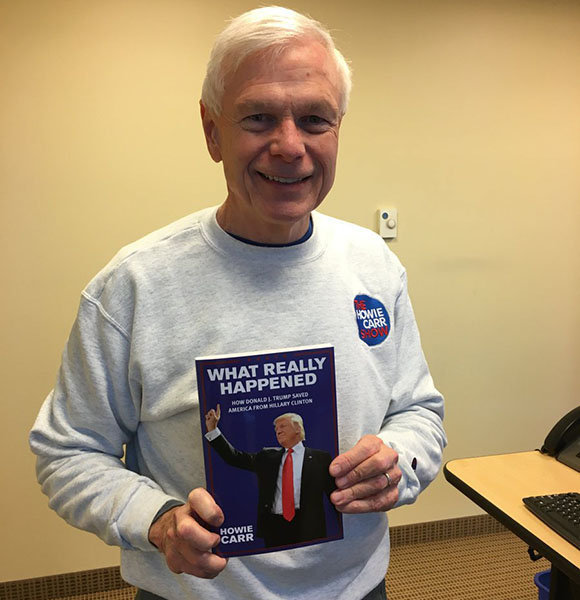 Controversial radio show host Howie Carr, age 66, might have begun his career in print journalism but it was on the airwaves that he found his true calling. His rise to prominence as one of the most influential voices in the conservative radio scene has seen a fair share of drama and controversy!
The success of The Howie Carr Show meant that the Maine native could lead any life he desired. Instead, he opts for a much simpler way of life, one that involves spending valuable time with his daughters.
His net worth and salary might be skyrocketing with every passing day, but somehow the veteran radio show host has kept himself grounded. Nothing embodies the University of North Carolina Alum's down to earth personality than his Twitter activity.
Radio Host Still Active On Twitter At Age 66
On Twitter, the 66-year-old goes by the Twitter handle, @HowieCarrShow.
Read Also:- Karl Pilkington's Girlfriend Suzanne Whiston Declares 'Proud Wife' | Married?
A staunch supporter of  Trump Presidency, Howie is as much of a Republican on the radio as he is on Twitter. So, in 2016 when Donald Trump took the helm at the White House, he used his influence to secure an internship gig for his oldest daughter, Charlotte there.
The veteran radio personality even shared a picture of him and his daughter from the latter's farewell dinner on Twitter.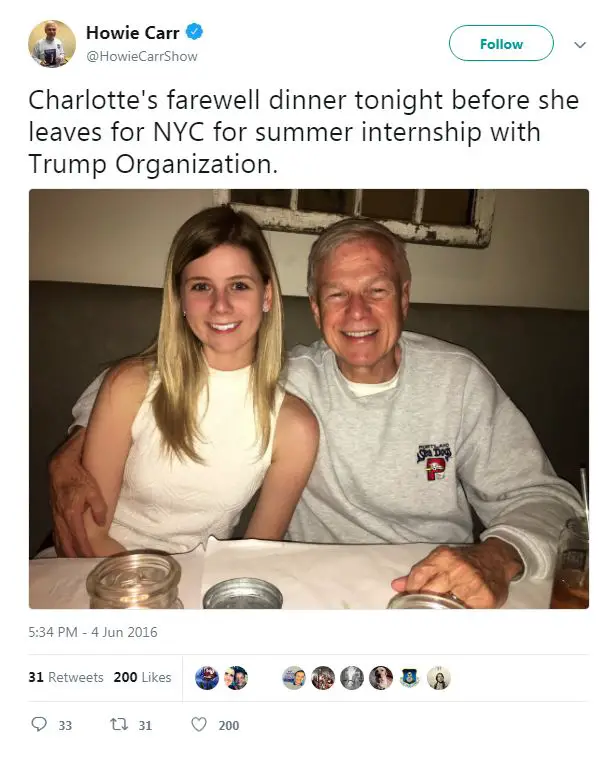 Howie and his daughter, Charlotte at the farewell dinner (Photo:- Howie Carr's Twitter)
Months after announcing his daughter's internship for Trump Presidency, he would put up a photo of Charlotte alongside President Donald Trump on his Twitter.
Charlotte is the oldest of three siblings. Her younger sisters - Carolyn, age 24, and Christina, age 22 - are also a regular feature on Howie's social media.
Similar:- Is Mark Simone, The Savage Radio Host Married? Family, Salary & Facts
Co-incidentally, both the former WRKO radio talk host and his daughter, Carolyn's birthdays fall on the same week. On January of 2017, the father-daughter duo celebrated their birthdays together at Strega Waterfront.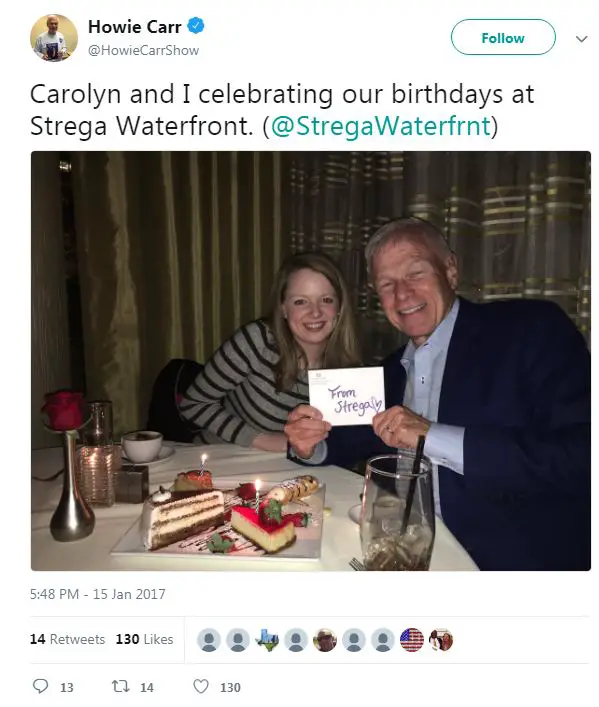 Howie celebrating birthday weekend with his daughter, Carolyn (Photo:- Howie Carr's Twitter)
All the three daughters are the results from his second marriage to a Wellesley realtor named Kathy. His first marriage also had produced three daughters.
Although there have been no records of what might have transpired between him and his first wife, Howie, on previous occasions, have admitted to leaving her around 1993.
Radio Show Host's Net Worth & Salary
Then, the year 1994 marks a watershed moment in Howie's life!
Interesting:- Cancer Survivor Dallas Raines: Tumultuous Relation Of Wife & Daughter To Family Moments
Not only it was the year his daughters Carolyn and Charlotte were born, but 1994 also marked the beginning of an era-defining radio show The Howie Carr Show.
Ever since going live on air for the first time, The Howie Carr Show has become a staple for conservatives, living in the New England Area. Howie couldn't be more proud of his achievements. His Twitter bio boasts:
"New England's undisputed talk radio King - NYT best-selling author of The Brothers Bulger & Hitman -Columnist for @BostonHerald"
At present, The Howie Carr Show is produced by Money Matters Radio and syndicated by Global Media WMEX (AM 1510). His 20 years stay at WRKO came to an end in 2015, following years of tumultuous relationship between the radio station and him.
Nonetheless, Howie's stint at made him a wealthy man, with millions to show for it in net worth. A large chunk of his net worth is made up of his salary from his radio gigs.
Leaked documents reveal that the veteran radio personality made a whopping $700 thousand in 2006 in salary. Likewise, a year after, Howie was set to become one of the wealthiest radio hosts after signing a five-year deal of worth of $7 million with WTTK (96.9 FM) -- a WRKO affiliate.
Safe to assume, Howie earns a comfortable six-figure salary in any given year!