Entertainment
Susan Mikula Wiki: From Age, Net Worth To Relationship With Rachel Maddow
Artist photographer Susan Mikula, age 60, and her partner of almost two decades, Rachel Maddow's stance on marriage is as unique as the circumstances they first met.
Despite the 15 years of age gap between them, the lesbian duo has fostered a romance that circumvents between their time in Massachusetts's farmhouse and their New York apartment -- all thanks to Rachel's windfall net worth.
Please bear with us as we present to you some riveting wiki on Susan's art, net worth as well as unique lesbian relationship!
Susan & Her Lesbian Partner Rachel Maddow's Views On Married Life
The widely held belief that the marriage between two human beings signifies the ultimate commitment is an outdated concept. And at its worst, it is a social construct meant to perpetuate humanity.
Read Also:- Why Hasn't Fox News' Bill Hemmer, Age 52, Not Married Yet? Does He Have a Girlfriend or Engaged?
Though the fight for the right to marry any person regardless of their sexual orientation has been the fooder that kept the LGBTQ community up and running, there's an offshoot of LGBTQ members like Susan and Rachel who don't necessarily show indifference but have reserved feeling towards the marriage as an institution.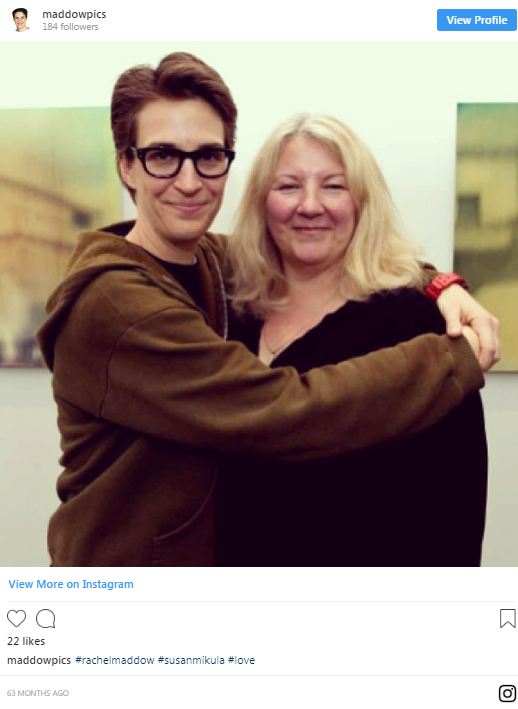 Susan(left) and Rachel strike for a rare photo (Photo:- Maddowpic's IG)
Susan's partner of 19 years and TV show host, Rachel, once said,
"I feel that gay people not being able to get married for generations, forever, meant that we came up with alternative ways of recognizing relationships. And I worry that if everybody has access to the same institutions that we lose the creativity of subcultures having to make it on their own. And I like gay culture."
The 60-year-old photographer herself echoed similar sentiments when she sat down with Newsweek to discuss a range of topics, including marriage, her art, and so forth. She got down to specific reasons as to why the pair hadn't married yet. She explained,
"We both have a real fondness for the outsider part of our gay culture."
You would think the pair's take on marriage is unique. But wait till you hear the story of how they got to meet each other in the first place.
Artist Susan Mikula's Wiki Including Net Worth
At the turn of the century and before becoming a household name as the first openly gay woman to host a prime-time TV show, Rachel worked on her doctoral dissertation. She hired Susan to do some work in her yard.
One thing led to another, and the pair ended up going to an NRA 'Ladies Day On The Range' event as each other's dates.
Discover:- Political Column Pat Buchanan Wiki: Trump Talks, Books, Net Worth & More
Years later, Susan would recount the first encounter in an interview with People. She described it as,
"It was very Desperate Housewives."
Well, their 19 years together as partners may not have seen as much drama, but we'd be fools to think that Susan and Rachel don't lead exciting lives.
Between their day jobs as leading figures in their respective fields and a couple who go to lengths to support each other's aspirations, the pair meticulously plans their schedule around their time at the pre-Civil War farmhouse they share in Massachusetts and the $1.25 million New York City apartment.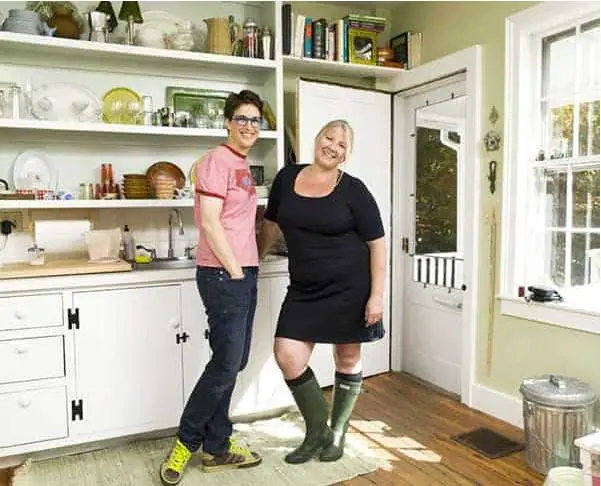 Susan (left) with her lesbian partner Rachel at their farmhouse in Massachusetts (Photo:- Pinterest.com)
Rachel - who commands an impressive net worth of $20 million - is the person who advised Susan to take up photography as a viable career. According to various wiki sites, Susan had no formal education in any art branch before meeting Rachel.
Interesting:- Pro Jockey Hayley Turner Is Married Or Casually Dating Boyfriend?
Since getting on with the TV personality, she has had her work shown in New York, San Francisco, Miami, & Los Angeles, and numerous private collections. Although no definite figure is released, the 60-year-old artist's net worth is believed to be on the steep rise.