Entertainment
Last Lights of Liberty! Dance Instructor Abby Lee Miller Enjoying Vacations Before Fraud Case Verdict!
Most people would be freaking out or trying to figure out what they should do next if they are about to go to jail. But for the Dance Moms' star Abby Lee Miller, its vacation time.
Vacation Before The Final Verdict:
On October 2015, Miller was accused of bankruptcy fraud, false bankruptcy declarations in hiding around $755,000 and concealment of bankruptcy assets. And if she is found guilty, she could face up to five years of imprisonment and a fine of $5 million for the twenty counts. Though the sentencing of her case was set for December 2, 2016, due to a conflict in scheduling, government counsel is not available on that date, so Miller was given another date, January 20, 2017.
But her situation is not something that could startle Abby in any way possible. In fact, she has been spending her final days of liberty vacationing in and out of the country. Due to the legal issues, Abby apparently has to seek permission from the authority to travel internationally and domestically.
So after appealing, Miller was granted permission to travel to places like Las Vegas, Tijuana Mexico, LA, and Dublin. It was also revealed that Miller booked a vacation to Mexico. Does this mean she is not a bit worried about her upcoming hearing? Or is she just trying to spend some quality time before spending jail time? Only Abby knows the real answer. (Vacation photos not found)
Relationship Status:
Abby Lee, though it is not confirmed but is rumored to be engaged to be married to her longtime boyfriend, Michael Padula. The rumors emerged as Miller posted a photo on Instagram, sporting a ring on her ring finger, captioning it "I do!!!".
It's been two years since the news first surfaced and we haven't heard anything about them, so are they ever going to be husband and wife or are they good enough being just girlfriend and boyfriend? Only time will tell.
Weight Loss Story:
Abby used to be a size 24, but she dramatically shrinks to size 16 and how did it all happen? Well, people may suppose that it was the magic of diet, exercise or weight-loss surgery, but the truth is she lost all the weight while her mother was hospitalized due to colon cancer and she was diagnosed with diabetes. And the medicine she refilled in Australia was different from that of the US which led to the dramatic weight-loss as in her statement she said;
"I would take this medicine and within an hour, I was vomiting like I was in fourth grade and had the flu or like I had food poisoning. It was awful. After I would throw up, I couldn't even look at food for the rest of the day."
she further added;
"So that is how I lost the weight,There's no diet, there's no exercise, there's no this, there's no that."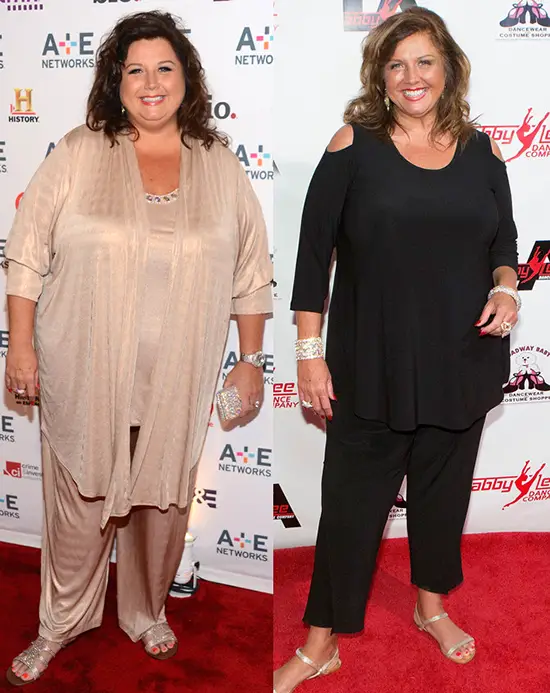 Caption: Abby Lee Miller before and after the weight loss.
Photo Credit: eonline.com
Abby believes that she is not slim and still has a long, long way to go. And we here wish nothing but success to the ever so outspoken Abby Lee Miller.
More about Abby Lee Miller:
Abby Lee Miller (51) is a familiar figure when it comes to reality television. She is the star of Lifetime's television reality series Dance Moms. She is also a choreographer, a dance instructor, and the founder of Abby Lee Dance Company.
Abby was born in Miami, Florida, on 21st September 1965, in a family with a dancing background (she is a daughter of a dance teacher, Maryen Lorrain). So she got exposed to dance at a young age. She founded her dance company when she was still a teenager and has taught 3000-4000 students till date.