Entertainment
Rosie O'Donnell's Delightful Beach Vacation with Children: Excitement After Divorce and Sole Custody of Kid
It seems like Rosie O'Donnell isn't missing Michelle Rounds at all, that too in the wake of her children. Her vacation recently implies that she is happy being single and spending time with her children. In July of 2015, Rosie O'Donnell went on a vacation to beach along with her kids: Parker Jaren O'Donnell, Chelsea Belle O'Donnell, Blake Christopher O'Donnell, Vivienne Rose O'Donnell, Mia and Dakota along with her first wife, Kelli Carpenter.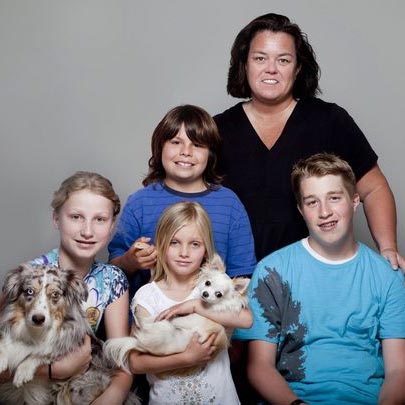 Quick Information
Ex-Wife

Michelle Rounds (m. 2012–2015), Kelli Carpenter-O'Donnell (m. 2004–2004)

Lesbian

Yes

Body Measurements

40-35-45 inches

Eye Color

Light Brown

Hair Color

Dark Brown

Hair

Long

Feet (Shoe) Size

10 (US)

Weight Loss

64 lbs (2013-2015)

Weight

84 kg (185 lbs)

Height/ How Tall? 5' 6½" (1.69 m)
College

Dickinson College

High School

Commack High School

Career

1979-present

Net Worth

$120 Million

Dating/Affair

Elizabeth Rooney

Fiancee

Elizabeth Rooney

Date of Birth Mar 21, 1962
Ex-Girlfriend

Tracy Kachtick-Anders (2009-2011)

Divorce/Split

Yes (Twice)

Relationship Status

Engaged

Daughter/s

Chelsea Belle O'Donnell, Dakota O'Donnell, Vivienne Rose O'Donnell

Son/s

Parker Jaren O'Donnell, Blake Christopher O'Donnell

Sister/s

Maureen O'Donnell

Brother/s

Daniel J. O'Donnell

Mother

Roseann O'Donnell

Father

Edward Joseph O'Donnell

Ethnicity/Race

Irish

Zodiac Sign

Aries

Nick Name

Rosie, Dolly, Ro

Birth Name

Roseann O'Donnell

Profession

Comedian

Nationality

American
It seems like Rosie O'Donnell isn't missing Michelle Rounds, the consultant at all, that too in the wake of her children. Her vacation recently implies that she is happy being single and spending time with her children.
In July of 2015, Rosie O'Donnell went on a vacation to the beach along with her kids: Parker Jaren O'Donnell, Chelsea Belle O'Donnell, Blake Christopher O'Donnell, Vivienne Rose O'Donnell, Mia and Dakota along with her first wife, Kelli Carpenter.
It all began in 2004 when O'Donnell married Kelli Carpenter, former Nickelodeon marketing executive in San Francisco a few days after Mayor Gavin Newsom granted the license to same-sex couples. Her marriage was open resistance against the US President George W. Bush over his support for Federal Marriage Amendment.
O'Donnell said in 2004,
"We were both inspired to come here after the sitting President made the vile and hateful comments he made ... One thought ran through my mind on the plane out here – with liberty and justice for all".
Carpenter and O'Donnell have four children altogether: Parker Jaren O'Donnell, Chelsea Belle O'Donnell, Blake Christopher O'Donnell, and Vivienne Rose O'Donnell. Vivienne was born to a Carpenter in 2002 through artificial insemination.
Things went sour in 2007 when Carpenter moved out of their home. That was the end of a beautiful relationship.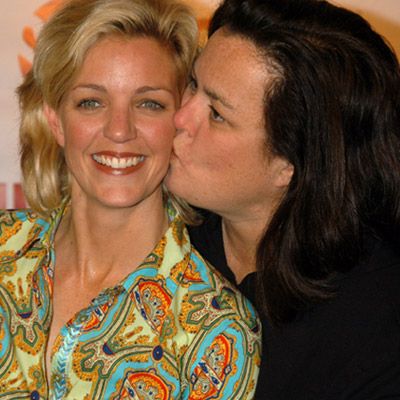 O'Donnell with her first wife, CoupleKelli Carpenter (Photo: famousfix.com)
In 2011, O'Donnell was found dating Michelle Rounds. The couple got engaged in 2011 and married a year later in a private ceremony.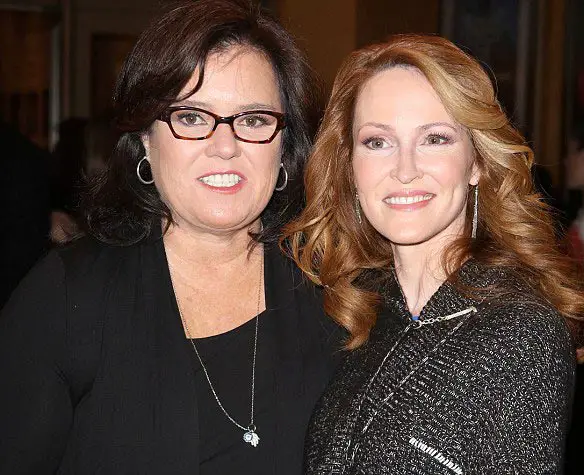 O'Donnell with her second wife Michelle in 2007 (Photo: dailymail.co.uk)
O'Donnell shared the news of the wedding on her blog to share the happy news.
"We married in private before [Michelle's] surgery, just the [two] of us. When we r both well enough will have the wedding of r dreams surrounded by those we cherish."
Their relation as assumed husband and wife wasn't to be for long. O'Donnell and her second wife ended their relationship in 2016 and Rosie confirmed she has sole custody of Dakota, their young daughter.
Explore:- Zach Roerig: After Winning Sole Custody of Daughter From Jailed Wife, Is He Dating Someone?
There's peace in the Middle East,' the former co-host of The View joked outside a New York courthouse on Wednesday, according to Us Weekly.
'It's done. We've settled. We're both very happy about the outcome,' she added.
Eight months after Rosie filed for divorce, it was finally accepted in July of 2016. Since they wed in 2012, both have accused each other of nasty accusations. In September 2015, Rounds was hospitalized as she tried to attempt suicide. The legal custody of their daughter, Dakota has such a huge impact on Michelle that she attempted to kill herself in a hotel room by taking a cocktail of pills and wine. 
'I feel great,' a smiling Rounds said as she left afterwards.
But her misery and the mental battle did not end there. Back in 2017 at the age of 46, Michelle committed suicide in her apartment. Her body was found on September 11. Michelle was married to Krista Monteleone after her divorce with Rosie, and the duo was living a low-key life in Florida along with their new daughter.
While her ex-partner Rosie expressed her notion on that matter:
"I am saddened to hear about this terrible tragedy. Mental illness is a very serious issue affecting many families. My thoughts and prayers go out to Michelle's family, 
After Michelle's suicide, people blamed Rosie reason behind her suicide for taking their Dakota away from Michelle to which she replied:
she gave up her custodial rights' in their 2015 court battle.
Just a couple of months after Michelle committed suicide, her ex-partner, on the other hand, revealed that she has a new found love in her life. The American comedian confessed that on The Howard Stren Show:
'I am in love. It's the first time I've dated someone younger than me and it's a very trippy thing,' 
The comedian also admitted that her partner, Elizabeth Rooney is a police officer in Boston who happens to younger than her. The duo met each other at a charity event. She even shared a picture of her and her daughter in social media.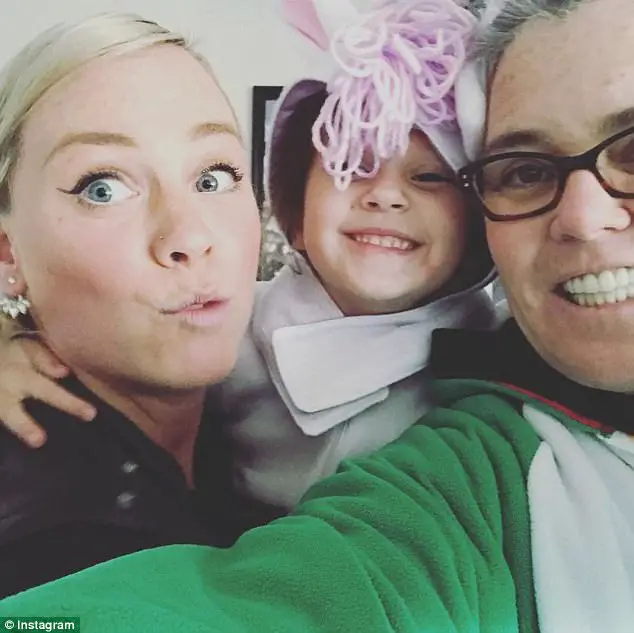 Rosie along with her daughter Dakota and lover Elizabeth Rooney takes a selfie (Photo: Dailymail.co.uk)
When asked about her thoughts about marriage she said:
'I will not ever,'
After her failed marriage with Michelle, Rosie definitely has some glitches when it comes to tying the knot again.
Relationship Status With Elizabeth
Rosie had lost all trust from the institution of marriage after her two failed attempt at it. People understood her skepticism didn't think she would take the plunge for the third time with her 22 years younger girlfriend.
But, one-year togetherness with her police officer beau gave her strength to tie the knot once more. Thus, during summer 2018, she popped the question to her girlfriend and to her good fortune, got an affirmative answer.
Another Engagement Story:- Alex Rodriguez & Jennifer Lopez Got Engaged
Rosie and her fiancee' aren't married just yet. The love-birds are busy enjoying each other company. The View host's wife to share a cute snap of them time and again on Instagram.
Fallout With Daughter!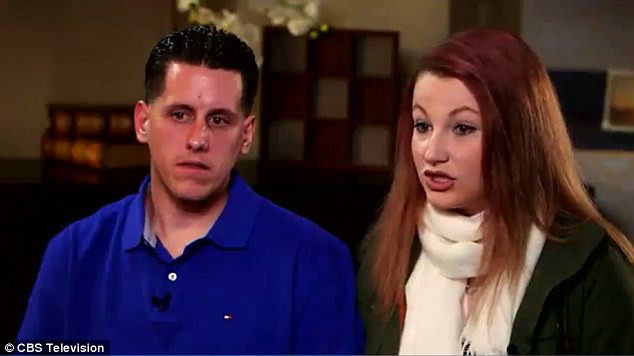 The 19-year old told Inside Edition that she hopes she and her mother are back in each other's lives in the future, after she 'shocked' Rosie by wedding 31-year-old plumber Nicholas Alliegro on July 1 of 2016 (Photo: dailymail.co.uk)

Rosie O'Donnell's daughter Chelsea spoke out for the first time in March of 2017 since her secret marriage last summer. The 21-year-old Chelsea married Nicholas Alliegro, a 33-year-old plumber from Long Island, New York within three months after they met at a Dunkin Donuts.
In August of 2015, Chelsea ran away from her home sparking an alert in the whole nation. Whenever she turned up some days later, Chelsea said that her mom had kicked her out the house, a bold claim which Rosie denied.
Both of them reconciled, but Chelsea said that they've since had another falling out. 
"She was upset that we got married without telling her, which I totally get. She was shocked. The last time we got into an argument, we ended up screaming at each other, and I left the room."
In an interview with Dailymail.co.uk, she opened up about her ill relationship with her mother Rosie and it all started when she was 18 years old. The 20-year-old accused her mother of being drunk and threatening her to take her clothes off to show the tattoo she got. Rosie even told that she can 'kill her' if she wanted to.
She further added:
 "she came really close … I didn't go to the police because of who she is. She would have tried to say I was crazy and they just wouldn't believe me. I felt it was her word against mine and why wouldn't they believe her over me?"
The actress even disclosed that her mother had been verbally abusive since she was a teenager. The drama between the mother-daughter has been going on for a while now and people are always curious about what they are up to. The two are always up for blaming each other.
After fighting for a while, it seems the mother-daughter duo finally made up. Chelsea buried the hatchet with her mother when she became a mother herself. On the occasion of her granddaughter Skylar Rose's birth, Rosie was present at the hospital to support her daughter Chelsea.
Feud With Donald Trump:
Donald Trump and the American television personality Rosie O'Donnell go way back. The dispute between the two started back in 2006 during the segment The View, where Rosie called Donald Trump 'snake oil salesman'. To which Trump has been calling Rosie a 'Loser'. He even brought this up during his presidential debate back in 2016.
Hilary Clinton raised the same issue about his Tweets as Rosie did:
"You've called women fat pigs, dogs, slobs, disgusting animals.
To which Trump replied back:
"Rosie O'Donnell, I said very tough things to her and I think everyone would agree that she deserves it and nobody feels sorry for her."
Rosie even has anti-Trump arts that she has put on sale on Etsy. All the money collected from the art goes out to the anti-Trump campaign. The first twelve arts she made was sold out within a day.
Then, she sold her river facing house in Newyork for a whopping sum of $5.1 million.
Roseann "Rosie" O'Donnell is an American actress, comedian, television personality as well as author. O'Donnell is also a lesbian rights activist, blogger and a partner in LBGT family vacations company, R Family Vacations. She has also hosted "The Rosie O'Donnell Show" and has won multiple Emmy Awards.