Entertainment
Darlene Mowry Wiki: Debunking Her Death Rumors! She is Married and Alive
Every mother is the first inspiration of a kid: she is the one to introduce her children to the world and socialize them. When it comes to celebrity's mothers, Darlene Mowry is one of the most influential mother figures, known for her lifetime devotion to making her children's career.
Darlene, the famous mother of the famous twin sisters, Tia and Tamera Mowry, is everything from the constant pillar of love and support to inspirations and life path guide.
She had to take the hard way of struggles and hardships to get her celebrity children to where they are now. She has her own story to tell. Read down below to find out Darlene's motherly journey!
Darlene Mowry's Wiki: A Mother That Everybody Would Want!
The Bahamian-American Darlene Mowry was born on October 25, 1956, in the United States. She is best known as the mother of the identical twins, Tia and Tamera Mowry, the stars of the ABC series Sister, Sister. The 61-year-old and her husband, Timothy Mowry, are also the parents of Tahj and Tavior Mowry.
Her love story started way back in college after she first met her husband, Timothy, in high school in Miami. The college romance blossomed more after they both joined the army and became NCOs. The couple tied the knot once they both became part of the army world.
After marriage, the couple became parents to twins, Tia Mowry and Tamera Mowry on July 6, 1978, in Gelhausen, Germany. The twin sisters had only two minutes time difference between their births. Both Darlene, as a drill sergeant, and Tim, as a first sergeant, were stationed at the place when the twins were born. Tia recalls her childhood days at the military base as,
"The one thing that I do remember was just living on base. I thought that was the coolest thing. You can step outside of your home and see people who are serving your country. It just gave me great pride to be around such strength and courage."
The identical twins expressed that their parents' touch of military upbringing made them appreciate the military men and women.
"I think a lot of the times people, especially nowadays, have gotten complacent with our safety. We don't realize that there are men and women dying every day just so we can stay safe. Whenever I go to bed, I know that there are people who aren't sleeping to keep me safe."
Military discipline was the backbone of the Mowry family. The 33-year-old sisters explained that the military home upbringing has rooted in them, discipline and respect for life. Tia, who is also the mother of her son, Cree, was much inspired by the parenting she received and hopes to pass the same norms and values to the next generation of Mowrys.
"With my son, there will be discipline. It's important for your integrity and your character."
Darlene moved her family to Fort Hood, Texas when her girls were at the age of two. The family did not settle down there permanently, frequently moving to different places like Honolulu, Hawaii to Killeen, Texas.
The Sister, Sister star girls were eager to make their name big right from the start. After appearing in a lot of talent shows, the twin sisters repeatedly annoyed their mother, Darlene, to get out of the military base to land more talent shows.
"We saw all the little actors and actresses on TV and we said, 'Mom, that looks like fun. Let's do that!'"
Darlene was clever enough to make a deal with her girls—if they could get a TV commercial within a month, she would move the family to California, quitting the Army.
"Tia and Tamera, I know you guys want to act, so that's what we're going to do. We're going to go to California and stay there for a month. If you guys get a job, I'll quit mine."
This was followed by Darlene's 30-day leave to head to Glendale, California with the twin girls in the summer of 1988. She stayed with her friends in California, and this was just all before the girl's 13th birthday.
The girls won the bet, for, within a month, they landed themselves in the double Dutch ad for Chrysler. Darlene, of course, resigned from the military to settle down with her family in Los Angeles in 1989.
She first worked as a security guard there to support the family. Surprisingly, Tahj got more roles than his sisters and even landed himself in the role on Full House. It was in the set of Full House that Darlene's daughters realized they were passionate about acting.
Tia explained the change in their interests from pageants to acting as,
We got bored doing pageants, we got bored doing commercials, so we may get bored doing acting.
The incident led to the discovery of the twin sisters for the ABC series Sister, Sister by DePasse Entertainment. Fame and fortune came in Darlene's family after her daughter's successful career.
The branches in Darlene's family tree increased when her daughter, Tia, had her wedding with the actor Cory Hardrict in 2008 and gave birth to the son, Cree on June 28, 2011. Tia is expecting another child as she posted the news on her Instagram in November 2017.
As for Tamera, she married the news anchor, Adam Housley on May 15, 2011, in Napa Valley, California.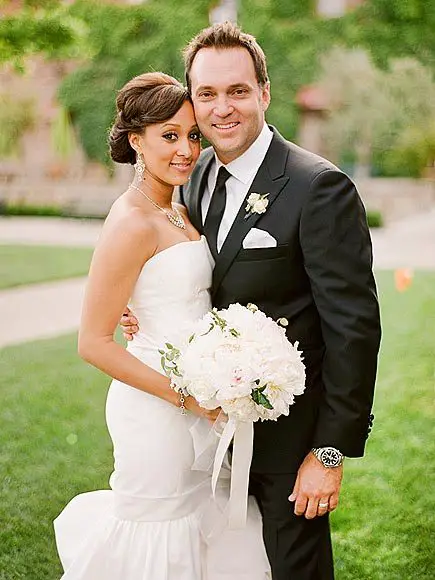 Caption - Tamera Mowry at her wedding with her husband, Adam Housley
Photo Credit - People.com
The couple welcomed their first son, Aden John Tanner on November 12, 2012, and announced the pregnancy of second child on January 4, 2015. Tamera became the mother of two, giving birth to her second child, Ariah Talea Housley in July 2015.
Darlene, who is the mother of four children, is now the grandmother of three and will soon be of four. Her life has been a beautiful journey on difficult paths. Like many celebrities, Darlene has faced death rumors. However, her son's recent Instagram post wishing her birthday defuses all the death rumors.
She is definitely still the happy mother and grandmother providing love and support to her children and grandchildren. Having devoted her whole life to her children's success, she shares the fame and fortune her children earned. The ex-military mother may not have her own net worth in figures, but her daughters' net worth of $8 million and son's net worth of $1.5 million are quite impressive.