Entertainment
Don Lemon's Most Handsome Boyfriend Cum Partner! Gay Love - Serious Goals
American journalist, Don Lemon has been "gay black man" all his life with no fear against anybody and has also been a source of inspiration for others to come out as gay.
He has been awarded for his contribution in promoting equal rights for the LGBTQ community with Davidson/Valentini Award. The news anchor for CNN based in New York City, Don, has not only put his words forward for the LGBTQ society but also has been a beam of light for the black gay men.
Well, he inspires people to share the love with no fear while he does the same with his boyfriend. Openly gay Don has been in a loving relationship with his partner for some time now and is they sure seem something like a serious relationship goal.
Coming Out As Gay; Love On Camera
Don Lemon, also hosts CNN Tonight, has been an ultimate role model for all the gay men around the world. He has been frank when to comes to sharing the love with his boyfriend, Tim Malone.
For 45 long years, Don remained silent about his sexuality but finally, in 2011, he walked in with truth revealing that he is gay. He also mentioned coming out in his book, Transparent.
Even after his public revelation of his sexuality, there was no any news of him dating. However, back in New Year's Eve of 2016, Don mentioned that he was single and stepped into 2017 with a resolution to being open to relationships.
Read Also:- Katie Walsh & Furtive Husband's Secret Wedding Day Revealed! Intimately Married, Bio Reveals
The very next year's eve Don sealed the resolutions publicly with a kiss. He stepped in 2018 alongside anchor Brooke Baldwin in the Big Easy and while they were still live Don invited his lover in front of the camera and shared a sweet New Year's kiss.
Despite, Don presented himself as a single back then, some sources have reported that his romance with his lover was brewing. It has been revealed that don and his partner Tim met at a bar in New York around the New Year.
Well, seems like the pair has been sharing romantic moments since then and has been going strong with their relationship.
Gay Romance Going Strong With Partner - Getting Married?
Don and Tim are still going strong in their relationship. The pair has not yet mentioned about the beginning of their relationship but it seems that they started dating since at least the summer. Back then, Don had shared a shirtless shot of him alongside his boyfriend on sharing quality time on the water.
You May Also Like: Fox News' Lisa Boothe Has What Parents Have? A Content Married Life & Set Wedding Vows?
The post came in June 2017 and the pair had all smiles on their face.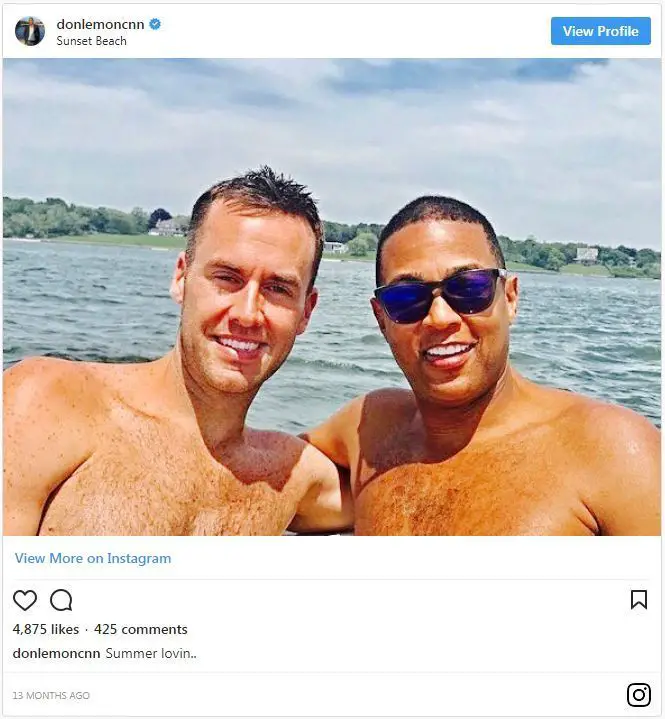 Don Lemon alongside his boyfriend Tim Malone. (Photo: Don Lemon's Instagram)
The duo has been publicly appearing in the social media since then. Adding to it, they also made a public appearance back in October 2017. Don was spotted alongside his partner Tim leaving the star-studded Saturday Night Live afterparty at TAO nightclub in New York City.
The pair walked out hand-in-hand while wearing matching outfits.