Entertainment
Ellie Goulding Found Perfect Boyfriend? Flaunts Dating Moments, It's A Treat!
British singer Ellie Goulding rose to fame after being chosen to sing during Prince William and Kate Middleton's wedding. The Love Me Like You Do hitmaker, really captured public imagination after that and her music career took off, making her one of the most in-demand singers of the recent times.
The singer, who has had a perfect professional life had had difficulties making the right choices when it came to personal life resulting in numerous failed relationships. This, however, seems to have changed as she has been flaunting off her new lover, and at last appears to be the Mr. Perfect for the Miss beautiful.
Complicated Love Life
Ellie Goulding has her share of failed relationships.
The British singer was in a relationship with Radio 1 DJ Greg James from 2010 to 2011. Elle, the second daughter in a family of four, even admitted to GMTV, that she had been dating with the radio DJ. However, the couple parted their ways in 2011 in amicable terms, citing busy schedules as their inability to be together.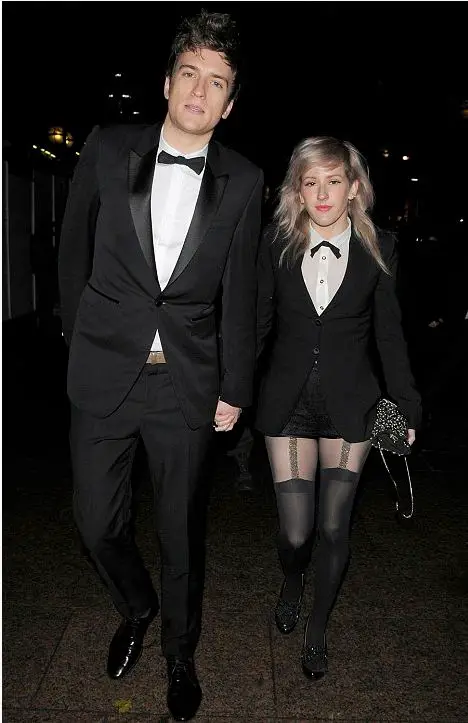 Ellie Goulding with boyfriend Radio 1 DJ Greg James, attending a social event in 2010 (Photo: dailymail.co.uk)
After Greg, Ellie courted relationship rumors when she was pictured holding hands with pop sensation Ed Sheeran in the MTV VMAs. Ed later even hinted of romance between the two when he said that ordinary people don't hold hands to Washington Radio. He was quoted saying:
"I mean, normal people don't hold hands if they're just friends. It was going on. And now it's not"
However, Ellie distanced her from Ed's claim and denied the rumors. Seventeen Magazine quoted her as saying:
"We've bumped into each other and we've hung out and stuff, but the thing is if I hang out with someone, it's instantly like I'm 'dating' them. We were never in a relationship."
After distancing her from Ed, she affirmed dating One Direction heartthrob, Niall Horan in early 2015. She added in the Seventeen mag's interview that she had gone on a few dates with Niall, but also clarified that they were not seeing each other and had remained good friends. She affirmed:
"We went on a few dates, and it was really fun. He's a really, really lovely guy. He's got the biggest sense of humor, he's very caring, and I see him as a genuine friend in the industry."
Furthermore, the beautiful singer was involved in a romantic relationship with McFly star Dougie Poynter. The pair dated for about two years from 2014 through 16 and Ellie had publicly disclosed about her relationship with him. She even discussed that despite the distances between the loved-up couple they tried to make sure that they made their relationship work. Dailymail quoted her as saying:
'He's out in LA working hard and he's doing all sorts of things.'We work it out, we figure it out. We are pretty realistic with things. We're pretty sensible about it and we just see each other when we can.'
On getting married and settling down with her American boyfriend, the Starry Eyed hitmaker said:
'It's just that time that everything comes up in the air, you don't know what's gonna... but at some point, maybe.'
After numerous failed relationship, it just felt that the songstress had found her a perfect love with musician beau. However, they parted their ways in 2016, with Ellie claiming that her relationship with Dougie was an unfinished business hinting at a possible reunion between the pair. But Ellie's fans hoping for a potential match-up between them were left shocked when Ellie was pictured flaunting the newest love interest in her life.
Showing Off The New Love: Perfect Match at Last?
Ellie Goulding sparked romance rumors once again, when she reportedly put on a lustful display in Karaoke night in Mayfair, with British Rower, Casper Jopling in April 2017.
The romance rumors turned to be true when the couple was pictured kissing together and cozying up with each other while attending an ice hockey match in NewYork in October 2017. The couple looked dapper and madly in love, and Ellie did not shy away from the lens when she was being pictured.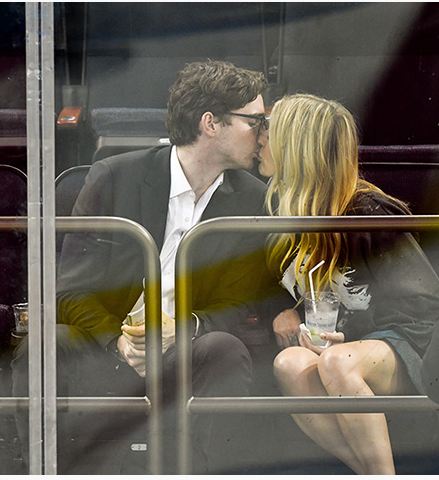 Ellie Goulding pictured kissing boyfriend Casper Jopling at NewYork in October 2017 (Photo: Hellomagazine.com)
Not only that, Ellie was pictured cuddling up with her beau, who is seven years her younger, after attending the BRIT Awards After-Party, five months after being photographed together in Manhattan. The stary eyed couple were pictured romantically gazing into each other's eyes hinting their deep affection towards each other.
Two months on from attending the award night together, the couple was again sighted together, leaving the JFK Airport, NewYork, in casual ensembles. And the couple's chemistry revealed that they were very much in love and Ellie finally looked to have found a perfect match for her.
Despite being together with the young hunk for more than a year and Ellie not being afraid to show off her new love, the couple has been taking their relationship slowly, citing the history of Ellie's failed relationships. One insider was quoted saying to Dailymail on 2 April 2018:
'Things with Caspar are very casual but they have hooked up a few times and seem to like each other.'
It seems like Ellie is in no hurry to take her relationship a step further and accept Casper as her husband. With all she has undergone in the past, making it slow seems to be the right choice.
And as for Casper being the perfect match for the talented singer, only time will reveal the answer.