Entertainment
Emma Greenwell Enjoying Her Relationship With Boyfriend: Dating Since 2011
Unlike many celebrities, who seem to change their loved ones like fashion accessories, few exceptional names continue with a single partner. Emma Greenwell comes on the latter as she appears to be enjoying a 4-year long on-going affair with her boyfriend Jeremy Allen, which started since 2011.
Caption: The cute couple of Emma Greenwell and Jeremy Allen White.
Caption: Blast from the past, a young couple of Emma and Jeremy.
The two met as part of the cast of the TV-Show 'Shameless' and were romance partners in the show. But they took their relationship one step forward and have been dating since.
Not a lot of info about how Emma and Jeremy's relationship started but according to this love for each other as well as this Instagram post, we can speculate that they have been in love for quite some time.
And the two of them are still together bound by the great love. This relationship looks strong enough, and there are chances of themThe two met taking it to the marriage.
Emma and Jeremy made it into the list of "15 Co-Stars Who Took Their On-Screen Chemistry Off-Screen". If there were any doubts remaining as to whether these two are dating in real life or not, it has been cleared now. The couple, who got to know each other while working together on the TV drama show Shameless had a fantastic on-screen chemistry.
Caption: Emma Greenwell & Jeremy Allen White of Showtime's Shameless
Source: Hot as Sun
But that went to another level as they understood and enjoyed each other's company. These two eventually became a real-life couple, which was warmly welcomed by their fans, as it seems
Emma's Bright Career:
Emma Greenwell is an American actress/ model, whose talent has been recognized globally. She used to be a show model working in London, where she grew up and trained at the London Academy of Music and Dramatic Art (LAMDA).
Apart from that, she also performed some stage plays in "Edinburgh Festival," Scotland. She rose to fame in 2012, after appearing as Mandy Milkovich in HBO's TV show "Shameless." Her net worth is estimated to be around 2 million US dollars, according to sources. Her latest work was in Tv-series ' The Path ' Mary Cox.
Caption: Emma Greenwell Interview Love & Friendship Premiere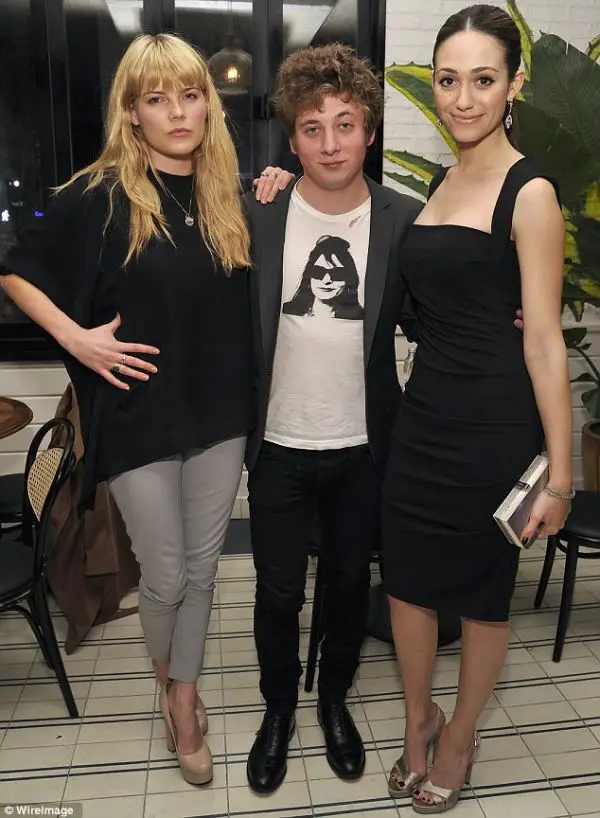 Caption: Emma Greenwell with Jeremy Allen White alongside 'Shameless' co-actor Emmy Rossum.
Emma Greenwell on The Path:
Emma Greenwell has been gaining a lot of spotlight for her role as Mary Cox in Hulu's Television Drama series. Her role as the ex-addict and the love-stricken maiden has charmed many and it is obvious that she is one of the major highlights of the show.
Recently the season 3 of the show has been announced and it verily deserves it. The drama surrounding the cult of Meyerism is quite interesting and Emma has definitely fit in well with her role in the tv show.
Once in a while, she teases her fans with a few pictures of her during the filming of the show. Here are some of the behind the scenes pictures of Mary Cox.
Emma's Short Bio:
Emma was born on 14 January 1989, in New York City but was brought up in England from an early age. Although she always had the spirits of a performer, she had to wait until her high school to work as one.
With her performances turning heads up in England, she started to work as an actress in Los Angeles, California and finally made to the big screen through her role in the 2012 TV series 'Shameless'. She was recently seen as one of the leading casts in the 18th-century romantic movie Love & Friendship.