Entertainment
Erica Mena's Ambiguous Sexuality: Straight or Lesbian?: List of Boyfriend and Girlfriend
All the fans witnessed the drama that went down surrounding the break up between rapper Bow Wow and Erica Mena (it was pretty ugly tbh), but Erica has always been able to confuse people over the course of time. Is she gay? Is she straight? Oh, the horror!
Mena has a fascinating history of relationships. Question: why only rappers Erica? She was seen with a rapper one day and next to the other. Sometimes with a guy and sometimes with a girl. It proves that she is bisexual rather than just a lesbian.
New Chapter In Life
When it comes to dating, Erica Mena did not have the best lot of men to date. Starting with her breakup with boyfriend Cliff Dixon. The couple parted ways in April 2018 and did not have good things to say about each other.
Taking to matter to Instagram, both accused each other with mean comments and ended their relationship. Similarly, Erica got involved in another heated social media debate with her ex-boyfriend, Bow Wow. In November 2018, the rapper who had previously been in connection with Erica threatened to leak her tape on the internet.
Famous TV Host:- Elizabeth Stanton Dating, Parents, Net Worth
Relying on the same Erica responded, referring to Lisa Bloom and said she had nothing to lose. Going through such horrific relationships, Erica has finally found the right man for herself in Safaree Samuels. The couple dated each other for one month before exchanging the engagement bands in December 2018.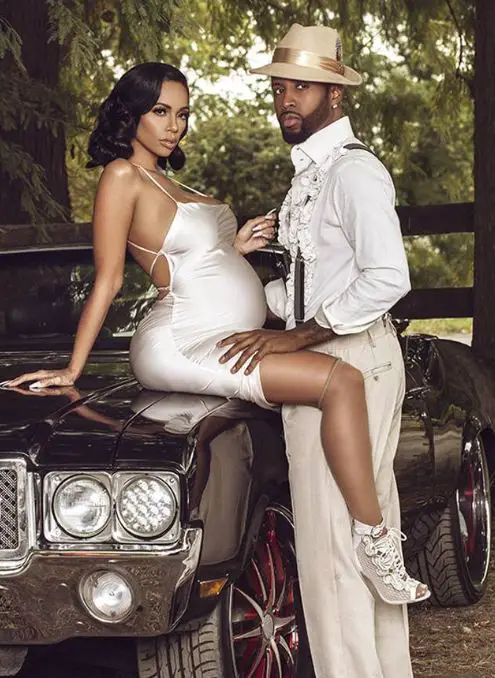 Erica Mina with fiance Safaree Samuels in October 2019 (Photo: eonline.com)
Now, they have also announced expecting a baby and are preparing for a classy wedding ceremony set to take place in October 2019.
List of Erica Mena's Relationship History (Boyfriend/Girlfriend):
The first name on our fabulous list was rapper Fabolous. There was no information regarding when they started dating and how they ended their relationship, but their relationship goes way back to the early 2000s when Mena was not as famous, and the "You be killin em" hitmaker was still a hitmaker.
Now, Fabolous is in a relationship with stylist Emily Bustamante, and Erica has moved on to a lot of other people.
Next up was Raashaun Casey, aka DJ Envy, a DJ and a radio show host. There was no information regarding the beginning and the ending of their relationship, but it was a known fact that the two dated for a while in the early 2000s. Further, DJ Envy is married to the host of Breakfast Club, Gia Casey.
Rising Actor:- Parry Glasspool Gay, Girlfriend, Siblings, Net Worth
The third name on our list was yet another rapper, the one-half of the Mobb Deep duo, Havoc. Again no information regarding their dating history was discovered, but Mena somewhat denied that she ever had any sexual involvement with the rapper and his crewmate.
Erica then dated Cyn which confirmed that Erica was bisexual after all. Erica and Cya started dating back in 2013. They had an excellent relationship together. Unfortunately, their relationship ended in 2014. But Erica still has a love for Cyn and isn't afraid to show it. Cyn is currently linked with rapper Joe Budden.
Erica dated yet another rapper Lionel Pickens aka Chinx Drugz. They dated back in 2013. Since then the rapper had been linked to Patricia Muratovic and Malika. The rapper was sadly killed in a drive-by shooting in Brooklyn.
The most crucial relationship Erica ever had was with rapper Bow Wow aka Shad Moss. The two started dating back in 2014. They dated for six months before getting engaged on 22 September 2014. The couple had a bitter breakup in 2014.
Bow Wow And Erica Mena In Feud As Both Exes Call Each Other Out
Rapper/Ex Shad Gregory Moss AKA Bow Wow and Erica Mena are going at each other throats while both of them show how unpleasant they are with the aftermaths of their relationship. In an interview with Global Grind Mena took her chance to throw some shade at Bow Wow when Bow Wow insisted that he would not be voting in the upcoming 2016 Presidential Election as he identified himself as 'Mixed' rather than Black. Mena took a mean shot at the rapper saying,
"To his defense, black guys are packing, So, I get why he's saying he's not black."
Infuriated, Moss took it to social media where he lashed out on Mena in explicit language stating,
I know she hurting inside. She posed to be here w me. I see through all that. My name was tatted on her cooch. This was my wife! We all act out when we mad. She loved this dick soo much she put my name on it. Read thru and see thru the nonsense."
and further added,
We broke up 'cause I left. I left because, it's no secret, I've been through a lot in my life. Everyone has a different way of healing and dealing with things. I didn't know how to mend those broken issues that I had from my past. It's kind of hard being with someone who is more damaged than you are.
While both the concerned parties were mad at each other, Bow Wow apologized for his actions and also explained himself on his Instagram. Props to him for being mature.
Born on November 8, 1987, in the Bronx, New York, Erica Mena is a television personality who is famous as a cast member of VH1's Love and Hip-hop. She is an urban model, a singer and has also starred in a few music videos. She belongs to Puerto Rican and Dominican Ethnicity.