People meet and separate. Further, they move on with their life. But there are few people whom we stumble upon again in our life, and soon they become an integral part of our life. Moreover, everybody wishes to have a life partner who knows your strength and flaws. And who else can know it better than someone who has known you for years?
Likewise, today we are talking about a lucky girl and a popular sports journalist, Rachel Nichols who found a perfect husband in her a teenage friend. So, without further ado, let's dig in to know more.
Rachel Nichols' Married Life, Husband, and Wedding:
The gorgeous anchor, Rachel Michele Alexander and Max Nichols, director of the two-night stand, first met at the Summer Camp in Maine when they were teens. However, they did not stay in contact throughout their teenage years.
After the graduation, Nichols started writing for Washington Post whereas; Max worked for the indie record company, Tommy Boy Music. Then finally after the separation of ten years, the couple then united, when Max approached a career as the sports reporter.
Rachel married Max Nichols in May 2001, Venice. The wedding was performed with all religious ceremonies on Zafiro Alessia, a state registrar situated at Venice city hall.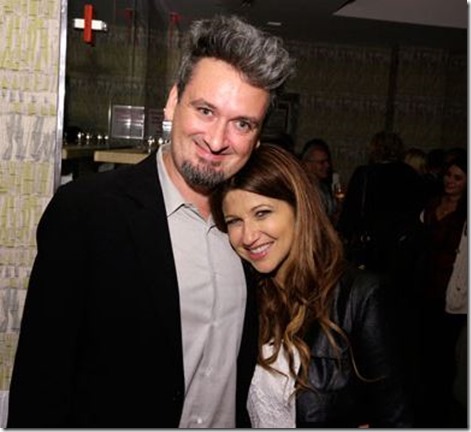 Caption: The adorable couple, Rachel Nichols and Max Nichols smiling for the capture.
Source: fabwags.com
The lovely couple, Rachel, and Max is blessed with twin daughters and with the arrival of their children their family completed. However, Racheal has not even disclosed the names of her daughters yet.
Rachel is a private person, and she has fiercely guarded her personal life as least information regarding her personal life has surfaced in the media. Also, Rachel posts on social networking site Instagram but no traces of her her personal life could be detected. And her ardent fans are deprived to witnessing her wonderful married life with husband and daughters.
Rachel Nichols and Max Nichols' Relationship Mantra:
Max Nichols is a son of Oscar Winning director, Mike Nichols for his movie The Graduate (1967). When Max gave the script of Two Night Stand to his father, Mike to read. And Max described the reaction of his father including their relationship mantra as,
"he wisely introduced the topic of whether Megan and Alec's relationship to ambition was a pitfall—whether it would make them unsympathetic, or unrepresentative. We ultimately concluded that they were giving each other permission to want what they really want, rather than what they're supposed to want. And that's a mantra I first heard from my wife when we were dating."
Rachel Nichols' Short Bio:
Born on October 18, 1973, Rachel Nichols is currently the host of ESPN's The Jump. She completed her graduation from Northwestern University with Bachelor's degree in journalism. Rachel joined ESPN in 2004 but left the channel after nine years (2004-2013) and moved to CNN and TNT. She worked on the programs like Sports Center, Sunday NFL Countdown and Monday Night Countdown previously for ESPN. She hosted the show "Unguarded with Rachel" on CNN. And after three years of working for CNN, she again returned to ESPN in 2016.
Rachel Nichols is also seen on NCAA tournament that broadcasts from CBS. She was named the country's most impactful and prominent female sports Journalist by Sports Illustrated. Rachel gained immense popularity after the Ray Rice Scandal when she made a sharp questioning to NFL Commissioner Roger Goodwell. The remarkable journalist Rachel earns an annual salary of $1.5 million, and her estimated net worth is $10 million.
Sports journalist Rachel Nichols, along with her contemporary journalists including Beth Mowins, Dianna Russini, and Heidi Watney are inspiring many to pursue their dream career as a sports journalist.
#Sports Journalist
#ESPN Television Host
#Sports Reporter
#The Jump Weekdays
---