Entertainment
Fox News' Catherine Herridge: Battle Against Her Son's Cancer: Married Life and Husband's Support
A mother's love is something that is undeniably pure. And today we have a story of a heroic mother who literally gave a part of herself to save the life of her child.
Disaster strikes Mother and Child
Catherine Herridge, who was originally a London-based correspondent for ABC News, now works as a chief intelligence correspondent for Fox News Channel. Before a journalist, she is a mother, and it was her duty to save the life of her son Peter, who was in a desperate need of a liver transplant when he was just an infant.
Peter was diagnosed with a rare chronic liver disease, biliary atresia, a type of cancer when he was born. This blocked his bile ducts which lead to progressive damage to his vital body functions.
The story of Catherine and her son was very emotional, and it was covered live by Catherine's colleague and fellow Fox News anchor Greta Van Susteren. Greta was actively involved in providing information to the public regarding Catherine and her son Peter's condition and praising them both via her blog.
It was a moment of terror and fear for both Catherine and her husband JD Hayes. They waited for few months hoping that they would get a donor for the transplant but to their surprise, it was very hard to get a donor. So the best advice the doctors gave them was that Catherine could be the perfect match for the transplant. So without second thoughts, Catherine agreed to do the transplant.
It was a tough decision to make and for something like this the support of your family means everything. Catherine was lucky to have her husband and her 2-year-old son Jamie by her side.
Ten years after the transplant, it seems like the decision made by Catherine and her husband JD was right.
In a video, that was posted in Van Susteren's blog; we can see Peter playing the drum like a normal kid. Who could've guessed that this kid was once diagnosed with something as fatal as biliary atresia right?
Personal Life: Married, Husband, and Children:
Talking about Catherine's married life, she is married to JD Hayes, an Air Force Lt. Col with whom she has two children, Jamie, and Peter. Apparently, Catherine herself comes from a Military family, making her choice in her spouse even more perfect.
Since Catherine is very private about her personal life, we don't really know anything more about the couple and their marriage details. But we have a rare photo of the couple with their children below.
Best mom ever indeed.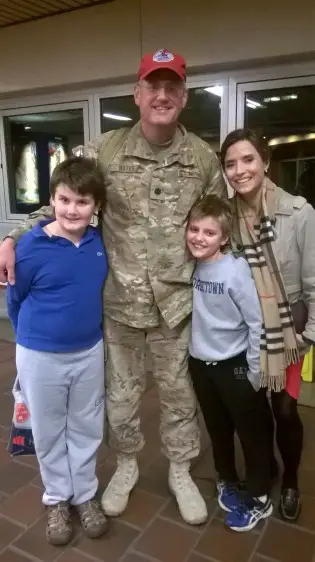 Caption: Catherine with her husband JD and their sons Jamie and Peter. JD Hayes
Source: foxnewsinsider.com
Apart from a journalist, Catherine is also an author. She wrote a book called "The Next Wave: On the Hunt for al Qaeda's American Recruits," which talks about terrorism and its future threats in North America and the Middle East. She is also an outspoken advocate for organ donation.
Here's an interview she did with Fox News Channel where she shares her experience about the transplant.
Currently, Catherine is busy covering different stories like the Orlando attack and Hilary Clinton's hacked emails.
Legal Dispute:
Back in 2007, Herridge got into a steamy legal dispute with Fox News when she filed a lawsuit for discrimination stating that the women and the black correspondents were routinely given less desirable shifts.
This claim was filed after Herridge was passed over for a promotion for the role of an anchor because of her 'age' and 'sex'
But the district court overruled and granted a Motion for Summary Judgement instead. The U.S. district Judge Richard Leon made this decision after finding records of the reporting engaged in 'puzzling' negotiations in her contract which aligned her claims of discrimination.
Fox News also made it clear that Catherine was the highest paid reporter in the Washington Bureau at that time and details about her 5-year contract worth $900,000 were also revealed.
Catherine's Short Bio:
Born on 18th May 1964, Herridge works as a Chief Intelligence correspondent for the Fox News. She received her Bachelor's degree from Harvard University and Master's degree in journalism from Columbia University.
She formerly worked as a London-based correspondent for ABC News. Catherine joined Fox News in 1996, in the year of its establishment and had been working for it ever since. She also previously wrote for 'The pulse' a defunct Fox News Magazine.
Hailing from a family highly interested and involved in Military Affairs, Catherine herself has involved herself in various events around the world related to Military conflicts, incident etc.
She was highly praised for her coverage of the 9/11 Benghazi terrorist attack and her coverage on September 17th, one day after Ambassador's Rice's controversial claims on the Sunday talk shows, debunking any false claims about any form of demonstrations at the consulate. She has also covered news from various war zones all over the world from Iraq to Israel to Guantanamo bay and even the investigation of Princess Diana's death.
A large portion of Catherine's career has been spent covering Hilary Clinton. She has reported on her Senate campaign and even the infamous Hilary Clinton Email incident.
Catherine Herridge has received a bronze world media for excellence in communication media from New York Festivals.