Entertainment
Michael Sam, Retired Gay NFL Star Boyfriend Rift - Health Issue Fueled?
Michael Sam grabbed attention after being the first gay player to be drafted in the NFL. Headlining news after a kiss with his boyfriend...the couple have had an on-and-off relationship over the years. Sam who quitted football with mental health problems, is now...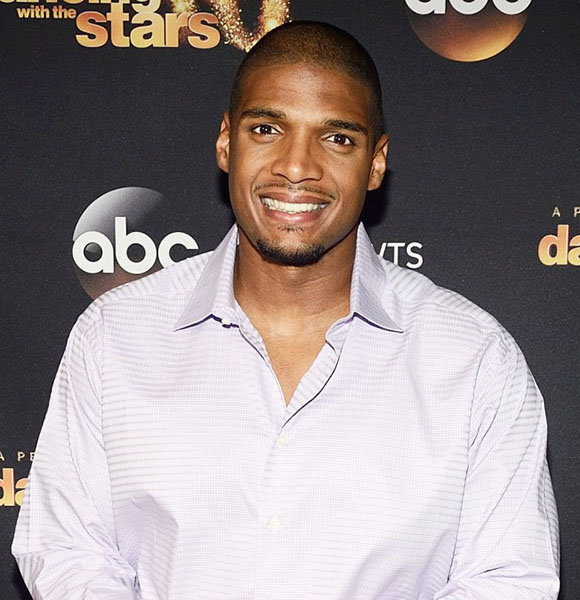 Being the first gay person to be drafted in the NFL brings along with itself much pride and prejudice. For Michael Sam, coming out as gay brought some undue consequences, however, those struggles weren't even the toughest ones Michael faced in his life.
Growing up in a rough place with a hard childhood in his memory, Sam always needed someone with whom he can be himself. He found the support in the form of his boyfriend whom he flaunted around in public ever so proudly. However, after some ups and downs in the relationship, it seems unclear if the two are still together.
After retirement, addressing his mental health to be the reason for his withdrawal from the game, Sam has astonishingly found peace from a surprising profession. Furthermore, the former NFL star might just have a comeback in mind as well.
Retired Gay NFL Star's On-And-Off Relationship With Boyfriend
After being the first gay person to be drafted in the NFL in 2014, the NFL star made headlines for some other reasons the following day following a kiss to his boyfriend, YouTube vlogger Vito Cammisano. The two who first met in 2009 during their college days had been going out with each other since 2011.
You May Also Like: Ryan Nassib, NFL Quarterback Stats, Salary & New Contract
After coming out in open as a gay in February 2014, the footballer and his boyfriend appeared on several events together and had never been afraid to display their love to each other. Vito always seemed to be beside his partner when Sam had to go through some tough times in his NFL career as a consequence of his sexuality.
Sam, thus proposed to what he believed was the love of his life in January 2015 at top of St. Peter's Basilica in Vatican City.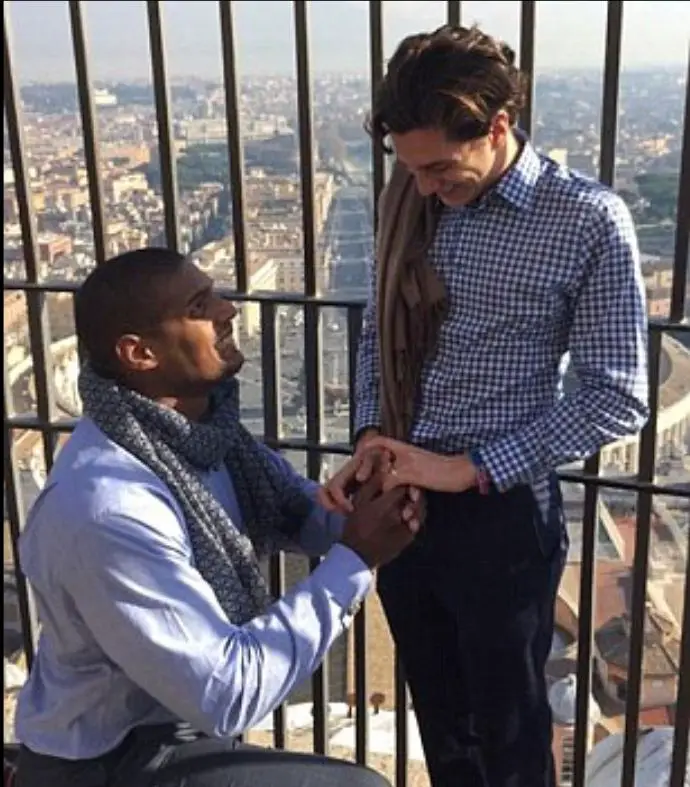 Michael Sam proposing his boyfriend Vito in January 2015. (Photo: dailymail.co.uk)
However, destiny soon took a turn for the worse as the couple was hen rumored to be separated by June 2015, just six months after their engagement. The rumor was fueled in following Sam deleting all his Instagram post about Vito. The YouTube blogger also appeared without a ring in his vlog.
See Also: Peter Thiel Silently Married Boyfriend, Gay Couple Too Slick For Public?
Soon after, Sam was rumored to be dating Empire star, Jussie Smollett. However, Jussie soon cleared the air talking with the paparazzi in October 2015.
"Y'all get up out of my face with that, that's my homie right there."
The former footballer again had everyone scratching their head after he appeared to be partying together at a nightclub with his rumored ex-boyfriend Vito in November 2014.
The duo's on-and-off relationship has continued ever since. Just when everyone believed that Sam is no longer with his boyfriend Vito following total silence in the social media, he came up with a statement regarding Vito in April 2018 while speaking at the University of Virginia School.
"Dating that guy was like living in a fairy tale, It was magical. I had never felt this love before in my life."
It could have just been Sam merely reminiscing the good old days with Vito post their split, or was it a hint that the 'totally in love' couple are still together?
Health Updates; What Is Former NFL Star Doing Today?
Sam sent quite a few shockwaves after announcing his retirement from the sport following his tweets on 15 August 2015.
"The last 12 months have been very difficult for me, to the point where I became concerned with my mental health. Because of this I am going to step away from the game at this time. I thank the Alouettes for this opportunity and hope to be back on the field soon. Thank you all for your understanding and support."
Citing his mental health as the reason for retirement, he had his fans worried if the star was going through some mental illness. However, Sam later clarified in an interview that he was going through depression at the time following his career lows at the NFL.
The former NFL star, soon healed from his mental health issues after a spiritual trip to Peru which was when he "started to forgive."
At age 28, Sam has found his inner peace in a career he never thought of until his retirement. Standing in tall and proud as an accomplished motivational speaker today, Sam focuses all his attention in motivating people sharing his experiences in the LGBTQ issues.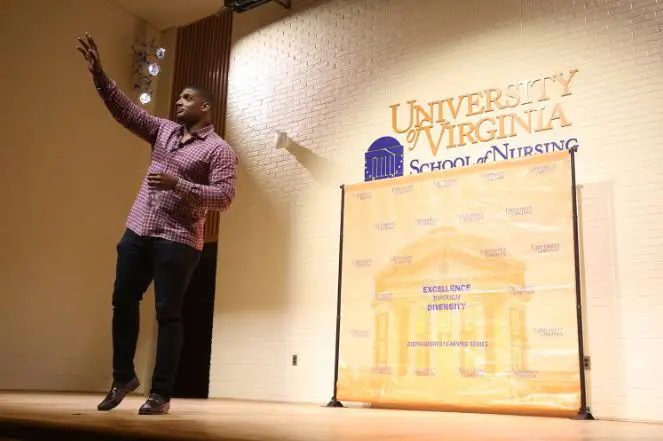 Michael Sam talking as a motivational speaker in the University of Virginia in April 2018. (Photo: virginia.edu)
Don't Miss: Les Brown's Event Dates Where He Will Reflect His Motivation! Before That Get Some Inspiration From His Quotes
However, the star hasn't just quite given up his football dream. Speaking at the University of Virginia School in April 2018, Sam mentioned his intentions of making a comeback to football.
"I think I sold myself short, I think I was too prideful when I decided I was going to give it up. But I do believe I will make a comeback and give it one more try."
So, while Sam stands today as an aspired motivated speaker, his fans all over the world eagerly anticipates the comeback of the first gay player to be drafted in the history of NFL.