Entertainment
Frances Conroy and All The Quires Related To The Accident That Caused Her One Eye To Be Different Has Been Revealed
All the curious heads may turn here because the possible cause for Frances Conroy's eye to be the way it is, is revealed. Everybody is familiar with Frances Conroy's marvelous acting skills; however, her one eye has always been the matter of curiosity.
We all remember Frances Conroy, 63, from the hit television series Six Feet Under where she played the role of Ruth Fisher but the more she got popular, the more people noticed her left eye. Because of the growing curiosity, her fans took charge of addressing individuals who craved information about her eye.
A fan page o Frances posted on 2014 discussing some facts related to her eye and revealed that the cause is most probably a car accident she got involved in years back. There is to nothing known about the exact date on when the accident happened. The fan page also revealed that she does not sport a glass eye and that eye has a corneal damage caused by a strike to the eye; probably at the time of the accident.
The eye is most probably different from the other and fan page also speculated that vision as well as light sensibility might not be so well functioning as a regular eye. However, Frances often has a colored lens to hide her eye because not everyone fancies having a disfigured eye from an injury on the television screen unless one is in the villain role.
But, when Frances landed on the role of Moira O'Hara in American Horror Story, Ryan Murphy, a famous screenwriter asked her not to wear any lens, and that decision helped in representing her death scene which was due to a shot in the eye.
Frances Conroy's Journey So Far:
Frances Conroy has been in the entertainment industry for over three decades now. She started her career in 1978 at the young age of around 34, followed by getting married in her 30s with Jan Munroe; in 1992.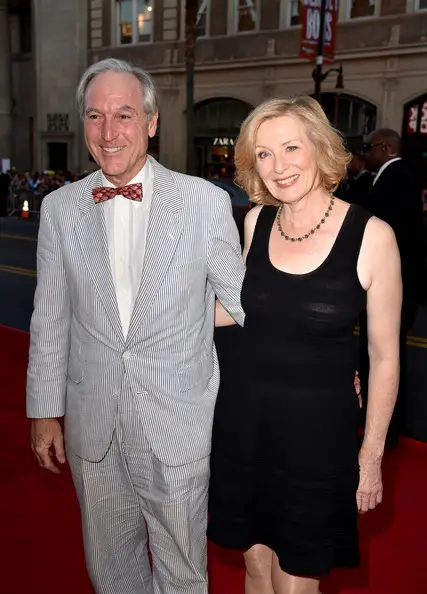 Caption: Frances Conroy with her husband Jan Munroe at TCL Chinese Theatre on October 5, 2014.
Photo Credit: zimbo.com
Frances has played many roles throughout her extensive career, and many of her contributions fall into Six Feet Under, Maid in Manhattan, Happy Town, Royal Pain. However, apart from her role of Ruth Fisher, she is also famous for playing the role of Loretta Stinson in 'How I Met your Mother' and American Horror Story.
With the prolific and versatile career, Frances has earned herself a notable net worth of $4 million. She currently has 'The Tale' in post-production and can be seen in The Mist.